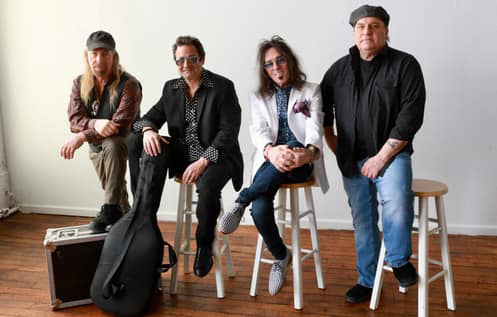 "A Blues, Rock and Soul band that hails out of Fairfield Connecticut to make fun…"
Vier ervaren muziek veteranen uit Fairfield Connecticut verenigden zich na de dood van de legendarische blues muzikant Charlie Karp (1953-2019) opnieuw om zijn begeleidingsband, The Name Droppers nieuw leven in te blazen. Zanger-songwriter en gitarist Rafe Klein en keyboardspeler Ron Rifkin speelden al in zijn band en drummer Bobby "T" Torello en bassist Scott Spray (beiden speelden in The Johnny Winter Band) vervoegden hen. Hun muziek is een unieke blend van Blues, Rock en Soul.
In 2020 debuteerden The Name Droppers met een titelloos, dat hulde bracht aan hun frontman, die drie maanden voor de release overleed. Charles Karp was een Emmy Award-winnende documentarist en een voormalig student aan de Coleytown Middle School en Staples High School (beide in Westport, Connecticut). Hij verliet de school als senior om muziek te volgen. Karp had een professionele carrière die bijna 50 jaar duurde. In de jaren '80 werkte Karp vooral als songwriter en sessie gitarist. O.a. Joan Jett en Joe Perry namen zijn nummers op. Karp werkte ook mee aan het gelijknamige debuutalbum 'Ram Jam', resulterend in de hitsingle "Black Betty". In 1987 nam Charlie een soloalbum op met de naam 'Charlie Karp & the Name Droppers'.
De opvolger 'Name Droppers II' namen ze vorig jaar ook op met producer Vic Steffens, die eerder als "Connecticut Producer of the Year" genomineerd werd. Rifken kent Steffens al jaren, maar ze hadden voor hun debuut nog nooit samengewerkt. Openen doen The Name Droppers met "Diddy Wah Diddy", een cover van een Willie Dixon song. De cover die Barry & The Remains van dit nummer in de sixties maakten, inspireerde hun versie. Het rockt en het laat horen hoe hecht The Name Droppers als band zijn. Verder zijn de overige nummers te verdelen in rockers ("Too Bad On Your Birthday") en ballades ("Nights In November", "You Must Be from Heaven" en met een mooie orgel intro, "I Haven't Heard from You"). Sommige zijn duidelijk door Memphis ("Fake It Till You Make It" en "Love Expressway") beïnvloed. De arrangementen en de songwriting zijn van Rifkin en Bobby "T" hielp hem met twee nummers: de rocker met een Chuck Berry-intro, "My Blue Guitar" en "Cry for You". Op het nummer zorgen Bobby T's drums en Scott's bas voor de geweldige groove.
"On 'Name Droppers II', The Name Droppers make it clear how a live band should play to get people excited…" (ESC, Rootstime.be)
Eric Schuurmans
10 CD's te winnen!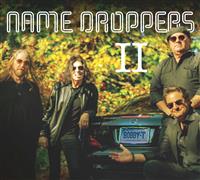 Wil je daar kans op maken, dan mail je ons gewoon even:
je naam, je adres en de vermelding: THE NAME DROPPERS
Binnen een aantal weken wordt uit alle inzendingen de gelukkigen getrokken.
Wij hopen dat u massaal Rootstime - hier - zult mailen
De winnaars worden per mail verwittigd.
'NAME DROPPERS II': tracklist: 01. Diddy Wah Diddy [Willie Dixon] – 02. Fake It Till You Make It – 03. My Blue Guitar – 04. Love Expressway – 05. Nights In November – 06. Too Bad On Your Birthday – 07. Cry for You – 08. I Haven't Heard from You [Charlie Karp] - 09. You Must Be from Heaven | Music/Lyrics: Rafe Klein, w/Bobby "T" (3,7) or as [noted] | Producer: Vic Steffans | Credits: Rafe Klein: guitar, vocs / Bobby "T" Torello: drums, vocs / Scott Spray: bass / Ron Rifkin: keys
Discography THE NAME DROPPERS: Name Droppers II [2022] | Name Droppers [2020] || CHARLIE KARP (w/The DIRTY ANGELS*): Back to You [2019] | Show Me the Money [2017] | Bridgeport Blues [2014] | When The Clock Strikes, with Danny Kortchmar & Harvey Brooks [1999] | Charlie Karp & The Name Droppers [1987] | Dirty Angles* [1979] | Kiss Tomorrow Goodbye* [1977] |