"VINTAGE ROCKIN' ROOTS..."
Atomatic en Koko Mojo Records zijn "min of meer" zelfstandige divisies (labels) van RockStar Records Limited. RockStar Records werd opgericht in 1979 en is gevestigd in het Spindrift Records House in Clacton-on-Sea in Essex (UK). De zetel van Koko Mojo Records is gevestigd in de tweede grootste stad van Ierland, Cork. Lang voordat de markt overspoeld werd met  goedkope copycat-releases van lage kwaliteit, stond Rockstar Records samen met ACE Records en Bear Family Records bekend om hun heruitgaven van hoge kwaliteit en hun "KILLER-NO-FILLER" ideologie. RR slaagde waar grote labels faalden, door de muziekfans te voorzien van zowel uitgegeven als niet-uitgegeven muziek van klassieke R'n'R-artiesten.
Het doel van Atomicat is heel simpel: onder de noemer R&R/Rockabilly dansbare muziek uit de jaren 1950/60 uitbrengen! Hun cd-compilaties zijn samengesteld door ervaren dj's en hun belangrijkste doel is om je te laten dansen "From Argentina via Los Angeles to Ireland, from Blues to Hillbilly and Rockabilly...". Er dient hierbij opgemerkt te worden, dat er een verschil is tussen de originele, traditionele r&b (een term die uit de jaren voor WOII stamt en die staat voor stevige, rauwe muziek, die zich meer richt op jazz, gospel en blues) en de hedendaagse, moderne r&b (een muziekgenre dat er wel wat van wegheeft en dat een combinatie is van soul, funk en hiphop). Moderne r&b werd populair na het discotijdperk van de jaren tachtig. De producer, die deze cd's helpt compileren is Mark Armstrong.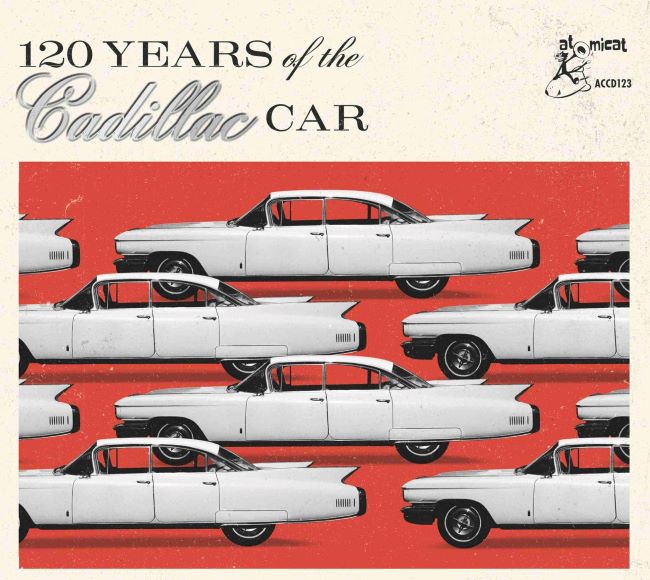 120 YEARS of the CADILLAC CAR
"Cadillac is een Amerikaans merk van luxeauto's. Sinds 1909 behoort het merk tot het General Motors-concern. Cadillacs (caddies) worden wereldwijd verkocht. De belangrijkste afzetgebieden zijn de VS, Canada en China. Cadillac is het oudste Amerikaanse automerk na Buick, en ook wereldwijd is het een van de oudste…"
"Caddies waren de ultieme uitdrukking van Amerika's naoorlogse welvaart en de droom van de jaren vijftig. Het automerk bestaat op 22 augustus 2022 honderdtwintig jaar en Atomicat Records laat haar koplampen op de Cadillac-auto schijnen met een inspirerende verscheidenheid aan liedjes. Het concept van de Cadillac-auto was het geesteskind van: William Murphy, Lemuel Bowen en Henry M. Leland die in 1902 de allereerste Cadillac-auto ontwierpen, en dit album is opgedragen aan hen en hun auto die synoniem werd met de "Fabulous Fifties". De jubileumserie van Atomicat Records viert 120 jaar Cadillac Car (ACCD117) met dertig motorvatin'-nummers van 1948 tot 1962 als eerbetoon aan de met gadgets beladen droomauto 'Fabulous Fifties'. Aomicat pakt het onderwerp anders aan en we sourcen nummers uit de genres Rhythm & Blues, Blues, Doo-Wop, Rock 'n' Roll en Hillbilly. Dan graven we een beetje dieper en nemen we groepen op die naar de auto zijn vernoemd, en ten slotte nummers met Cadillac in de teksten. Met het zevendimensionale eerbetoon van Atomicat kun je horen hoe de auto de verschillende culturen binnenkwam en songwriters beïnvloedde…".

De 30 tracks op '120 Years of the Cadillac' met muziek die varieert van R&B, Blues, Doo-Wop, R'n'R tot Hillbilly, kan je verdelen in vier groepen. De tracks 1 t.m. 9 van het compilatiealbum zijn nummers gebracht door R&B en BLUES MANNEN én met het woord "Cadillac" in de titel. Jimmy Liggins and His Drops of Joy openen hier de dans met veel getoeter en een original uit 1948, "Cadillac Boogie". Verder vullen hier o.a. Willie Brown met "Cadillac Boogie", Buddy Johnson -hij vat met "A Pretty Girl, a Cadillac and Same Money" goed samen wat je nodig had- en de eigenzinnige Otha Ellas Bates (1928-2008) aka master rocker Bo Diddley himself met "Cadillac", de lijst aan.  
Van track 10 t.m. 19, de tweede groep, zijn nummers gegroepeerd van ROCKERS & HILLBILLIES. Rock & Rollers aka rockers kan je herkennen aan de elektrische gitaren, (in de beginjaren) saxofoon en drumstel. Hillbilly daarentegen verwijst naar de muziek van de arme bewoners afkomstig uit het Appalachengebied. De microfoon bestond nog niet, waardoor de zanger zijn liedje zo hard mogelijk inzong in een opnamehoorn, begeleid door vooral de gitaar en de banjo, maar ook de viool en de contrabas. De eerste in de rij is songwriter en muzikant Thomas Baker Knight Jr. (1935-2005) bekend van "Lonesome Town" en "The Wonder of You", hier met "Bring My Cadillac Back". Waren verder nog de gelukkige eigenaars van een Cadillac: Hall Willis van een roze ("My Pink Cadillac"), Bob Luman van een rode ("Red Cadillac and Black Moustache" en Joyce Green van een zwarte ("Black Cadillac"). The Aquatones zochten een gouden Cadillac ("Wanted, a Solid Gold Cadillac") en Bob Wills hield van zijn "Cadillac in Model A". Don Churchill & His Texas Mavericks daarentegen kregen de "Cadillac Blues".
In de derde subgroep zijn de BANDS gegroepeerd die genoemd zijn naar een CADILLAC. Zo waren er de El Dorados en Those Four Eldorados (de Eldorado werd gebouwd van 1953 tot 2002) met resp. "Rock 'n' Roll is for Me" en "Go! Little Susie", The Cadillacs met het gekende "Speedo" en  Myron Lee met "Aw C'mon Baby", waarbij je moet weten dat AWC staat voor "All Wheel Control".
In de laatste groep vind je CADILLAC in de SONGTEKSTEN van de nummers terug. Bij The Medallions ("Coupe De Ville Baby") is het duidelijk over welk type het gaat, Obediah Donell "Young" Jessie wist dat "Mary Lou" stal  en op hun Caddillac uit was. Bo Diddley was ook een grote Cadillac fan ("Hey! Bo-Didley"), dat gold ook voor Wanda Jackson ("Baby Loves Him") en voor Ron Haydock and The Boppers ("Maybelline"), die hun inspiratie bij Chuck Berry haalden. De Cadillac Gene Winfield MAYBELLINE Custom was vernoemd naar de gelijknamige klassieke hit van Chuck Berry uit 1957 en was de enige auto die autobouwer/customiser Gene Winfield voor zichzelf bouwde in zijn 65-jarige carrière.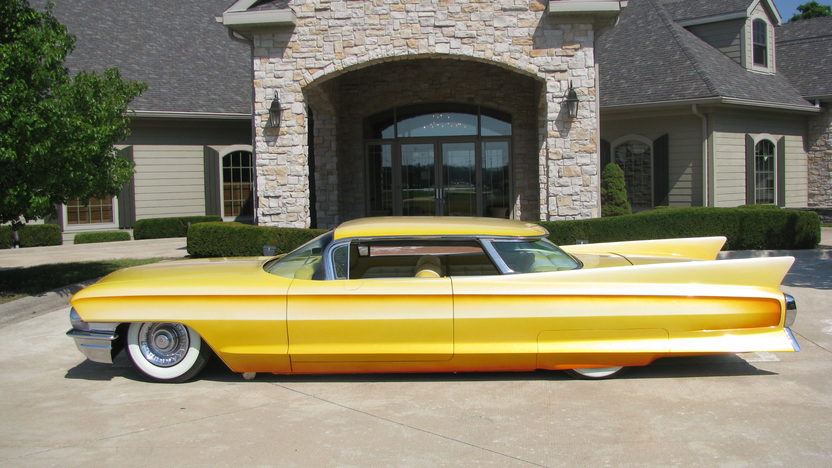 (Cadillac Gene Winfield Maybelline Custom 1961)
 '120 YEARS of the CADILLAC CAR is een compilatiealbum van het ATOMATIC label, met 30 originele nummers uit de jaren vijftig/zestig, die staan voor typische en rauwe r&r en Hillbilly. Het album archiveert een deel van de muziekgeschiedenis van dit gere in vier subgroepen, die aan de basis ligt van wat nu wereldwijd vele muzikanten aanvuurt om ook zelf te spelen, wat vele  muziekliefhebbers boeit…" (ESC for Rootstime.be)
Eric Schuurmans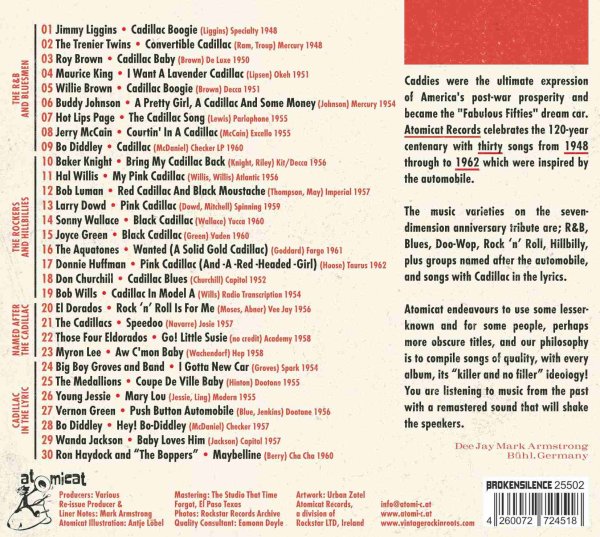 Atomicat Records Anniversary series shines its headlights onto the Cadillac car with our album 120 Years of the Cadillac Car (ACCD117), which comprises thirty Cadillac-based songs sourced from 1948 through to 1962. The concept of the Cadillac car was the brainchild of; William Murphy, Lemuel Bowen, and Henry M. Leland who designed the first-ever Cadillac car in 1902, and this album is dedicated to them and their automobile which became synonymous with the "Fabulous Fifties." Atomicat takes a different slant to the topic, and we feature songs from the genres of, Rhythm & Blues, Doo-Wop, Rock 'n' Roll, and Hillbilly. Then we dig a little deeper and include groups named after the automobile, and finally songs that have Cadillac in the lyrics. Atomicat's seven-dimension tribute allows you to hear how the car musically entered into different cultures and influenced songwriters. 01 Jimmy Liggins and His Drops Of Joy* Cadillac Boogie (Liggins) Specialty 1948 02 The Trenier Twins and Gene Gilbeaux's Orchestra * Convertible Cadillac (Ram, Troup) Mercury 1948 03 Roy Brown and His Mighty-Mighty Men* Cadillac Baby (Brown) De Luxe 1950 04 Maurice King and His Wolverines (vocal chorus) Bea Baker * I Want A Lavender Cadillac (Lipsen) Okeh 1951 05 Willie Brown * Cadillac Boogie (Brown) Decca 1951 06 Buddy Johnson Orchestra (vocal) Ricky Harper * A Pretty Girl, A Cadillac and Some Money (Johnson) Mercury 1954 07 Hot Lips Page and His Orchestra (vocal) Hot Lips Page * The Cadillac Song (Lewis) Parlophone 1955 08 Jerry McCain and His Upstarts * Courtin' In A Cadillac (McCain) Excello 1955 09 Bo Diddley * Cadillac (McDaniel) Checker LP 1960 10 Baker Knight and The Knightmares * Bring My Cadillac Back (Knight, Riley) Kit/Decca 1956 11 Hal Willis * My Pink Cadillac (Willis, Willis) Atlantic 1956 12 Bob Luman * Red Cadillac And Black Moustache (Thompson, May) Imperial 1957 13 Larry Dowd and The Rock-A-Tones * Pink Cadillac (Dowd, Mitchell) Spinning 1959 14 Sonny Wallace * Black Cadillac (Wallace) Yucca 1960 15 Joyce Green * Black Cadillac (Green) Vaden 1960 16 The Aquatones * Wanted (A Solid Gold Cadillac) (Goddard) Fargo 1961 17 Donnie Huffman * Pink Cadillac (And -A -Red -Headed -Girl) (Hoose) Taurus 1962 18 Don Churchill and His Texas Mavericks * Cadillac Blues (Churchill) Capitol 1952 19 Bob Wills and His Western Swing Band (vocal) Billy Jack Wills * Cadillac In Model A (Wills) Radio Transcription 1954 20 El Dorados with Al Smith's Orch.* Rock 'n' Roll Is For Me (Moses, Abner) Vee Jay 1956 21 The Cadillacs with The Jessie Powell Orchestra * Speedoo (Navarre) Josie 1957 22 Those Four Eldorados * Go! Little Susie (no credit) Academy 1958 23 Myron Lee and The Caddies * Aw C'mon Baby (Wachendorf) Hep 1958 24 Big Boy Groves and Band* ?I Gotta New Car (Groves) Spark 1954 25 The Medallions * Coupe De Ville Baby (Hinton) Dootone 1955 26 Young Jessie with Maxwell Davis and Orchestra * ? Mary Lou (Jessie, Ling) Modern 1955 27 Vernon Green and The Medallions * Push Button Automobile (Blue, Jenkins) Dootone 1956 28 Bo Diddley * Hey! Bo-Diddley (McDaniel) Checker 1957 29 Wanda Jackson * Baby Loves Him (Jackson) Capitol 1957 30 Ron Haydock and "The Boppers" * Maybelline (Berry) Cha Cha 1960