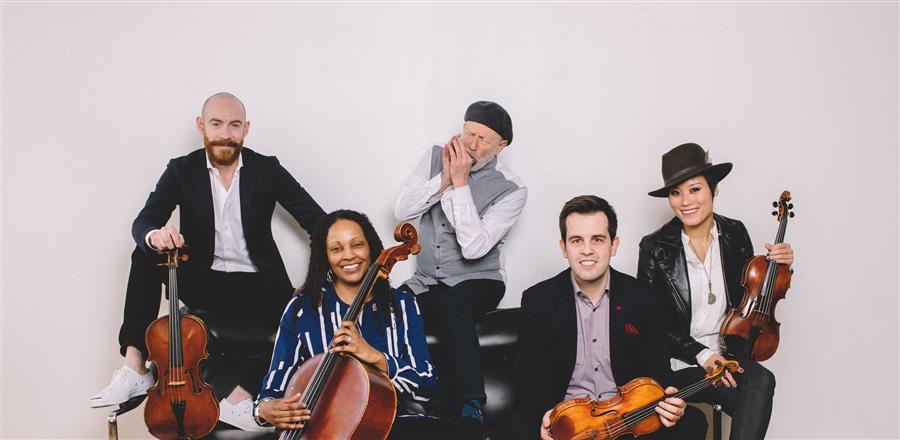 Eind dit jaar wordt de Amerikaanse blues/rock muzikant, zanger-songwriter en componist Mark Paul "Corky" Siegel tachtig. Hij speelt mondharmonica en piano en is "bijzonder", omdat hij altijd intens bezig is met het samenbrengen en het samen uitvoeren van blues en klassieke muziek. Siegel is daarnaast vooral bekend als co-leider van de Siegel-Schwall Band en als leider van de Chamber Blues band.
Corky Siegel's muzikale carrière begon in 1964 als hij aan de Roosevelt Universiteit in Chicago medestudent, singer-songwriter en fotograaf Jim Schwall (1942-2022) ontmoette. Siegel was oorspronkelijk een saxofonist en geïnteresseerd in blues, terwijl Schwall's interesses voornamelijk in countrymuziek lagen. Beiden werden eerst een blues duo, dat regelmatig optrad en vertoefde in Pepers Lounge aan de zuidkant van Chicago, waar regelmatig de "groten" (Muddy Waters, Howlin' Wolf, Willie Dixon) optraden. Later werd het -met Shelly Plotkin op drums en Jos Davidson op bas- een elektrische blues band met als naam, Siegel-Schwall Band.
De SIEGEL-SCHWALL BAND was de huisband van Pepper's Lounge en werd snel erg populairder. De band verhuisde naar Big John's in Old Town nadat de Butterfield Blues Band begon te toeren en een vacature achterliet. In 1966 bracht de band hun eerste gelijknamige album uit. Vanaf 1969 toerden door het hele land, speelden ze op grote rockpodia zoals de Fillmore West en deelden ze de affiche met beroemde rockbands. Tussen 1966 en 1974 brachten ze tien albums uit. Na 1974 stopten ze met optreden en ging CORKY SIEGEL SOLO verder. In 1987 werd de band opnieuw opgericht om "occasioneel" nog te kunnen optreden en opnemen. Ze brachten twee albums met nieuw materiaal uit: 'The Siegel-Schwall Reunion Concert' (1988) en 'Flash Forward' (2005). In maart 2016 werd de band "in goed overleg" ontbonden. Siegel en Schwall speelden nog af en toe met drummer Sam Lay en bassist Rollo Radford. Lay speelde in 1973 daarnaast ook met Siegel in de Happy Year Band, waarin ook de Chicago-bluesgitarist Albert Joseph speelde. Met Peter Krammer schreef Corky Siegel een boek voor muzikanten en muziekstudenten, genaamd "Let Your Music Soar: The Emotional Connection". Het werd gepubliceerd door Nova Vista Publishing in 2007.
CORKY SIEGEL: discography: Songs for Truth and Harmony (Dawnserly) [09/2022] | Something Wrong (Dawnserly) [07/2022] | Solo Flight 1975-1980 (Corky Siegel, 1976/Out Of the Blue,1980) [2022/1999] (Gadfly) |Buried Alive in the Blues, by Chicago Blues Reunion [2005] (33rd Street) | Goodbye California [1984] (Skitzo/Frenia Records, a re-release of 'Out of the Blue') | Out of the Blue [1980] (Stuff) | Street Music: A Blues Concerto, w/San Francisco Symphony [1977] (Deutsche Grammophon) | Corky Siegel [1976] (Dharma)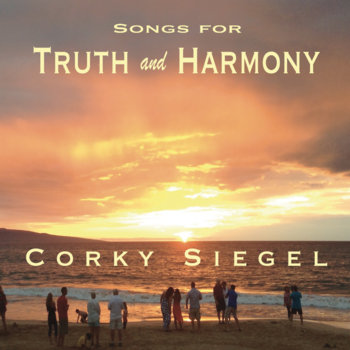 SONGS for TRUTH & HARMONY – CORKY SIEGEL
(09/2022, Dawnserly Records)
"A psycho-political musical collection of my best songwriting constructed to promote and inspire truth and harmony…" (Corky)
'Songs for Truth and Harmony' is het meest recente solo album van Corky Siegel. Hij bracht in het voorbije jaar bij Dawnserly Records nog twee albums uit: solo, 'Something Wrong' en met Chamber Blues, 'More Different Voices'. De negen nummers schreef Corky zelf met zijn partner Holly Siegel en samen deden ze ook de productie. Corky begeleidde zichzelf op piano en harmonica. De violist was Randy Sabien en in de achtergrond hoor je de stemmen van Arthur Irby, Sue Demel, Jillian Speece & Nathaniel Paul. 
In de opener, "Only Love Will Get Us There" (There is a lady called Libertyweeping on the shore, here comes a train called compassion, she wont be crying anymore) geeft de viool van Randy Sabien aan het nummer een typisch country gevoel. Corky gooit daarna vanaf "Better Angels Prayer" (My you follow the truth, wherever it leads, may your actions be steeped in only good deeds) het roer volledig om. Door de harmonica en de klagende piano klinkt het nummer (en wat er dan nog volgen gaat) dadelijk heel bluesy. Ook in "Don't Wait for Peace" (In this day of trouble, just a little peace, in the puzzle, can go a long long way) houdt Corky het heel ingetogen. Erg knap zijn hier de harmonieën. "One Boat No Shore" (One boat, no shore, we need kindness, no room for hale anymore, there's no shore, and we're all in the same boat)is een klaagzang en "The Question" (An outpouring of kindness or anger and fear, embracing this whole world as one nation, or do we see only separation. Show me a vision for this creation), "I'd Like to Live Where the Animals Are" (And it is just. Just the mind) en "Big Time Losers Blues" (So Are you going down with me where the tyrants burn. Where the truth is buried where the blind can't learn, where human kindness leaves no trail or no clues, where the big time losers sing the big time losers blues),uitgeklede nummers met een boodschap, die ons aan het denken moet zetten. "Cool Fragrant Breeze (Truth)" (So don't you shy away from the truth cause it's your friend. Without it, there is no love no God no Good around the bend… there is nothing else that can offer up such miracles and protect you from yourself)en "One" (Like a raindrop falling into the ocean, it already is what it will become, and when we part, and our part is done, we will be still be part of one. We are all just raindrops falling back into the ocean)zijn Cocky's songs, die moeten helpen om de wereld te helpen verbeteren. Tenminste voor wie horen wil… 
"On 'Songs for Truth & Harmony', Corky Siegel is very moralizing and contemplative…"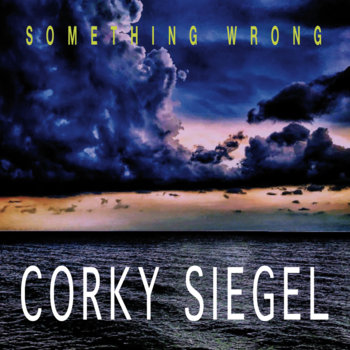 SOMETHING WRONG – CORKY SIEGEL
(07/2022, Dawnserly Records)
"This is my first solo album since 1980. However, also watch for my new Chamber Blues album 'MORE Different Voices' (taking you places you've never been before)…" (Corky)
'Something Wrong' was Corky Siegel's éérste solo album sinds 1980. Ook nu weer schreef Corky, op één na, alle nummers. Het is een album met eenvoudige en uitgeklede, erg bluesy songs, waarop Corky zich "sober" maar vakkundig begeleid op piano en harmonica. Dit is al zo vanaf de opener, "Something Wrong" , een nummer dat we kennen uit 1970van zijn band Siegel-Schwall. Met wat bluesy piano klinkt "Mexico" aangenaam. De verrassende achtergrondzang wordt gedaan door Jennifer Nice & Robert Tepper. "Blues with a Feeling" is klassiek Chicago blues geleest. Little Walter maakte het nummer populair. "Twisted" is Corky's favoriete piano blues nummer. "Am I Wrong About You", "Deja Vous" en "Snake River Crossing" spreken voor zich en behoeven geen extra woorden. "Strange Dream" waarmee het album afsluit is (volgens Corky) een "strange little song". De achtergrondzang is hier van Jillian Speece & Nathaniel Paul (The Bargamot).
"For 'Something Wrong' Corky Siegel composed stripped down and subdued bluesy songs…"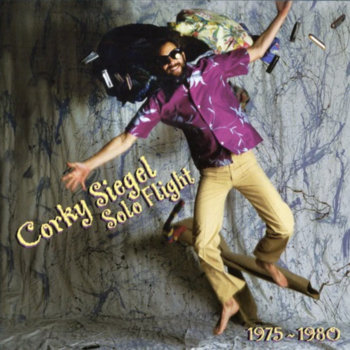 SOLO FLIGHT 1975-1980 – CORKY SIEGEL
(1999, remastered in 2022, Gadfly Records)
"Corky here: In 1975 through the very early part of the 80's - directly after 10 years with Siegel-Schwall, I was launched into my Solo-Singer-Songwriter spell, before being held captive by my Chamber Blues addiction in 1983. This collection includes only life-long favorites of mine. Don't miss special guests Vassar Clements, Howard Levy, Tony Brown and more. And don't miss "Oh Emy Lou" (track 10) with the beautiful upright bass playing of Jim Tullio…"
In 1999 bracht Corky Siegel bij Gadfly 'Solo Flight 1975-1980' (1999/2022) uit. Het is een "twee-in-één" heruitgave van twee vroegere solo albums met twee bonus tracks. 'Solo Flight 1975-1980' combineert nummers van zijn debuut, 'Corky Siegel' (1976, Dharma Records) en 'Out of the Blue' (1980, Stuff Records). Over het 1980-album: het geraakte uitverkocht en Stuff Records ging failliet. 'Out of Blue' is vervolgens opnieuw uitgebracht in 1981 bij Skitzo/Frenia Records als 'Goodbye California'. De twee bonustracks zijn nog nooit eerder uitgebracht. De 2022-uitgave is een geremasterde hi-res 24/88 digitale audiofiele versie.
Het idee om blues en klassieke muziek te combineren werd voor het eerst geopperd door gerenommeerde klassieke Chinese dirigent Seiji Ozawa (San Francisco Symphony, Toronto Symphony Orchestra, Vienna State Opera, Boston Symphony Orchestra). Ozawa (nu 87) bracht de Siegel-Schwall Band en het Chicago Symphony Orchestra samen. Ze speelden voor het eerst in 1968 de avant-garde muzikale compositie "Three Pieces for Blues Band and Symphony Orchestra" van de Amerikaanse componist/arrangeur William Russo (1928-2003). In 1973 brachten de band en Ozawa bij Deutsche Grammophon een opname uit van dit werk, uitgevoerd met de San Francisco Symphony. Het leidde tot de enige 45-toeren single-release in de geschiedenis van dit Duitse gerenommeerde label. Het album won de "Grand Prix du Disque" van de Franse regering en ontving de "Recording of Special Merit in Stereo Review" voor de LP (en voor de opnieuw uitgebrachte cd in 1988). In 1975 voerden Siegel en Ozawa, met de San Francisco Symphony, voor het eerst een ander werk van William Russo uit, 'Street Music: A Blues Concerto'. Een opname van dit stuk werd ook bij DG uitgebracht in 1977.
Geïnspireerd door zijn samenwerking met Ozawa richtte Corky Siegel in 1988 CHAMBER BLUES op. De muziek van de groep combineert elementen uit de klassieke, blues en jazz muziek. De band bestaat uit een strijkkwartet (twee violen, een altviool en een cello) samen met percussionist Frank Donaldson en Siegel op mondharmonica en soms ook dubbelspel op piano. Sinds begin 2019 bracht Chamber Blues vier albums uit. De band toert nog steeds nationaal en internationaal.
Siegel heeft ook aan tal van andere muzikale projecten gewerkt. In 2004 maakte hij deel uit van de Chicago Blues Reunion-band, die het album 'Buried Alive in the Blues' uitbracht. Daarnaast schreef hij ook met Peter Krammer een boek voor muzikanten en muziekstudenten, genaamd "Let Your Music Soar: The Emotional Connection" (Nova Vista Publishing, 2007). Corky heeft 17 albums opgenomen, waaronder vijf op Vanguard, vijf op RCA, twee op Alligator Records, twee projecten voor het prestigieuze klassieke label Deutsche Grammophon (DG) en de laatste bij het eclectische Gadfly Records.
CORKY SIEGEL'S CHAMBER'S BLUES: discography: More Different Voices [2022] | Different Voices [2017] (Dawnserly Records) | Corky Siegel's Traveling Chamber Blues Show [2005] (Alligator) | Complementary Colors [1998] (Gadfly) | Corky Siegel's Chamber Blues [1994] (Alligator) || SIEGEL-SCHWALL BAND (studio, live & compilation* albums): Vanguard Visionaries* [2007] (Vanguard) | Flash Forward [2005] (Alligator) | The Complete Vanguard Recordings and More* [2001] (Vanguard) | The Wooden Nickel Years (1971–1974)* [1999]  (Varèse Sarabande) | Where We Walked (1966–1970)* [1991] Vanguard) | The Siegel–Schwall Reunion Concert  [1988] (Alligator) | stop | The Best of Siegel–Schwall [1974] (Vanguard) | R.I.P. Siegel/Schwall [1974] (Wooden Nickel) | Live: The Last Summer [1974] (Wooden Nickel) | Three Pieces for Blues Band and Symphony Orchestra [1973] (Deutsche Grammophon) | 953 West [1973] (Wooden Nickel) | Sleepy Hollow [1972] (Wooden Nickel) | The Siegel–Schwall Band [1971] (Wooden Nickel) | Siegel–Schwall '70 [1970] (Vanguard) | Shake! [1968] (Vanguard) | Say Siegel–Schwall (1967, Vanguard) | The Siegel–Schwall Band [1966] (Vanguard) |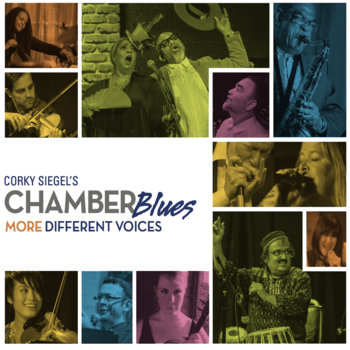 MORE DIFFERENT VOICES – Corky Siegel's CHAMBER BLUES
(09/2022, Dawnserly Records)
'More Different Voices' is de opvolger van 'Different Voices' (2017). Het is één van de vier albums die in 2022 bij Dawnserly Records van Corky verschenen zijn. "Niemand in de actuele blues wereld heeft de grenzen van de blues meer verlegd dan Corky Siegel, de blues harmonicagigant uit Chicago, die sinds de jaren '60 samenwerkt met klassieke orkesten en een hybride geluid produceert dat is afgeleid van de kruispunten van de Delta, klassiek, folk, jazz en meer…" (Blues Blast Magazine, 14/10/22). Gevatter en beter kan je zijn "More" album niet samenvatten. Opnieuw werkte Corky Siegel (harmonica) samen met een strijkkwartet, blues artiesten en muzikanten die letterlijk de wereld overspannen: de Spaanse violist Jaime Gorgojo, de Taiwanese violist Chihsuan Yang en de Amerikanen Rose Armbrust op altviool en Jocelyn Butler Shoulders op cello, samen met de Indiase tabla-virtuoos Kalyan "Johnny Bongo" Pathak. Voor de zang deed hij beroep op meerdere artiesten: Lynne Jordan (Chicago 3Arts-winnares), Toronzo Cannon (viervoudig Blues Award winnaar en Alligator Records-artiest), Marcella Detroit (2 keer platina voor 'Shakespear's Sister' en winnares van de Britse Ivor Novello Award voor songwriting), Frank Orrall (oprichter, frontman, dichter en componist van Poi Dog Pondering), Ernie Watts (2 x Grammy winnaar, jazz saxofoon icoon), Tracy Nelson (Grammy genomineerde country en blues, gospeldiva, voor het hit duet met Willie Nelson "After the Fire is Gone") & Pavel Roytman (Joodse voorzanger uit Nikolaev, Oekraïne).
Het album opent met "No One's Got Them Like I Do", een compositie oorspronkelijk uitgebracht in 1973. Dit is al zijn vierde arrangement van het nummer. De strijkers vormen een contrapunt voor Corky's harpriffs, terwijl Lynne Jordan zingt over een man die verliefd is op een vrouw. "Insurance" verscheen Toronzo Cannon's 'The Preacher, the Politician or the Pimp' (2019). Het is heel ongewoon, zoals Canon het hier zingt. De violen vervangen de gitaar met daar bovenop, Corky's harp. Op "There Goes My Man" staat  Marcella Detroit achter de microfoon. In het nummer verschuift het symfonische opera gevoel naar een funky shuffle, terwijl ze zingt over een liefde, die nog een laatste keer opwindt. Frank Orrall doet dan een nieuwe versie van "Little Blossom Falling Down", een rustig nummer in mineur met Latino percussie dat de schoonheid in de wereld viert. Het instrumentale "Joyful Jambalaya" heeft door de "oeps" wat  Sonny Terry-achtigs, wat  aan Yang de ruimte om te schitteren op viool en elektrische altviool. Op "Oasis" staat tien minuten lang Watts centraal, waarbij het samenspel tussen hoorn, tabla, harp en de strijkers buitengewoon is. Daarna doet Corky zelf de zang op "Twisted", een origineel Siegel-Schwall nummer dat hier boordevol klassieke elementen zit. Op "Down So Low" schittert Tracy Nelson op zang en piano en, op "Hine Ma Tov Blues" de Oekraïner Pavel Roytman. Het is een variatie op een eenvoudig Joods gezang waarin hij voor vrede zingt. Het werd opgenomen lang voordat de oorlog in zijn thuisland uitbrak. "Penguins in the Opera House", de afsluiter, is een gedicht dat Corky schreef voor kinderen. De muziek is van de Oostenrijkse componist en overlevende van de holocaust, Hans Wurman.
"Corly Siegel's album with Chamber Vlues, 'More Different Voices', is a successful extension on the 2017 album…"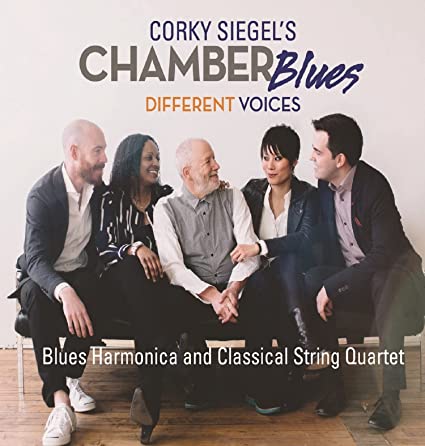 Dave Moss (altviool) – Jocelyn Butler Shoulders (cello) – Corky Siegel (harmonica) – Chihsuan Yang (viool) – Jaime Gorgojo (viool)
DIFFERENT VOICES – Corky Siegel's CHAMBER BLUES
(Dawnserly Records, 2017)
Geïnspireerd door de samenwerking met Ozawa, vormde Siegel in 1968 Chamber Blues. De band bestaat uit vier strijkers: twee violen, een altviool en een cello. Ze worden gebackt door percussionist Frank Donaldson, Siegel op harmonica en piano. De band combineert in hun muziek klassieke muziek, blues en jazz. Chamber Blues bracht drie albums, in 2017 'Different Voices' (Blues harmonica & Classical String Quartet). De "Different Voices" zijn jazz saxofonist/zanger Ernie Watts ("Missing Persons Blues – Op. 26"), tabla speller/zanger Sandeep Das ("Time Will Tell Ouverture"), singer-songwriter Matthew Santos ("Shadows In A Shoe Box"), R&B diva/zangeres Marcy Levy (ze zingt haar hit "Lay Down Sally"), blues legende zanger Sam Lay ("Italian Shuffle") & het trio Sons of the Never Wrong ("I'll Fly Away").
Van de twaalf nummers op het album componeerde Siegel er (enkele samen met Holly Siegel) negen. De andere composities zijn van Matthew Santos ("Shadow In a Shoe Box"), Eric Clapton / Marcy Levy / George Terry ("Lay Down Sally") en Hai Huang-Hai ("Galloping Horses").
Harmonicaspeler Corky Siegel slaagde er met Chamber Blues opnieuw in een brug te slaan tussen meerdere muziek genres. Met een klassiek strijkerskwartet sloopt hij de muur die vaak tussen genres en muziekliefhebbers opgetrokken wordt. 'Different Voices' is een album dat je bij iedere luisterbeurt meer en meer gaat intrigeren en opslorpen!
"'Different Voices' is Corky Siegel's proof that blues and classical music can go together perfectly…"
"No one in the blues world has pushed the boundaries of the blues more in the modern era than Corky Siegel, the blues harmonica giant who's been teaming with classical orchestras since the '60s and producing a hybrid sound derived from the intersections of the Delta, classical, folk, jazz and more…" (Blues Blast Magazine, 14/10/22)
Eric Schuurmans
SONGS for THRUTH and HARMONY – CORKY SIEGEL (09/2022): track list: 01. Only Love Will Get Us There - 02. Better Angels Prayer – 03. Don't Wait for Peace – 04. One Boat No Shore – 05. The Question – 06. I'd Like to Live Where the Animals Are – 07. Big Time Losers Blues – 08. Cool Fragrant Breeze (Truth) – 09. One | Songs written by: Corky & Holly Siegel / Producer: Corky & Holly Siegel Line up: Corky Siegel: vocs, harmonica  & piano /  Randy Sabien: fiddle (1) / Arthur Irby, Sue Demel, Jillian Speece & Nathaniel Paul: b-vocs (3)
SOMETHING WRONG - CORKY SIEGEL (07/2022): track list: 01. Something Wrong – 02. Mexico - 03. Blues with a Feeling [Rabon Tarrant, popularized by Little Walter] - 04. Twisted - 05. Am I Wrong About You - 06. Deja Vous - 07. Snake River Crossing - 08. Strange Dream | Songs written by: Corky Siegel, or as [noted] / Producer: Corky & Holly Siegel / Line up: Corky Siegel: vocs, harmonica, piano / Jennifer Nice and Robert Tepper: b-vocs (2) / Jillian Speece & Nathaniel Paul: b-vocs (8)
SOLO FLIGHT 1975-1980 – CORKY SIEGEL (2022/1999): track list: 01. Idaho Potato Man – 02. Midnight Radio - 03. On the Rebound - 04. Southwest Coast Blues - 05. Vertigo - 06. Since I Told You - 07. Good Thing - 08. Goodbye California - 09. Just a Little Piece - 10. Oh Emy Lou - 11. I Don't Need a Roommate - 12. I Don't Care Wat Cha Doin - 13. Am I Wrong About You? - 14. Rolling in the Morning Corn - 15. Half Asleep at the Wheel - 16. Hobo Bill's Last Ride | Songs written by: Corky Siegel | Producer: Corky Siegel & Marty Feldman (1-10) | Album credits: Acoustic bass: Jim Tullio (10) / B-vocs: Tony Brown (2,14), Lewis Ross (16), Vicki Hubly (1,5,9) / Bass guitar: Bill Dickens (4,8,9), Regi Gillerson (1,3,6) / Congas: Shelly Plotkin (2) / Drums: Alejo Poveda (1,3,5,6), Frank Donaldson (4,8,9), Shelly Plotkin (2) / E guitar, a guitar: Bruce Gaitsch (2-7) / E piano: Corky Siegel (16) / Fiddle: Vassar Clements (11,16) / Marimba: Howard Levy (8) / Other [Chevrolet Coupé]: Hank Neuberger (1) / Percussion: Alejo Poveda (2,3,6-9) / Sax, flute, tin whistle: Al Porth (2,8-10) / Synth [Synthesized bass]: Chuck DeMeyer (2) / Violin, viola: Everett Zlatoff-Mirsky (5,10) / Vocs, piano, harmonica: Corky Siegel
MORE DIFFERENT VOICES - CORKY SIEGEL'S CHAMBERS BLUES (09/2022): Album track list: 01. No One's Goit Them Like I Do – 02. Insurance – 03. There Goes My Man – 04. Little Blossom Falling Down – 05. Joyful Jambalaya – 06. Oasis – 07. Twisted – 08. Down So Low – 09. Hine Ma Tov Blues – 10. Penguins in the Opera House [music: Hans Wurman] | Songs written by: Corky & Holly Siegel, or as [noted] / Producers: Holly & Corky Siegel, post production: Ken Goerres / Line up: Corky Siegel: blues harmonica: / Jaime Gorgojo: violin / Chihsuan Yang:  violin / Rose Armbrust:  viola / Jocelyn Butler Shoulders:  cello / Kalyan Pathak Tabla: tabla arrangements - The Different Voices Are: Lynne Jordan (1), Toronzo Cannon (2), Marcella Detroit (3), Frank Orrall (4), Ernie Watts (6), Tracy Nelson (8) & Pavel Roytman (9)
DIFFERENT VOICES – CORKY SIEGEL'S CHAMBER BLUES (2017): track list: 01. Missing Persons Blues, Op. 26" feat. Ernie Watts (sax) – 02. One*, feat. M. Santos (vocs) – 03. Time Will Tell Ouverture, feat. Sandeep Das (Indian tabla) . 04. Lay Dawn Sally, feat. Marcy Levy (vocs, tamb.) [Eric Clapton, Marcy Levy, George Terry – Arr. C. Siegel] – 05. Angel Food Cake – 06. Shadows In a Shoe Box, feat. M. Santos (vocs, guitar) & Chihsuan Yang (vocs) [Matthew Santos] – 07. I'll Fly Away, feat. Sons of the Never Wrong – Bruce Roper (vocs) [Albert E. Brumley Sr. – Add. Verse: Sue Demel] – 08. Italian Shuffle / Flip Flop & Fly, feat. Sam Lay (vocs) [Charles Calhoun, Lou Willie Turner] – 09. Galloping Horses, feat. Chihusuan Young (erhu) & Matthew santos (beat box) [Hai Huang-Hai] – 10. Counter Intuitive – Op. 24 Part 1 – 11. Counter Intuitive – Op. 24 Part 2, feat. Dave Moss (viola) – 12. The Sky Will Fall*, feat. M. Santos (vocs on bridge) | Music/Lyrics: by Corky Siegel & Holly Siegel*, and/or as [noted] – Producers: Holy & Corky Siegel | Album credits: Blues harmonica: Corky Siegel (vocs, composer) / Classic String Quartet: Jaime Cargojo (violin), Chihsuan Yang (violin, erhu, vocs): 6, Dave Moss (viola) & Jocelyn Butler Shoulders (cello) / Percussion: tabla: Sandeep Das (3) / Frankie Donaldson (1,2,4,5,7,8) & Special Guests "the Different Voices": Ernie Watts (sax: 1), Sandeep Das (3: Indian tabla), Matthew Santos (vocs: 2,6,9,12), Marcy Levy (4), Sam Lay (8) & Sons of the Never Wrong (7)