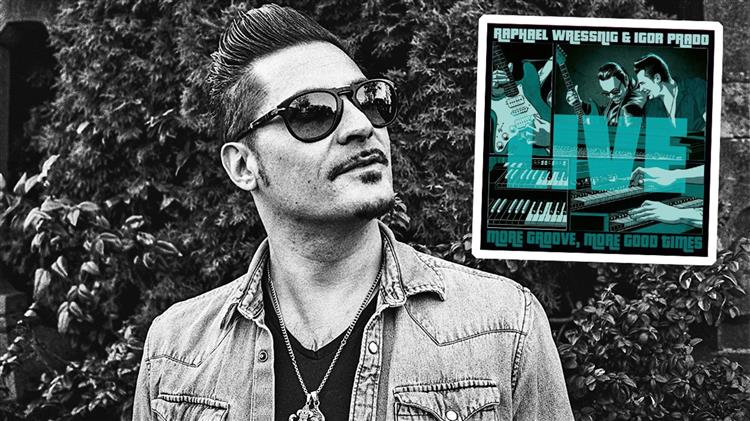 "MORE GROOVE, MORE GOOD TIMES…"
Het uit Oostenrijk afkomstige niet aflatende Hammond B-3 fenomeen Raphael Wressnig werkt al jaren solo, maar regelmatig ook samen met de Braziliaanse gitarist Igor Prado. Ze zijn music buddies, die al ogenschijnlijk gewoon lijken te jammen voor hun plezier, waarbij ze zowat alle nuances tussen blues, funk en soul verkennen. Wij konden Raphael Wressnig voor het eerst bezig zien/horen op het (Ge)Varenwinkel Festival, waar hij in 2012 met Alex Schultz op de affiche stond.
Er staan ondertussen al méér dan 20 albums in de muziek cataloog van Wressnig, waaronder meerdere live-platen, inclusief enkele hoogtepunten zoals 'Soul Gumbo' (2015) en 'Chicken Burrito' (2018). Wressnig stond aanvankelijk in de studio met "Sir" Oliver Mally (een landgenoot, autodidact en bluesgitarist), maar ondertussen ook al met zijn Organic Trio, het Enrico Crivellaro Organ Trio/Combo, Alex Schulz en enkele keren met zijn soul "brother" Alex Schultz.
'Soul Gumbo' (2015) nam hij op in New Orleans met o.a. bassist George Porter Jr. (The Meters), drummer Stanton Moore (Galactic), veteraan en R&B legende Walter "Wolfman" Washington én Grammy Winnaar John Cleary. 'Chicken Burrito' (2018) was eind 2017 een krachttoer in groove met oude muziek buddy Alex Schultz op gitaar en de legendarische (de nu 83-jarige) funkdrummer James Gadson (Bill Withers, BB King, Albert King, Freddie King, Marvin Gaye, Ray Charles, Aretha Franklin, Quincy Jones, Paul McCartney…).
In 2016 nam Raphael Wressnig in São Paulo 'The Soul Collection' op met Igor Prado, zangers Wee Wee Walker en David Hudson. 'Groove & Good Times' (2021) was de volgende samenwerking waarbij ook Yuri Prado (drums, percussie) hen in de studio vervoegde voor de opnames. Dit jaar werden twee live optredens opgenomen. In maart 'Kissing My Love (Live)' en 'Live' in april.
Op 'Live' mixen Wressnig en broers Prado opnieuw soul, blues en funk ritmes, wat ontzettend groovy, funky, soulvol en bluesy klinkt. Ze laten zien hoe moderne soul en blues soul en groove kunnen vinden én live kunnen klinken: explosief, adembenemend, buitengewoon. Zes van de acht tracks zijn instrumentals. "Born to Roam" is de eerste door Wressnig gezongen track en op "No More Okey Doke" neemt Igor Prado de microfoon over. Alle nummers zijn originals, behalve de gekende Bobby "Blue" Blant hit (geschreven door  Michael Alan Price & Dan Walsh), "Ain't No Love (In the Heart of the City)". "Kissing My Love" waar het album mee opent is door Igor's gitaar erg funky, "I Know Who You Been Socking It To" is soulvol, "Crossfire" leunt meer aan bij de blues en op de vraag van Wressnig: "Who wants some more blues?", volgt "Drive It Home". "Faceslap Swing No. 5", de jazzy afsluiter -de titel spreekt voor zich- swingt.
"On 'Live', Raphael Wressnig and the Prado bros Igor & Yuri again mix soul, blues and funk rhythms, which sounds incredibly groovy, funky, soulful and bluesy…" (ESC, Rootstime.be)
Eric Schuurmans
10 CD's te winnen!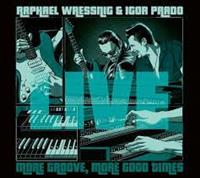 Wil je daar kans op maken, dan mail je ons gewoon even:
je naam, je adres en de vermelding: RAPHAEL WRESSNIG
Binnen een aantal weken wordt uit alle inzendingen de gelukkigen getrokken.
Wij hopen dat u massaal Rootstime - hier - zult mailen
De winnaars worden per mail verwittigd.
'LIVE': tracklist: 01. Kissing My Love* – 02. I Know Who You Been Socking It To – 03. Born to Roam (vocs: R. Wressnig) – 04. Crossfire* – 05. No More Okey Doke* – 06. Drive It Home (vocs: Igor Prado) – 07. Ain't No Love (In the Heart of the City)* [Michael Alan Price / Dan Walsh > Bobby "Blue" Bland] – 08. Faceslap Swing No. 5* (*instrumental) | Music/Lyrics: Raphael Wressnig, w/ or as [noted] | Producer: Raphael Wressnig, Mixed & mastered: Igor Prado | Credits: Raphael Wressnig: Hammond organ, vocs (3) / Igor Prado: guitars, vocs (6)  / Yuri Prado: drums & percussion
Discography RAPHAEL WRESNIG & IGOR PRADO*: Live* [04/2023] | Kissing My Love* (Live) [03/2023] | Groove & Good Times* [2021] | Santa Likes to Boogaloo* [2020] | Chicken Burrito, w/Alex Schultz & James Gadson (EP,7#) [2018] | Captured Live, w/The Soul Gift Band [2017] | The Soul Connection* [2016] | The Soul Connection Captured Live* w/The Soul Gift Band [2016] | Soul Gumbo [2015] | Soul Gift, w/Alex Schultz [2012] | True Blue [2012] | True Blue [2011] | Party Factor [2010] | Live @ the Off Festival, w/Enrico Crivellaro Organ Combo [2009] | (Don't Be) Afraid to Groove, w/Alex Schultz [2009] || w/His ORGANIC TRIO: Cut a Little Deeper on the Funk [2008] | Boom Bello [2006] | Mosquito Bite [2006] | Organ Transplant [2006] | In Between [2004] | Manic Organic [2002] ||w/"Sir" Oliver Mally: Someone Stole My Christmas Tree [2004] | Bound For Nowhere [2003] |