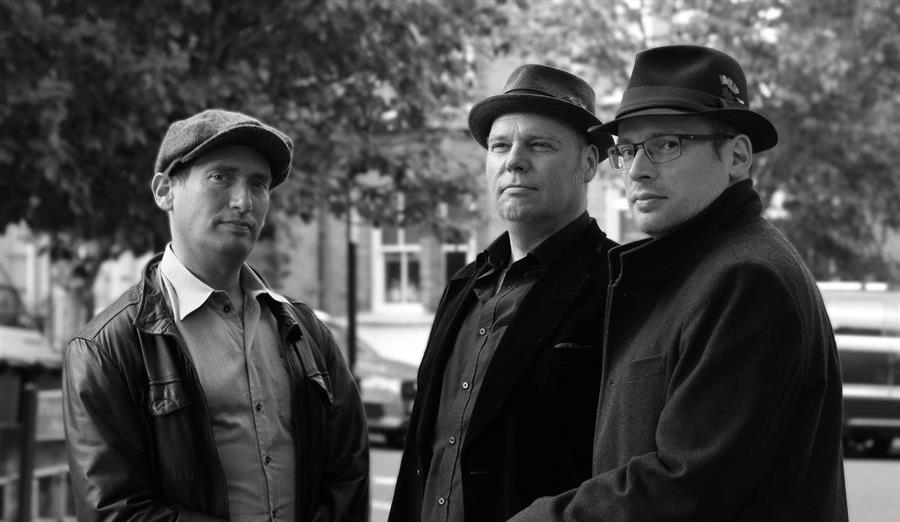 "Harmonica/guitar/drums trio with a North Mississippi/New Orleans/Senegal/South London kick…"
Jimmy Regal and the Royals is een Brits mondharmonica/gitaar/drums-trio uit Zuid Londen, gemodelleerd naar "oldskool" acts (vaak zonder bassist) op het Fat Possum label zoals RL Burnside en James Lewis Carter "T-Model" Ford én in de traditie van Hound Dog Taylor en verwanten. Het trio -in de pers omschreven als een "blues-infused trio"- bestaat uit frontman, zanger, harmonica instructeur Joff Watkins, C.J. "Corin" Williams op gitaar & Sammy Samuels op drums. Hun muziek wordt daarom omschreven als "Schorre, huilende blues met elementen uit Noord-Mississippi, New Orléans & Zuid-Londen…". Daarnaast halen ze ook een flinke portie Little Walter en New Orléans muziek in huis, waaronder professor Longhair en James Booker, wat zorgt voor een unieke Jimmy-Regal-and-the-Royals-mix. Joff Watkins treedt daarnaast ook op met Corin als Joff Watkins Duo en met het Nathan Osgood Trio.
Hun titelloos debuutalbum (2017) kreeg heel wat airplay en ontving goede recensies in de internationale pers. Een jaar later verscheen de single, 'Just Because' (2018). Het nummer werd live opgenomen in januari in The 100 Club, een muzieklocatie in 100 Oxford Street, Londen, waar sinds 24 oktober 1942 livemuziek wordt gespeeld. De club heette oorspronkelijk de Feldman Swing Club, maar veranderde van naam toen de vader van de huidige eigenaar het overnam in 1964. In de club traden al Howlin' Wolf, Chuck Berry, The Rolling Stones en o.a. de Sex Pistols op.
"An all original release, which successfully demonstrates the band's ever evolving style, packed with plenty of guest musicians, whilst retaining the spirt of the core band and their individual sound..."
'First and Last Stop' (de opvolger van 'Light Night Chicken, 2020) is de titel van het derde studio album van Jimmy Regal & The Royals. De drie bandleden (Watkins, Williams & Samuels) schreven de 12 songs en kregen tijdens de opnames het bezoek van heel wat gasten: Tich Walker (trompet), George Simmonds (trombone), Al Nicholls (tenor sax), Chris Rand (tenor sax), Alan Hughes (djembé), Toby Kinder (orgel) & Tricia Davies Nearn (b-vocs).
"(Got to Make a) New Flame" is de opener. Het is een nummer, typisch in de stijl van de band, die omschreven wordt als: "Het creëren van een onstuimige mix van ritmes uit New Orleans en North Mississippi, vermengd met hun eigen Thames Delta-stijl en wat West-Afrikaanse invloeden…". Hier met de nodige Afrikaanse percussie van Sammy Samuels en de huilende harmonica van Joff Watkins. "Ain't Done Yet" is door zijn Latin-invloeden al de volgende opzwepende wat funky track, terwijl Walkins' zang daarentegen van "Can't Keep from Losing You" een soulvol en bluesy nummer maakt. "Do Whatever You Can" is het eerste echte rustige intermezzo, de slide gitaar zorgt voor de North Mississippi vibes in het uptempo "Empty Streets" en met "You Can't Run" gaat de reis naar New Orleans. De titelsong wordt door de djembé van Alan Hughes erg Afrikaans en hoe uitgelaten blaast Watkins daarna op zijn harmonica op "Mickey Two Suits", wat Toby Kinder op orgel heeft geweten. De reguliere afsluiter volgt na een portie Britse Delta blues die stevig rockt, "Bonus to Dust". "Fat Man's Chicken" is een rocker in Bo Diddley-stijl en op "Elmers End Blues", de bonus-track, krijgen we dan nog de hier zowat meest bluesy, wat jazzy, Joff Watkins op harmonica te horen.
"On Jimmy Regal & The Royals' 'First and Last Stop', you can discover a very successful well balanced mix of all their external influences…" (ESC, Rootstime.be)
Eric Schuurmans
'FIRST AND LAST STOP': tracklist: 01. (Got to Make a) New Flame – 02. Ain't Done Yet – 03. Can't Keep from Losing You – 04. Do Whatever You Can – 05. Empty Streets – 06. You Can't Run – 07. Show Time – 08. The First and Last Stop – 09. Mickey Two Suits – 10. Bones to Dust – 11. Fat Man's Chicken - Bonus – 12. Elmers End Blues | Music/Lyrics: Joff Watkins (5,9,11,12), CJ Williams (1,3,4,6-8,11), w/Sammy Samuels (2,10) | Producer: Lenny Bignell | Credits: Joff Watkins: vocs, harmonica & guitar (2,5,10) / C.J. "Corin" Williams: guitar, bass & lap steel (3) / Sammy Samuels: drums, percussion, b-vocs & Guests: horns (1,2,6): Tich Walker: trumpet, George Simmonds: trombone, Al Nicholls: tenor sax, Chris Rand: tenor sax (10) / Alan Hughes: djembe (1,8,11) / Toby Kinder: organ (7,9) / Tricia Davies Nearn: b-vocs (3,8)
Discography JIMMY REGAL & THE ROYALS: 3-First and Last Stop [2023] | Ain't Done Yet (ep,5#) [2021] | 2-Light Night Chicken [2020] | Just Because (Live @ the 100 Club) (single) [2018] | 1-Jimmy Regal and the Royals [2017] | You'd Better Watch Yourself (single) [2014] |