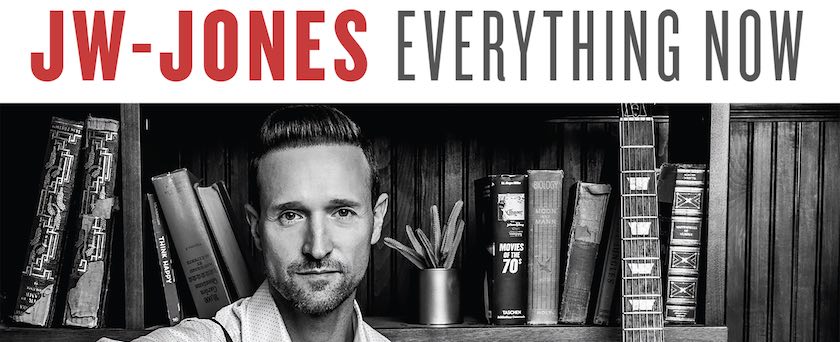 ""Songs, It's all about the songs!…" (JW-Jones)
Canada is een uitgestrekt en groen land, maar ook een geweldig blues & roots land. Dit bewezen eerder al Adam Karch, Al Lerman, Angel Forest, Avi Katz, Bill Wood, Black Cat Bones, Blue Moon Marquee, Blues Delight, Brent Johnson, Buffy Saint-Marie, Carolyn Fe, Cecile Doo-Kingue Chris Antonik, Colin James, Colleen Renissen, Cousin Harley en… (ja, ik ben gecontroleerd gestopt na de letter "C"…) op de vertrouwde Rootstime website al uitvoerig. J-W Jones een singer-songwriter uit Ottawa, voegden we hier al eerder (en met veel plezier) aan deze lange rij Canadese artiesten toe.
JW-Jones is blues gitarist en band leider. Hij won al meerdere Maple Blues Awards (de éérste in 2000 als "Best New Artist") en, was in 2015 Juno Award Nominee met "Blues Album of the Year". Jones debuteerde in 2000 bij Northern Blues Music met 'Defibrillation'. Zij brachten zijn eerste zes albums uit. Jones werkte ook samen met Ruf Records, Blind Pig Records en Solid Blues Records.
Jones won in 1998 de wedstrijd "Battle of the Bands" waarmee hij ook studio tijd won. Hij nam toen een demo op met zes nummers. Een jaar later won hij de Ottawa Blues Guitar Riff-Off competitie, met opnieuw studio tijd in het prijzenpakket. Hij nam hiermee zijn debuut album 'Defibrillatin' (2000) op. Op dit album zijn Steve Marriner op harmonica, toetsenman Pierre Chrétien, drummer Steve Hiscox te horen. Voor zijn album 'Kissing in 29 Days' (2006) kon hij rekenen op saxofonist David "Fathead" Newman (hij werkte twaalf jaar lang samen met Ray Charles), voor zijn album 'Bluelisted' (2008) op "Little" Charlie Baty (Little Charlie & the Nightcats), Junior Watson, Richard Innes en Larry Taylor en voor het album 'Bluelisted' (2009) op de toen achtenzeventig jarige blues gitarist Hubert Sumlin (Howlin' Wolf). 'Belmont Boulevard' (2014), Jones' eerste release bij Blind Pig Records, werd opgenomen o.l.v. producer Tom Hambridge. Jones werd ondertussen al uitgenodigd door Buddy Guy om met hem op te treden in zijn club Legends in Chicago, IL én door Canned Heat, tijdens hun optreden op het Ottawa Bluesfest in 2015.
Als opvolger van 'High Temperature' (2016) bracht JW-Jones in 2018 bij Solid Blues Records een live album uit. Op de nieuwe plaat, 'Everything Now' nodigde hij "speciale gasten" uit: de legendarische Jimmie Vaughan ("Take Your Time"), The Texas Horns (Kaz Kazanoff), Rob McNelley, Stanton Moore ("Everything Now") en Gordie Johnson van Big Sugar. Gordie is te horen op "Good to be True". JW schreef alle nummers met de Canadese legendes Dick Cooper en Johnson (die ook de producers waren). Verder kan je op "To Tell You the Truth (I Lied)" ook "echte" strijkers horen. Op het nieuwe album gaat het volgens JW allemaal "om de songs!...", die vaak erg persoonlijk zijn. Op "Papa's in the Pen" (feat. Aaron Sterling) en "When You Left" (feat. The Texas Horns) kan je dit goed horen. Het zijn verhalen waarbij er tijdens  de opnames tranen vloeiden. Rob McNelley is een gitarist die toerde met Bob Seger en in de studio samenwerkte met o.a. Buddy Guy, Kingfish, Joe Bonamassa en nog meer. Hij speelt gitaar op "My Luck". Enkele van de beste drummers ter wereld staan ook op dit album: Aaron Sterling, sessiedrummer van de sterren (John Mayer, Taylor Swift, Harry Styles. Lady A, en nog veel meer) kan je horen op "Papa's in the Pen" en shuffle-koning Jason Corbiere (toerde met Jimmie Vaughan). JW zelf drumde op "Keeping Me Up".
"On his new album 'Everything Now' JW-Jones was able to collaborate with one of his great heroes, Jimmie Vaughan and are the songs central…" (ESC, Rootstime.be)
Eric Schuurmans
'EVERYTHING NOW': tracklist: 01. Everything Now – 02. Keeping Me Up – 03.  Papa's in the Pen – 04. Take Your Time - 05. To Tell You the Truth (I Lied) - 06. My Luck - 07. It's Not Raining in L.A. - 08. When You Left - 09. Works Every Time – 10. I Choose You – 11. Good to be True | Music/Lyrics: Jones, w/Johnson (2,4,7,9,11) & Cooper (3,5-11) or as [noted] | Producer: Dick Cooper & Gordie Johnson | Credits: JW-Jones: vocs, guitar, drums (2) / Jason Corbiere: drums  & Feat. Stanton Moore (1),  Aaron Sterling: drums (3), Jimmie Vaughan (4), Rob McNelley: guitar (6), The Texas Horns (8), Gordie Johnson (11)
Discography JW-JONES: Everything Now [2023] | Sonic Departrures [2020] | Live [2018] | High Temperature [2016] | Belmont Boulevard [2014] | Seventh Hour [2012] | Midnight Memphis Sun [2010] | Bluelisted [2008] | Kissing In 29 Days [2006] | My Kind of Evil [2004] | Bogart's Bounce [2002] | Defibrillatin [2000]