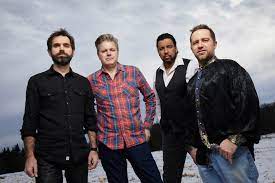 "Brian Templeton, always in good company…"
Delta Generators is een uit Boston (MS) afkomstige rock band, die in 2008 door vier gelijkgezinden opgericht werd. Het viertal bestond uit Craig Rawding (zang, harmonica, gitaar), de broers Charlie (gitaar) & Rick O'Neal (bas) en Jeff Armstrong (drums). Ze debuteerden in 2008 met 'Devil In the Rhythm'. 'Hipshakers & Haertbreakers' (2016) was al hun vierde studio album en 'Live @ the Spire' (2017) hun éérste live album. Het album werd live opgenomen in het Spire Center for Performing Arts in Plymouth (MA). Voor Rick O'Neal was 'Hipshakers & Heartbreakers' een heel bijzonder album, omdat hij voor de opnames een beroerte kreeg, waardoor hij voortaan links op zijn bas moet spelen. Brian Templeton (The Radio Kings) vervoegde de band in 2016. Hij is met beide O'Neals en Jeff Armstrong te horen op, 'The Lost Year Part 1', een ep die vorig jaar verscheen.  
Vier van de vijf nummers schreven ze zelf en de hier rockende klassieker, "You Are My Sunshine" is een nummer van Jimmy Davis. Met een hoog Southern gevoel opent 'The Lost Year Part 1' met "It's Bigger Than the Both of Us" rustig rockend het album. "Inside Your Blue" is daarna een funky blues nummer met de harmonica van Templeton en de snijdende slide gitaar van Charlie O'Neal in de hoofdrollen. Met de intieme ballade "Living On Dreams" gaat het over in een Americana. De soulvolle zang van Templeton en zijn melancholische harmonica vallen nu op. Aan het relaxte "Get Up and Go", de afsluiter werkte toetsenist John Cooke (orgel, piano) mee.
"With 'The Lost Year Part 1' the Delta Generators prove that they have to make time for their next full length album…" (ESC, Rootstime.be)
Eric Schuurmans
'THE LOST YEAR PART 1': tracklist: 01 It's Bigger Than the Both of Us – 02. Inside Your Blue – 03. Living On Dreams – 04. You Are My Sunshine [Jimmy Davis] - 05. Get Up and Go | Music/Lyrics: Delta Generators, or as [noted] / Brian Templeton | Producer: Dela Genartors | Credits: Brian Templeton: vocs, harmonica / Charlie O'Neal: e + a guitar / Rick O'Neal: bass / Jeff Armstrong: drums & *John Cooke: organ, piano, e piano (5)
Discography DELTA GENERATORS:  Mind Erasor (single) [2023] | The Lost Year Part 1 (ep,5#) [2022] | Live @ The Spire [2018] | Hipshakers & Heartbreakers [2016] | Get On the Horse [2014] | Hard River to Row [2009] | Devil in the Rhythm [2008] |