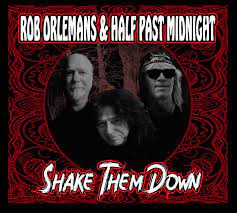 Artiest info
Website
label: Metal Horse Records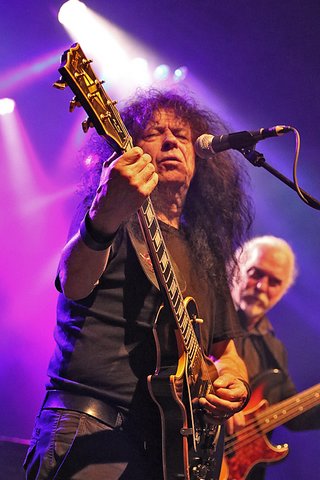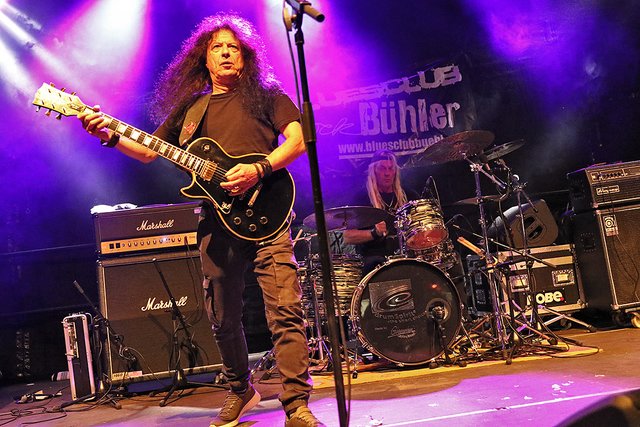 "Een packet goed doordachte songs met veel aanstekelige rock en blues…"
Dit zijn geen nieuwkomers, maar geroutineerde oud gedienden. Veteraan Rob Orlemans & Half Past Midnight leverden recent hun nieuwe studio album 'Shake Them Down' af. Naast de 12 reguliere tracks krijgen we er twee bonus tracks (waarvan een van een met Michael Katon) gratis boven op. Op de gekende Ten Years After-cover na, zijn alle nummers originele Rob Orlemans-songs.
Naast frontman Rob Orlemans maken drummer Ernst van Ee (Highway Chile, Helloise, Vengeance, Lana Lane) en bassist Piet Tromp nog steeds deel uit van dit power trio. Ze waren vaak de headliner op blues festivals in heel Europa en thuis in Nederland. Frontman Orlemans zelf is een innovatieve linkshandige gitarist met een signature stem en eigen dynamische gitaar stijl. Hij toerde jarenlang met de legendarische Curtis Knight, mentor van Jimi Hendrix en ze namen samen verschillende albums op. Samen met zijn band bracht Rob Orlemans in 2002 zijn debuutalbum 'Live In Chicago' uit. In 2006 volgde het studioalbum 'Libertyville'. Dit album leverde Robert Orlemans & Half Past Midnight heel wat optredens op in clubs en tijdens festivals. Er volgden nog 'Into The Spirit' (2009), 'Highway of Love' (2014) en in 2015, n.a.v. een toer die hij  organiseerde met zijn Amerikaanse vriend Michael Katon ("The Knock Out Boogie Tour"), 'Live K.O.'.
'Shake Them Down' opent met "Boogie On Down the Line". Met een portie flegmatieke flair vervolgen ze dan in rechte lijn, nummer na nummer, resoluut hun weg. Op "Never Be Ready" knipoogt drummer Ernst van Ee erg overtuigend naar Black Sabath en op "A Dirty Shame" kijkt Orlemans even Lemmy van Moterhead in de ogen, wat absoluut géén afbraak is voor deze geweldige originele nummers. De titelsong vat nog maar eens Orlemans' kwaliteiten als gitarist samen en ben je op zoek naar een wat rust, dan is er "Song for Erik" (een nummer opgedragen aan Erik Knol). Daarna ontbindt het power trio op "Nadine" opnieuw hun duivels. De update van Alvin Lee's "Love Like a Man" spreekt boekdelen en "Desire", de reguliere afsluiter, is door de slide gitaar misschien wel de meest bluesy song. Dan blijven er nog de Bonus tracks over. "JL Boogie" is een meeslepend nummer met wat Southern, hard rock en on the road again-invloeden. "Red Moon Rising", waaraan Michael Katon meeschreef, is met alles erop en eraan een uitstekende live-song à la lettre.
"Ook op 'Shake Them Down' blijven Rob Orlemans & Half Past Midnight zich nog steeds overtreffen…" (ESC, Rootstime.be)
Eric Schuurmans
'SHAKE THEM DOWN': tracklist: 01. Boogie On Down the Line – 02. Into the Night – 03. Never Be Ready – 04. Honkin' to the Blues – 05. A Dirty Shame – 06. Shake Them Down – 07. Give that Thang to Me – 08. Song for Erik – 09. Nadine - 10. Love Like a Man [Alvin Lee] – 11. Moonlight Rumble – 12. Desire – Bonus tracks – 13. JL Boogie – 14. Red Moon Rising [w/Michael Katon] | Music/Lyrics: R. Orlemans, or as [noted: 10] | Producer: Rob Orlemans | Credits: Rob Orlemans: vocs, guitar / Piet Tromp: bass / Ernst van Ee: drums & Chris Meierink: organ (9), Robert-Jan Kanis: a guitar (11)   
Discography ROB ORLEMANS & HALF PAST MIDNIGHT: Shake Them Down [2023] | Mean Green, Curtis Knight – R. Orlemans: guitars, b-vocs, mouth harp, organ [2018] | LIVE K.O., Katon & Orlemans [2015] | Highway of Love [2014] | Into the Spirit [2009] | Open the Cage (dvd) [2007] | Libertyville [2006] | Live in Chicago [2002] | Nightlicks II [1997] | Nightlicks [1996] | On the Road Again, Curtis Knight & Half Past Midnight [1996] |