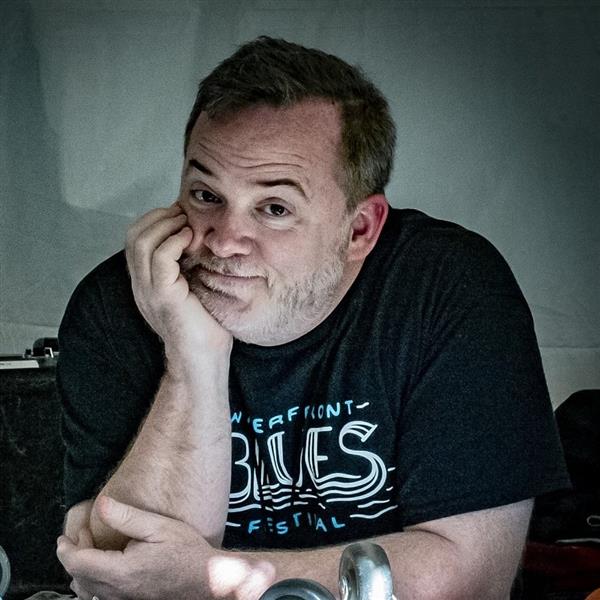 "A musically busy bee from Portland in Oregon…"
Pat McDougall, een keyboardspeler uitPortland (Oregon), kan als muzikant een lange lijst voorleggen met artiesten/bands waar hij al mee samenwerkte, waaronder zijn eigen blues/R&B-bands Runaway Train en Tall Static en Bill Rhoades & The Party Kings, een Muddy Award-winnende band. Meer recent was hij twee jaar lang toetsenist en muzikaal leider van de Rae Gordon Band. Tegenwoordig speelt McDougall vooral met zijn eigen bands. Hij componeerde daarnaast ook muziek voor commercials, onafhankelijke films, theaterproducties en bedrijfspresentaties. Zijn composities zijn erkend door de Portland Music Association en het Keyboard magazine.
'In the Key of Sorry' is de titel van zijn recent verschenen debuutalbum. Op de tracklist staan 13 bluesy en gevarieerde nummers waarop zijn toetsenwerk en zang de rode draad is. Pat werkte samen met Jimi Bott als producer. Zowat alle songs schreef hij zelf, twee samen met anderen. Nummers, "voor elck wat wils": uptempo nummers, ballades, soms swampy songs en poppy rockers. Zijn teksten zijn daarbij soms humoristisch. E.e.a. met verschillende gastoptredens, zoals: Kid Andersen ("In The Key Of Sorry"), Alan Hager ("Don't Ask A Boy (To Do A Man's Job)"), Kara Grainger ("Hot Soup And Ice Cream), Doug Rowell ("Always Wanted T"), Ben Rice ("Actions Speak Louder Than Words" / "I'm That Guy") en nog andere.
"Great to hear how Pat McDougall blossoms on 'In the Key of Sorry', with which he debuts…" (ESC, Rootstime.be)
Eric Schuurmans
'IN THE KEY OF SORRY': tracklist: 01. In The Key Of Sorry (feat. Kid Andersen) – 02. (I Think I Need) Another Lover – 03. Don't Ask A Boy (To Do A Man's Job) (feat. Alan Hager) – 04. Hot Soup And Ice Cream (feat. Kara Grainger) – 05. How You Gonna (feat. Lisa Mann) – 06. Always Wanted To (feat. Doug Rowell) – 07. For Doug (feat. Doug Rowell) – 08. Love Won't Let Me Down (feat. Lloyd Jones) – 09. Actions Speak Louder Than Words (feat. Ben Rice) – 10. Holding Back The Tears (feat. Kivett Bednar) – 11. Which Way The Cold Wind Blows (feat. Kevin Selfe) – 12. Well-Acquainted With The Blues (feat. Whit Draper) – 13. I'm That Guy (feat. Ben Rice) | Music/Lyrics: Pat McDougall, w/ [noted] | Producer: Pat McDougall & Jimi Bott | Credits: Pat McDougall: vocs, keys & band 
Discography PAT MCDOUGALL: In the Key of Sorry [2023] |