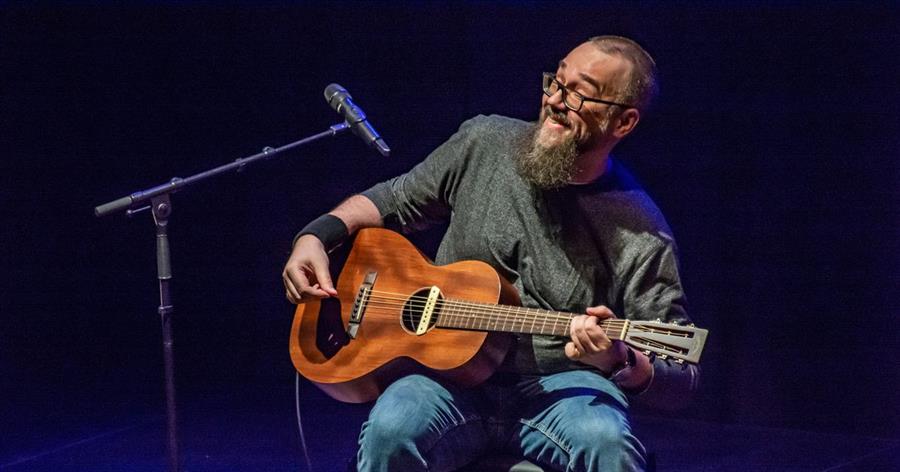 "Led Zeppelin and Hawaiian style appear to be the keywords :)…"
In 2014 en 2018 besprak ik al eens een album van de Estlandse gitarist Andres Roots. In 2014: 'Live in Lerwick', een concertalbum dat in september 2013 in kunstencentrum Mareel in Lerwick (tijdens het 10de Shetland Blues Festival) aan het historische Hay's Dock, opgenomen werd. De Engelse zanger en mondharmonicaspeler Steve Lury, de slide gitarist Andres Roots & bassist Peeter Piik (beiden uit Estland) speelden toen tijdens het tweede gedeelte van het festival occasioneel samen, met de Schotse drummer Paul Archibald tijdens de Muddy Waters Night. In 2018: 'Breakfast in September', het op 1 nummer na solo album van Roots. Roots werkte in verschillende andere projecten ook samen met Steve Lury en de Fin Ismo Haavisto. Roots zelf speelde al samen met Honeyboy Edwards.
De nu zevenenveertig jarige Andres Roots is vermaard als producer en componist. Hij had ook (met Peeter Piik, Raul Terep & Martin Eessalu) een eigen band, de Andres Roots Roundabout. Roots nam met zijn band zijn eerste albums in 2000 op. In 2003 was Roots de medeoprichter van de Bullfrog Brown band. Roots' solo debuut 'Roundabout' verscheen in 2010. Hij werkte hiervoor samen met de Amerikaan Eric "Red Mouth" Gebhardt, de Zweed Bottleneck John, de Brit Dave Arcari en de Finnen Black River Bluesman en Jantso Jokelin. Met Paul Terep bracht Roots als duo in 2014 het live album 'Trad.Alt.Blues' uit. In 2017 was Andres Roots de winnaar van de eerste Estonian Blues Challenge. Begin maart 2018 bracht Andres Roots met zijn kwartet Sawmill Roots Orchestra hun gelijknamige debuutalbum Sawmill Roots Orchestra uit. Hierop wordt de luisteraar getrakteerd op een interessante mix van Mississippi Delta blues gecombineerd met New Orleans jazz voorzien van een psychedelisch tintje. Een compositie "Jook Jones", een ode aan de gepensioneerde Londense muzikant en blues promotor Rod "The Jook" Jones, was ook terug te vinden op 'Breakfast in September' (2018).
Andres Roots was en blijft erg actief in de studio. 'Vol. 12' is zijn eerste release in 2023. Het album bevat zes akoestische nummers opgenomen in 2022, zes akoestische nummers van de cd/EP 'Afternoon' uit 2021 die #15 werd in de maandelijkse airplay-hitlijst van de Independent Blues Broadcasters Association in het VK en #16 in de Collectif des Radios Blues airplay-hitlijst in Frankrijk, en twee elektrische nummers van de 7-inch EP 'Waiting Around' uit 2019.
Laat je op 'Vol. 12' onderdompelen in de wereld van de akoestische slide gitaar blues, een wereld die Andres Roots als geen ander tot in het botje van elke vinger beheerst.  Hij vervoert je al bij de behoorlijk opzwepende opener "So It Is, Subhuti", bedwelmt je op "Hawk's Out with His Axe", is even erg bluesy op "Bye Bye Berry" en weet je dan tot het einde, dat door "Yuletide Blues" ingeleid wordt, voortdurend in de greep te houden."
"Let yourself on 'Vol. 12' submerged in the world of the acoustic slide guitar blues, a world that Andres Roots masters like no other, in each bone of every finger…" (ESC, Rootstime.be)
Eric Schuurmans
'VOL. 12': tracklist: 01. So It Is, Subhuti - 02. Sunstroke - 03. Starbuck Theme - 04.
Dromedary - 05. Birdsong Thing - 06. Hawk's Out with His Axe - 07. Picnic at Dockery's - 08. Bye Bye Berry - 09. Blues on Green - 10. Years Past Midnight - 11. Waiting Around - 12. Western of the Month - 13. Yuletide Blues - 14. Sherwood | Music/Lyrics: Andres Roots | Credits: Andres Roots: guitars
Discography ANDRES ROOTS: Vol. 12 [2023] | Yo-Yo World, w/Red Mouth – feat. Jantso Jokelin (single) [03/2022] | Minor Grips, w/Red Mouth – feat. Jantso Jokelin (single) [02/2022] | Afternoon (ep,6#) [12/2021] | Something in the Evening, w/Red Mouth – feat. Jantso Jokelin (single) [10/2021] | In the Dark, w/Red Mouth (single) [12/2020] | Right Accross the Hill (single) [11/2020] | Tartu Lockdown [09/2020] | Breakfast in September | [2020] | House Arrest 3 (ep,4#) [05/2020] | House Arrest 2 (ep,5#) [04/2020] | House Arrest (ep,4#) [03/2020] | Mississippi to Lochmond [03/2020] | Waiting Around (ep,4#) [2019] | Breakfast in September [11/2018] | Drum Break (EP,6#) [2018] | Sawmill Roots Orchestra Roots Music, by Sawmill Roots Orchestra [2018] | Winter [11/2016] | Mono [05/2017] | Roots Music [2016] | Trad.alt.Blues, by Roots & Terep [2014] | Live In Lerwick, by Steve Lury & Andres Roots [2014] | Three!, by Andres Roots Roundabout [2013] | Rock House (EP), by Andres Roots Roundabout [2013] | Electric Dixieland, by Andres Roots Roundabout [2012] | Leigh's Spider Jam, by Andres Roots Roundabout [2011] | Roundabout, by Andres Roots Roundabout [2010] | Bullfrog Brown with Steve Lury, by Steve Lury & Andres Roots [2009] |