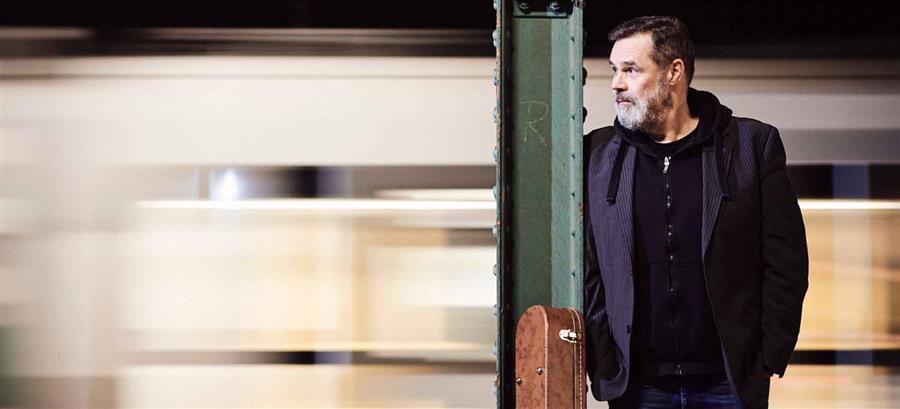 "Once again it impressively underlines his virtuosity, his ability and his distinct feeling for the Blues…"
Andreas Diehlmann speelt al jaren zijn blues in zijn thuisland, Duitsland. Vanaf 1993 was Diehlmann werkzaam als gitaarleraar, arrangeur en componist en is hij als studiomuzikant op menige Schlager terug te horen. Gelukkig koos hij tijdig voor de blues en trad hij toe tot de begeleidingsband van de Amerikaanse blues- en gospelzangeres Sydney Ellis. Het eerste titelloze album 'ADB' (2017) van de Andreas Diehlmann Band stond al in de Amazon Top 10 en met hun tweede, 'Your Blues Is Not Mine' [2018] bevestigde het trio uit Kassel zijn claim op een toppositie in de Blues Rock Charts van Amazon.
"Muzikaal" betekent voor Diehlmann fel, hard en funky. Klasseer hem daarom ergens tussen Hendrix en Walter Trout. In 2022 ontving Andreas, tijdens de uitreiking van de German Blues Awards, deze in de categorie "Best Band".  Naast Andreas Diehlmann (zang, gitaar, orgel) maken bassist Volker Zeller en drummer Tom Bonn deel uit van het trio.
'Long Way to Go' is al Diehlmann's zevende album. Hij schreef acht nummers en coverde, als afsluiter, een nummer van Elmore James, "The Sky Is Crying". "Long Way to Go" is een boogie, "Way to Hell" een rechttoe rechtaan uptempo rocker en "Broken (Into Little Bits)" een klassieke emotionele rock ballade. Hierop legt Tom Bornemann, die hier het trio versterkt, op B3 een tapijt van geluid neer, waarop Diehlmann met een adembenemende solo van start gaat. Het resultaat is een nummer met een  kippenvelmoment. "Burning Slow"klinkt door de riff klassiek en op "Bad Luck" ondersteunt organist Bornemann opnieuw de band, die als kwartet een prima relaxt, maar krachtig Southern rockgevoel neerzet. Ook heel rechtlijnig is de rocker "Wedding Dress" en "Baby It's Gonna Rain All Night", de afsluiter, is klassieke slow blues, waarin Diehlmann heerlijke bluesy spelt en Bornemann, ook met een solo, het beste van zich laat horen.
"Very convincing is Andreas Diehlmann again on his seventh studio album,'Long Way to Go'…" (ESC, Rootstime.be)
Eric Schuurmans
'LONG WAY TO GO: 01.Long Way to Go – 02. Pretty Baby – 03. Way to Hell – 04. Broken (Into Little Bits) – 05. Burning Slow – 06. Bad Luck – 07. Wedding Dress – 08. Baby It's Gonna Rain All Night – 09. The Sky Is Crying [Elmore James] | Music/Lyrics: Andreas Diehlmann, or as [noted: 9] | Producer: A. Diehlmann | Credits: Andreas Diehlmann: vocs, guitars / Jorg Sebald: bass / Tom Bonn: drums / Tom Bornemann: organ

Discography ANDREAS DIEHLMANN (BAND): Loong Way to Go [2023] | Them Chains [2021] | Mercy On Me [2020] | Point of No Return [2019] | Live 2019 (Your Blues Ain't Mine Tour - Kassel Germany - 06.01.2019 [2019] | Your Blues Ain't Mine [2018] | ADB [2017] |