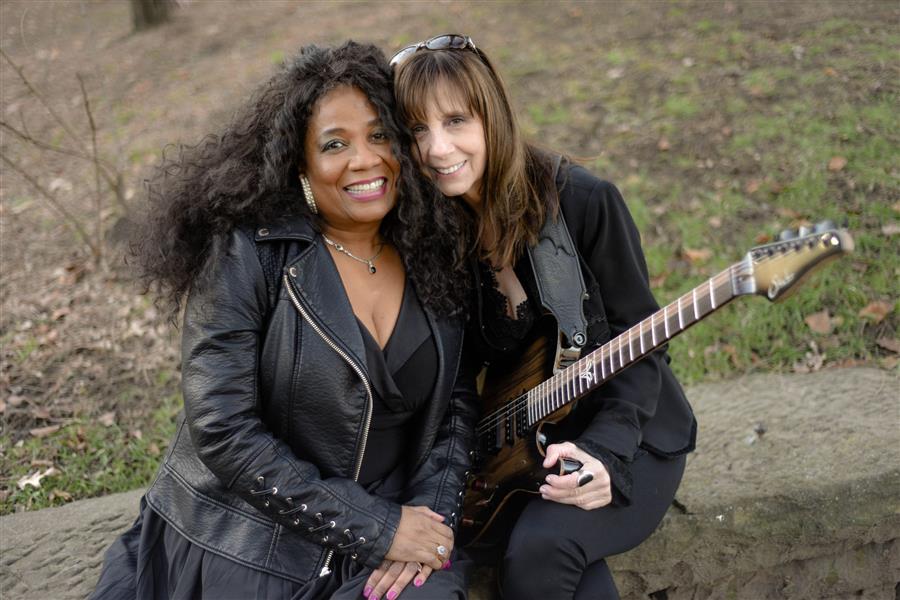 "Both are seasoned performers in their own right…"
Zangeres Stevee Wellons & gitariste Cheryl Rinovato staan als Soulful Femme als dynamisch duo central op het album 'Attitude'. Ze bundelen hun krachten op 11 songs, waarvan ze er negen zelf schreven. Ze namen de nummers op i.s.m. Albert Castiglia die hun producer was, met bassist Matt Raymond & drummer Michael Bram én een aantal gekende gasten: Tommy Castro (zang), Kevin Burt (zang) & Albert Castiglia (gitaar). 
Stevee Wellons hoorde haar Moeder als kind al zingen en piano spelen. Al vanaf eind seventies treedt ze al zelf op met o.a. Rhythm Machine, Jumpstreet en The Real Deal Band. Solo bracht ze al twee albums uit ('Steevee', xx 'All Natural Ingredients', xx). Recent werkte ze samen met Sun King Rising, aka John Blangero. Cheryl Rinovato studeerde al vanaf haar negende gitaar. Ze studeerde af aan de Berklee School of Music. Ze ontvang drie maal de prestigieuze Jim Weber Award als "Guitarist of the Year". Beiden ontmoetten elkaar in 2014. Hun eerste album samen verscheen in 2021 onder de titel 'It Is Well with My Soul'.
Na "Attitude" rockt "Not Like You" al vanaf de eerste akkoorden fors. Daar moet de gitaar van Albert Castiglia zeker iets mee te maken hebben. Op Willie Dixon's slepende "Insane Asylum" staat Kevin Burt (naast Stevee Wellons) als gast achter de microfoon. Met het funky "Can't Get There from Here" trekt Cheryl dan weer alles netjes en met enkele aanstekelige uithalen op gang, echter "Breathe Again" is al de volgende soulvolle ballade. Op "Loser's Game" zit Dave Gross opnieuw achter zijn Hammond orgel en op "Talkin' Loud and Sayin' Nothing" zingt Tommy Castro. "Dysfunction Funk", de tweede cover (een  nummer van James Brown & Bobby Byrd) is een relaxte nummer met sax (Mark Early) en trompet (Doug Woolverton), dat drijft op een reggae ondertoon, "Crazy" wordt gedreven door de drums van Michael Bram en "Time to Walk", de sfeervole afsluiter, trekt de dromerige lijn nog even door.
"Great class is 'Attitude', the collaboration of singer Stevee Wellons & guitarist Cheryl Rinovato…" (ESC, Rootstime.be)
Eric Schuurmans
'ATTITUDE': tracklist: 01. Attitude – 02. Not Like You, ft. Albert Castiglia – 03. Insane Asylum, ft. Kevin Burt [Willie Dixon] – 04. Can't Get There from Here – 05. Breathe Again – 06. Loser's Game – 07. Talkin' Loud and Sayin' Nothing, ft. Tommy Castro [James Brown, Bobby Bird] – 08. Walk Out – 09. Dysfunction Funk – 10. Crazy – 11. Time to Walk | Music/Lyrics: Cheryl Rinovato & Stevee Wellons, or as [noted] | Producer: Albert Castiglia | Credits: Cheryl Rinovato: guitars / Stevee Wellons: vocs, b-vocs / Tommy Castro: vocs (7) / Kevin Burt: vocs (3) / Albert Castiglia: guitar (1,2,7) / Michael Bram: drums / Matt Raymond: bass / Dave Gross: Hammond organ (1,3,5-8,10), tambourine (1,4,8,10) / Doug Woolverton: trumpet (9) / Mark Early: tenor sax (9)
Discography SOULFUL FEMME: Attitude [2023] | It Is Well with My Soul [2021] | Step Right on It (single) [10/2020] | Judgement Day (single) [07/2020] |