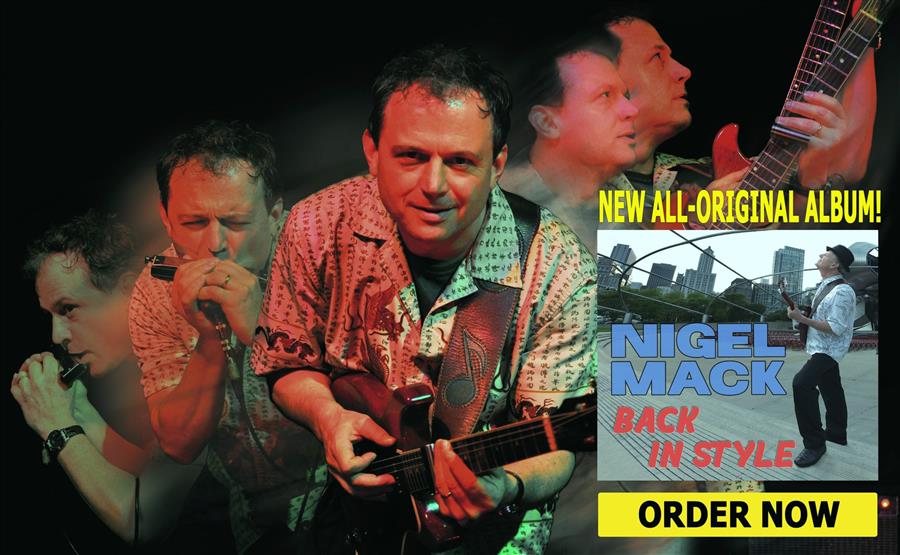 "Chicago blues triple threat…"
Nigel Mack (aka Nigel Mackenzie) is muzikant/multi-instrumentalist en geboren in Saskatoon, een belangrijk centrum voor de distributie van granen én de grootste stad in de Canadese provincie Saskatchewan. Nigel  groeide op met luisteren naar de muziek van de sixties, Bebop jazz en Big Bands, die uit de stereo van zijn vader kwamen. Hij verhuisde in 1988 met zijn band naar Vancouver en woont en treedt sinds 2003 op in "the home of the blues", Chicago (IL). In de loop der jaren stonden Nigel Mack & the Blues Attack zes keer op de affiche van het wereldberoemde Chicago Blues Festival en toerden ze uitgebreid door de States en het grootste deel van Canada. Chicago blues "triple threat" Nigel Mack (slidegitaar, mondharmonica en zang) combineert in zijn energieke shows blues klassiekers met originele blues. Hij schakelt naadloos tussen instrumenten en is er allemaal even bedreven in.
In 1996 verscheen Mack's éérste full length originele studio cd, 'High Price to Play'. Het album kreeg in 1997 tijdens uitreiking van de West Coast Music Awards de nominatie "Best Blues/R&B Album". De bekroonde, volledig originele 'Devil's Secrets' (2011) was landelijk de #1 Canadese blues-cd op Galaxy Satellite-radio (Canada's antwoord op Sirius / XM) en won een prijs van Chicago's Windy City Blues Society.
"A blistering fusion of traditional & contemporary Chicago blues…"
Zijn meest recente album 'Back In Style' (2023) is al zijn vierde studio album. Het is een album met 12 originele MacKenzie-songs. Enkele schreef hij samen met saxofoniste Lise Gilly, die op enkele songs te horen is samen met trompettist Victor Garcia. De opnames gebeurden in Chicago i.s.m. producer/ingenieur Michael Freeman met een lange rij studio muzikanten.
De songs zijn een boeiende mix van traditionele en hedendaagse Chicago blues. Zo is "Travellin' Heavy" waarmee Mack opent in het gezelschap van toetseniste Darryl Coutts (Hammond B3, piano), drummer Jeremiah Thomas & bassist Nick Fane, een rustig nummer met heerlijke harmonica grooves en zijn "Highway 69", "Damn You Mr Bluesman" en "Colt Comfort" nummers met Mack's slide gitaar, die je qua stijl doet denken aan Elmore James, in de hoofdrol. Op "Back In Style" klinkt Mack's harmonica erg funky, op "Redemption" is er de slide gitaar die leidt en op "A Place to Call Home" en "Shangri-La Girl" is Gilly te horen. "Jalapeño Peppers" is een van de rustige nummer en "Just One Man" waarmee het album afsluit, een nummer met naast de gitaar van Mack ook die van JR Wydra, die soms fel en erg bluesy door de melodie snijdt.
"'Back in Style', Nigel Mack's fourth studio album, is a summary of his mastery as a veteran blues musician…" (ESC, Rootstime.be)
Eric Schuurmans
'BACK IN STYLE': tracklist: 01. Travellin' Heavy [w/Fane, Thomas, Coutts] – 02. Highway 69 – 03. Damn You Mr Bluesman – 04. Colt Comfort - 05. Graveyard Gate – 06. Back In Style [w/Gilly, Barnes] – 07. Redemption – 08. A Place to Call Home – [w/Gilly, Wright] – 09. Blues Enough for You [w/Gilly] – 10. Shangri-La Girl – 11. Jalapeño Peppers – 12. Just One Man [w/Wright, Thomas | Music/Lyrics: N. Mackenzie w/ or as [noted] | Producer: Nigel Mack | Credits: Nigel Mack: vocs, guitar, slide guitar (2,4,7,8,11), National stel guitar (9), a guitar (9), harmonica, foot stomp (9) / Drums: Jeremiah Thomas (1), Andrew "Blaze" Thomas (2-5,7,8) – Malcolm Banks (6) – Roger Femali (10) – Larry Beers (11,12) / Bass: Nick Fane (1), Vic Jackson (2,7), Andre Howard (3-6,9,10), Darryl Wright (8,12) / Keys: Darryl Coutts: Hammond B3, piano (1,3,12), Hammond B3/bass pedals (7) - Brian James (2) – Sumito Ariyo Ariyoshi: piano (3,8) – Marty Sammon: Hammond B3, piano (4) – Neil O'Hara: piano, Hammond B3 (5,10-12) – Derwin Davis: piano, Fender Rhodes (6) – Keith Brooks: Hammond B3 (8) / JR Wydra: guitar (2,7,10,12) / Lise Gilly: sax (5,8,10) / Victor Garcia: trumpet (5,8) / Lise Gilly & Nigel Mack: horn arrangements
Discography NIGEL MACK (& The BLUES ATTACK*): Back In Style [2023] | Devil's Secret [2011] | Road Rage* [2001] | High Price to Play [1996] | 100% Live [1994] | It's the Night (soundtrack) [1989] |