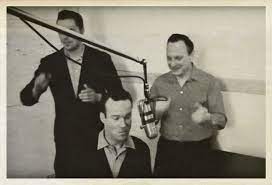 "The re-release of an album in all its natural glory…"
Cherry Casino, het pseudoniem van Axel Praefcke, is in de Berlijnse R&B / Rockabilly scene een bekende producer, songwriter en multi-instrumentalist. Cherry Casino & The Gamblers maakten hun eerste publieke verschijning in 2002 op de beroemde "Brandenburg- Weekender" in Werder / Berlijn. Hun constant toeren en hun dynamische live podiumshow leverde Cherry Casino en zijn band een enorm legioen toegewijde fans op. Hun eerste album 'Let's Play Around' werd in 2006 uitgebracht, gevolgd door en ook uitgebracht bij Rhythm Bomb Records, 'Fat Mama's Daughter' in 2008. Hun muziek catalogiseren? Het is dansmuziek met een zware after-beat, met intrigerende zang van Casino. De sleutel daarbij is dat hun opnames klinken als een spiegelbeeld van hun podiumoptredens.
Omdat Rhythm Bomb Records al 20 jaar meedraait in de "business" brengt het label opnieuw Cherry Casino's 'Let's Play Around!' voor het éérst op vinyl uit. Cherry Casino & The Gamblers' bestverkopende 2005-album was erg succesvol en deze heruitgave is alsdusdanig dus niet verwonderlijk. Het weglaten van nummers van de originele albumrelease, doet niets af aan de algehele kwaliteit van de 10 tracks op 'Let's Play Around!'. De opnames gebeurden onder het kundige toezicht van Axel Praefcke. De muzikanten die met Cherry Casino (zang, gitaar) de nummers opnamen waren Michael "Humpty" Kirscht (gitaar), "Lucky" Lehman: bass / Torsten Peukert (drums) & Ike Stoye (sax).
Cherry Casino opent het album swingend met de shuffle "Huh Baby", gaat in dezelfde elan verder op "Gonna Tear Your Playhouse" en vraagt dan te letten op dichtslaande deuren in "Did You Hear that Door Slam?". In "You're too High for Me" zingt Casino over een onhoudbare relatie. De achtergrondzang van zijn maten doet denken aan The Jordanaires. "A Bar Called Moe's" is een moment van rust, in "Baby Please Come Back" roepen ze samen in koor dat ze snel terug komt, maar uiteindelijk blijkt dat er maar één remedie is: Rock and Roll "All Night Long" en "Let's Play Around!". Na de titelsong opent "Girl Next Door" met een Chuck Berry-achtig intro en eindigt deze ingekorte heruitgave erg aanstekelig met "Rockin' and Rollin'".
"On 'Let's Play Around!', Cherry Casino & The Gamblers experiment idiosyncratically with traditional R&B…" (ESC, Rootstime.be)
Eric Schuurmans
'LET'S PLAY AROUND!': tracklist: A. 01. Huh Baby – 02. Gonna Tear Your Playhouse – 03. Did You Hear that Door Slam? – 04. You're too High for Me – 05. A Bar Called Moe's – B. 01. Baby Please Come Back – 02. All Night Long – 03. Let's Play Around – 04. Girl Next Door – 05. Rockin' and Rollin' | Music/Lyrics: Cherry Casino | Produced & arranged by: Cherry Casino | Credits: Axel Praefcke: vocs, guitar / Michael "Humpty" Kirscht: guitar / "Lucky" Lehman: bass / Torsten Peukert: drums / Ike Stoye: sax
Discography CHERRY CASINO & THE GAMBLERS: Let's Play Around! [2023/2006] | Hi-No-Love [2015] | Cherry Sings… (EP) [2014] | "Let´s Have a Crazy Ball" (single) [2013] | Fat Mamas Daughter [2008] | Hot Rodder's Paradise - Cheryy Casino "Headlights Blues" (compilation) [2006] | Perfect for Parties – Cherry Casino "Gonna Tear Your Playhouse Down" (compilation) [2005] |