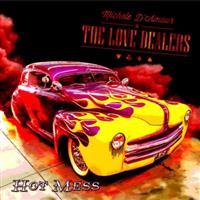 Artiest info
Website
facebook
Label: Blueskitty Records
Info: Blind Raccoon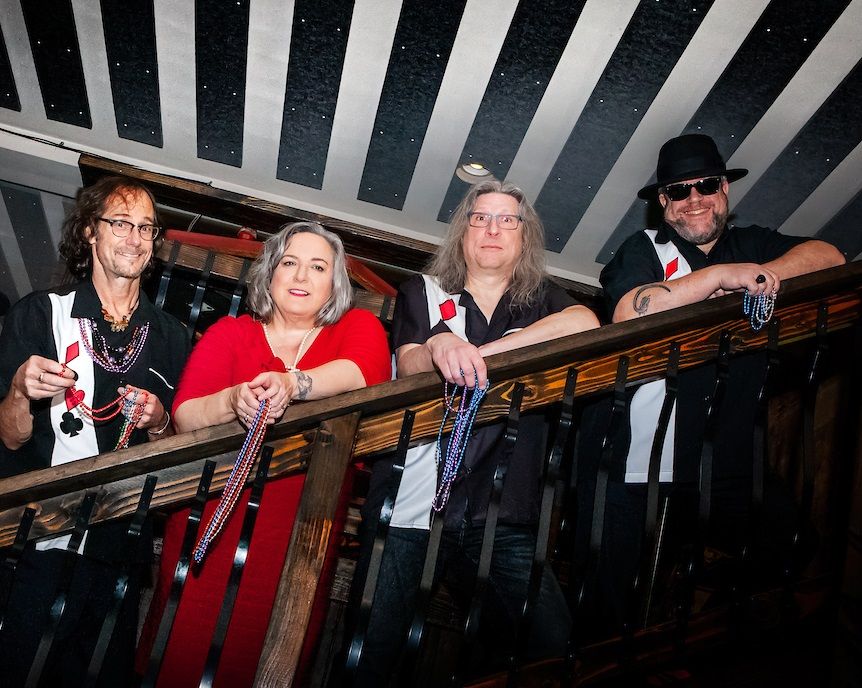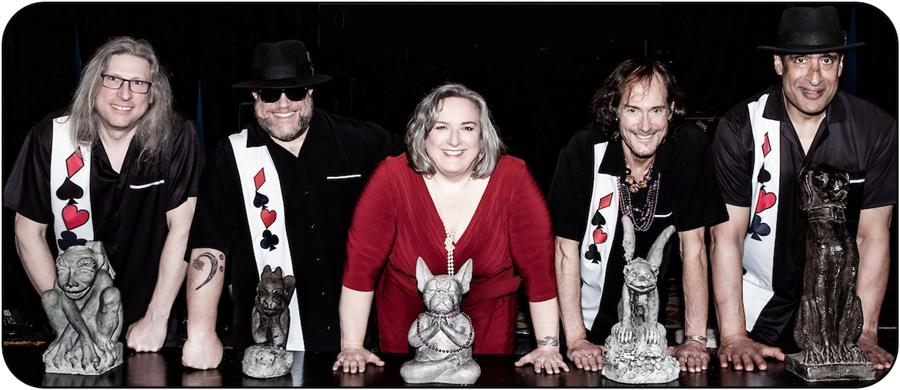 "A big-voiced, blues-beltin' chanteuse, also called the poetess of the blues…"
Michele D'Amour (McDanel) is al sinds 2012 de frontdame van The Love Dealers. Ze groeide op in West Seattle, WA en speelde als kind al piano, zong eerst in het kerkkoor en later in lokale bands. 
The Love Dealers brengen een swampy mix van blues, funk en rock. De line-up van de band bestond origineel uit Rick Bowen (drums), Patrick McDanel (bas) en Greg Dolan (gitaar). In 2014 was de band finalist tijdens de Washington Blues Society's IBC en in 2017 won Michele de Grand Prize tijdens de John Lennon Songwriting Competition. 2018 was nog een beter jaar want toen kreeg Michele met haar band 3 nominaties van de Washington Blues Society: "Best Blues Album" (voor 'Lost Nights at the Leopard Lounge'), "Best Blues Songwriter" en "Best Bass" (Patrick McDanel).
Hun EP 'Sin Comin' On' (2014) kreeg 3 opvolgers, het debuut studio album 'Ante Up' (2015), 'Lost Nights at the Leopard Lounge' (2017) en 'Wiggle Room' (2018). 'Heart of Memphis' verscheen in 2019 bij Blueskitty Records, zoals ook recent de opvolger 'Hot Mess'. Op het album staan elf nummers, de meeste soul/blues. De productie ontbreekt wat kracht, de vlakke zang van Michele D'Amour is het andere min punt, maar het speelplezier en het uitstekende gitaarspel van de nieuwe gitarist Richard Newman (Love Dealer), compenseert veel. De band bestaat verder uit Patrick McDanel (bas), Carl Martin (drums) en Noel Barnes (sax). Verder zijn er ook gastoptredens van Tom Worrell (piano) & Phillip Woo (orgel). Het album is geproduceerd door Garrett Reynolds.
De rode draad doorheen het zevende album, 'Hot Mess' is de levendige pittige swing, zinderende funk en rockende blues. Ze gaan over dingen die ze in de  afgelopen twee jaar hebben meegemaakt, over wilde vrouwen, hot rod-auto's, sociale kwesties, jachthonden en de duivel zelf. In het funky titelnummer waarmee het album opent, gaat door de wah-wah's en saxofoon snel de druk omhoog, terwijl D'Amour een vriend straft die er de kanten vanaf loopt. McDanel's baslijn opent "I Walked On Guilded Splinters" voor een lugubere kijk op Dr. John's donkere Dr. John & The Night Tripper-klassieker. Je kan zien dat de albumhoes geïnspireerd is door de een vlammende Ford '46, verwoord in het surfrock nummer "Plum Crazy". In de zware funkrocker "Devil In the Dark" zingt Michele over de hypocrisie van de demonen die in heilige kleding overal om ons heen dwalen. D'Amour adviseert de mensen daarna in "If The Shoe Fits" op dating sites voorzichtig te zijn en Worrell zet zich op "Muddlin' Through" achter zijn barrelhouse piano om Michele te leiden doorheen haar verhaal van de beproevingen tijdens het volwassen worden in deze chaotische tijden. Richard Newman schreef het rustige R&B-nummer "Helping Hand", waarin met wervelende saxofoon en orgel, een boodschap van hoop gebracht wordt. Verwar daarna de gemakkelijke groove van "It Won't Break My Heart" niet met geluk. Een gladde rumba is de basis voor het treurige verhaal van het bosbrandseizoen in "Cold Red Sun", dat het beeld schetst van een verwoest streek. In het Chicago-stijl getinte "Nurse With a Purse" heeft Michele hoorbaar plezier met het concept van een omgekeerde sugar daddy en de hilarische dubbelzinnige ode aan het pesten "Your Dachshund Won't Leave Me Alone" is een knipoog naar Marcia Ball en wordt duidelijk gemaakt door de pittige New Orleans-beat van Martin's drums, devette slide-gitaar van Newman en funky sax van Barnes.
"Michele D'Amour & The Love Dealers make it with a recognizable gritty, soulful groove clear that they still go for it, without losing their sense of humor…" (ESC, for Rootstime - BE)
Eric Schuurmans
'HOT MESS': tracklist: 01. Hot Mess - 02. I Walked On Guilded Splinters - 03. Plum Crazy - 04. Devil In the Dark - 05. If the Shoe Fits - 06. Muddlin' Through - 07. Helping Hand (radio edit) - 08. It Won't Break My Heart - 09. Cold Red Sun - 10. Nurse With a Purse - 11. Your Dachshund Won't Leave Me Alone | Music/Lyrics by: D'Amour McDanel, or as [noted: 2,7] | Produced by: Garrett Reynolds |Credits: Michele D'Amour McDanel: lead & b-vox / Patrick McDanel: e + upright bass, b-vox / Richard Newman: e + steel guitar, b-vox / Car Martin: drums, b-vox / Noel Barnes: soprano - alto sax, b-vox & Special guests: Tom Worrell: piano (6,11) /Philip Woo: organ (7)
Discography MICHELE D'AMOUR & THE LOVE DEALERS: Hot Mess [2022] | Heart of Memphis [2019] | Wiggle Room [2018] | Lost Nights at the Leopard Lounge [2017] | Ante Up  [2015] | Sin Comin' On (ep) [2014] |