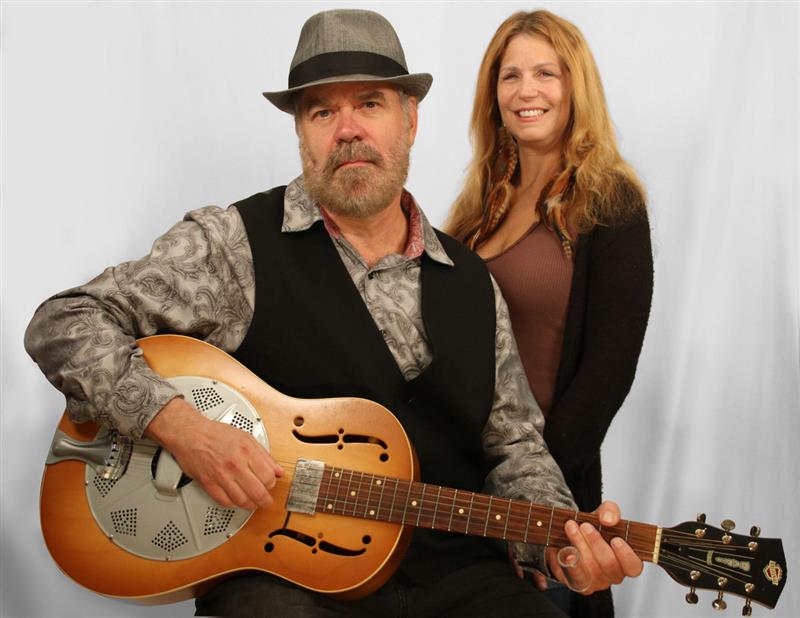 "Call Jesus…"
Robert Hill is afkomstig uit North Little Rock, Arkansas. Hij woont en treedt al 30 jaar op in de omgeving van New York City. Hill won prijzen als slide gitarist en voor zijn songwriting in verschillende competities. Hill debuteerde in 1999 met een titelloos album en bracht ondertussen al meerdere studio albums uit. 'Have Slide Will Travel' (2015) was een instrumentaal album, met een verzameling van verschillende stijlen akoestische en elektrische slide gitaar nummers. In 2014 werd Hill opgenomen in de New York Blues Hall of Fame. Hill treedt al 15 jaar op met Joanne Lediger.
Joanne Lediger, geboren en getogen in Rockland County, New York, is een zangeres die al 35 jaar professioneel live optreedt en opnamen maakt met bands. Ze studeerde bij de vocale meester van Penn State, Mary Saunders. Haar muzikale invloeden bestrijken veel terreinen, van rock tot blues tot bluegrass, folk & Ierse muziek. Joanne heeft de kans gehad om op te nemen en / of op te treden met muzikanten zoals Joe Cocker, Vassar Clements, Derek Trucks, Dr. John om er maar een paar te noemen.
Op Robert Hill's laatste studio album 'Revelation' wordt het duo vergezeld door Hill's dochter, Paulina (zang), Frank Pagano (drums, percussie), Steve Gelfand (bas). Hill zelf is te horen als zanger, op toetsen, mondharmonica en slidegitaar. 'Revelation' is een album met traditionals, eigen werk en een ouder Tom Waits' nummer uit het album 'Franks Wild Years' (1987), "Way Down in the Hole". Sommigen zullen het nummer kennen als thema van de HBO reeks, "The Wire", of in de versie van The Blind Boys of Alabama. Ook in dit nummer is er een link met Jesus. Hill's update is gospel getint, heeft een hip blues rumba ritme en wordt zwoel gezongen door Hill's dochter, Paulina. Er staan daarnaast ook zes oude traditionals op het album, dat opent met het gekende "John the Revelator", een traditionele gospel blues call and response song. Het werd voor het eerst door Blind Willie Johnson in 1930 opgenomen. Muziekcriticus Thomas Ward beschrijft het als "een van de krachtigste nummers in alle vooroorlogse akoestische muziek. Vanaf de eerste akkoorden is de spanning er door het opbouwende riff van een National-gitaar. Ledigers bevelende, klagende stem brengt het verhaal perfect over, geholpen door duellerende slidegitaar en bluesharp. Van de traditionals die daarna volgen zijn de bekendste "Nobody's Fool but Mine", "Samson and Deliah" en "Jesus on the Mainline". De vroegst bekende opname van "Jesus On The Mainline" was Alan Lomax's opname van Mississippi Fred McDowell in de vroege jaren 1950. Daarnaast is Hill's update van Blind Willie Johnson's, "The Soul of a Man" misschien wel de diepste en meest soulvolle versie, die opvalt door de hedendaagse spookachtige soundscape, het zware ritme en een intens samenspel tussen zijn gitaar en mondharmonica.
De overige "traditionele" nummers schreef Hill zelf. "Jesus by the Riverside", het eerste van de vier heeft een aanstekelijk refrein en diepe wortels in countryblues, met op het einde een lang slide solo, dat wat Americana aan het nummer toevoegt. Op "Pay One Way or Another" zit Ed Alstrom achter het Hammond B3 orgel. Het nummer drijft op een schurende blues groove, waarbij Lediger een humoristische aanklacht uitbrengt tegen de hypocrisie van moderne religieuze fanatici. Op de Chicago-shuffle, "A Devil' Fool" adviseert Hill om geen acht te slaan op de verleiding. Zijn laatste originele nummer, "Preacher's Blues", gezongen door Lediger, won een eervolle vermelding in de recente ISC Songwriting Competition.
"Robert Hill's 'Revelation' is a refreshingly unique and contemporary take on a traditional genre…" (ESC, for Rootstime - BE)
Eric Schuurmans
'REVELATION': tracklist: 01. John the Revelator* – 02. Run On* – 03. Soul of a Man* – 04. Way Down in the Hole [Tom Waits] – 05. Jesus by the Riverside - 06. Pay One Way or Another – 07. Nobody's Fool but Mine* - 08. A Devil' Fool – 09. Samson and Deliah* - 10. Preacher's Blues – 11. Jesus on the Mainline* | Music/Lyrics: traditionals*, by: Robert Hill (5,6,8,10), or as [noted: 4] | Produced by: Robert Hill & Paul Special | Credits: Joanne Lediger: vox / Paulina Hill: vox / Robert Hill: guitar, vox, harp, keys / Steve Gelfand: bass / Frank Pagano: drums, percussion / Ed Alstrom: Hammond B3 (6)
Discography ROBERT HILL (BAND) – JOANNE LEDIGER: Maybe You Will Someday, w/S.JĀ (single) [12/2022] | Revelation, w/Joanne Lediger [09/2022] | Robert Hill [03/2020] | Have Slide Will Travel [2015] | My Corner [2007] | Robert Hill [1999] |