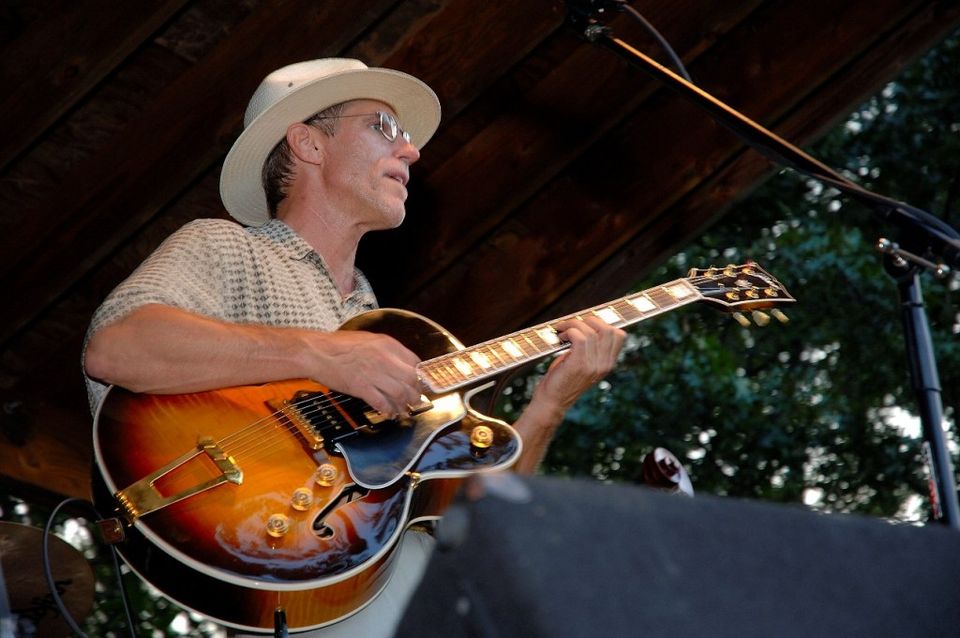 "Sun, sand, surf… and Sarasota Swing!"
Gitarist Ron Kramer uit New Jersey is de leider van The Ron Kraemer Trio, dat verder uit Gregg Germony (staande bas) & Michael Finley (drums) bestaat. Het trio mixt klassieke swing met bluesy bebop en wat Latin jazz. Op zijn nieuwe studio album, 'Sarasota Swing' krijgt hij extra hulp van the Nashville Cats: Reggie Murray (sax) en Jim Schacher (organ). Het is een reis terug in de tijd, naar de swingende jaren op het einde van de fifties, begin sixties. Een periode dat jazz behoorlijk soulvol en bluesy klonk, met artiesten als Jimmy Smith, Kenny Burrell, Wes Montgomery en Charlie Christian.
'Sarasota Swing' is een volledig instrumentaal album, met alleen maar eigen nummers. Het opent met "Junior Steps", een rustig en swingend nummer knipogend naar Charlie Parker, met veel uitstekende en soulvolle sax van Reggie Murray. "Siesta Afternoon" rolt lekker lui op de boxen met opnieuw een prominente dubbele rol voor Murray op sax en orgel. "The Craw" is daarna een slow blues à la lettre, geleid door de priemende gitaar van Ron Kramer. Nadat de boogaloo beat op "I Walked Wilbo" uitsterft, wordt "At the Blazé Café" gedragen door de elegant boppende staande bas van Gregg Germony. Met een Bo Diddley beat zet daarna "Bo Knows" in, maar door de soulvolle sax van Murray wordt de sound King Curtis-achtig. Let op hoe Kraemer geniepig wat Jimi Hendrix-achtige licks doorheen het nummer gooit. Kraemer's jammerende blues gitaar speelt de hoofdrol in de swingende shuffle "Reggie, No 2" gevolgd door de jazzy swing, "Fred's Bop". Na de shuffle "Gone Gulfing" is "Hampton Roads" een relaxte blues met prominente rollen voor Ron's gitaar en Murray's sax. Met de aanstekelige rustige shuffle "Who's Knocking" wordt er intiem afgesloten.
"With jazzy and swinging blues polished up with infectious guitar work, the Ron Kraemer Trio and the Nashville Cats shine on 'Sarasota Swing'…" (ESC, for Rootstime - BE)
Eric Schuurmans
'SARASOTA SWING': tracklist: 01. Junior Steps – 02. Siesta Afternoon – 03. The Craw – 04. I Walked Wilbo – 05. At the Blazé Café - 06. Bo Knows - 07. Reggie, No 2 - 08. Fred's Bop – 09. Gone Gulfing – 10. Hampton Roads – 11. Who's Knocking | Music by: Ron Kraemer, Gregg Germony & Michael Finley | Produced by: Ron Kraemer | Credits: Ron Kraemer: guitar / Gregg Germony: upright bass / Michael Finley: drums, brushes & The Nashville Cats: Reggie Murray: tenor sax, B-3 organ & Jim Schacher: guitar
Discography THE RON KRAEMER TRIO: Sarasota Swing, w/The Nashville Cats [2022] || w/The HURRICANES: Blues from River City [2000] |