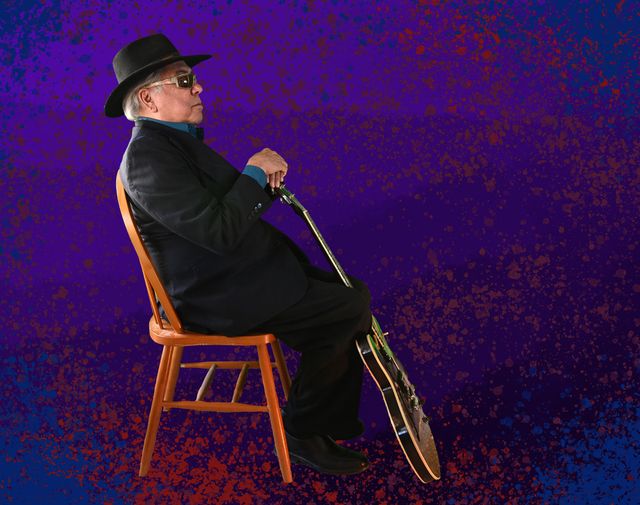 "Always staying in his roots of blues and rock…"
Zanger/gitarist/fluitist, producer, bandleider en bekroonde songwriter Rich Chorné is een muziek veteraan en al enkele decennia actief in de scene. Hij groeide op in El Paso (TX), studeerde er af aan UTEP, toerde in de jaren 70, werkte voor Sony in New York, New Jersey en Maryland en landde uiteindelijk in het zuiden van New Mexico in de bergen van Ruidoso, waar hij zijn eigen studio runt. Met zijn songwriting won hij prijzen van de Songwriter's Association of Washington. Hij was ook een vooraanstaand lid van de Washington Area Music Association. Zijn technische vaardigheden leverden hem roadie-optredens op met Daryl Hall en John Oates en geluidstechnische optredens met Broadway-shows in New York City. Hij speelde ook met El Paso Blues Legend Long John Hunter, en in Maryland had hij het genoegen om te openen voor Kenny Wayne Shepherd, Jerry Lee Lewis, Double Trouble, Earth, Wind and Fire en nog veel meer.
In 2001 verscheen zijn tweede album, 'My First Car', rond zijn Buick Roadmaster uit 1955. Het was een album met voornamelijk traditionele Amerikaanse roots muziek. Rich stond toen in de studio met enkele van de beste muzikanten die er toen waren, waaronder Tommy Lepson, Steve Wolf, Mookie Siegel, Jay Turner, Rob Holmes en Wade Matthews.
'Bringin' in the Blues' is de titel van zijn meest recente, zijn zesde studio album. Hij bracht het uit na Kathy Lyon geholpen te helpen met het schrijven en uitbrengen van twee EP's. Chorné schree negen nieuwe nummers voor het album, die vaak over zijn levenservaringen gaan. Zo gaat "You Gotta Have Faith" over dat wat zijn vader hem adviseerde, "Borderland Blues" over opgroeien in El Paso en "Voodoo Woman" over een vrouw die hij ontmoette in New Hope, Pennsylvania. "Please Come Home" beschrijft gaat over eenzaamheid, "Let's Do It" over het verlangen naar goede muziek en "What Are We Doing" over de frustraties a.g.v. van gestoorde repetities. De covers die hij koos zijn de opener, "Checkin' Up on My Baby" (een nummer van Sonny Boy Williamson) en de afsluiter, "Oh Pretty Woman" van Freddie King. Kathy Lyon zingt op "Favorite Fantasy", "I'd Rather Sleep Alone" (waar ze aan meeschreef) en "Let's Do It". Richard Cagle is te horen op "Walkin' with My Baby" en "Pls Come Home" en Johnny Leopson op "Voodoo Wooman".  
"On 'Bringin' in the Blues', Rich Chorné also remains true to his roots … (ESC for Rootstime - BE)
Eric Schuurmans
'BRINGIN' IN THE BLUES: trackklist: 01. Checkin' Up on My Baby [Sonny Boy Williamson] – 02. Walkin' with My Baby – 03. What Are We Doing – 04. I'd Rather Sleep Alone [w/Kathy Lyon] – 05. Borderland Blues – 06. Favorite Fantasy – 07. Voodoo Woman – 08. Shining Star – 09. You Gotta Have Faith – 10. Let's Do It – 11. Please Come Home – 12. Oh Pretty Woman [Freddie King] | Music/Lyrics by: R. Chorné, w/Kathy Lyon or as [noted] | Produced by: Rich Chorné & Richard Cagle | Credits: Rich Corné: vox, guitar / Gary Grammer: harmonica / Sam Shackleford & Ricky Malichi: drums / Daniel Becker & Erik Unsworth: bass / Bud Hewitt & Paul Goad: keys / Horns: Anthony Terry (3) / Additional vox feat. Kathy Lyon: vox (4,6,10), Richard Cagle (2,11) & Tommy Lepson (7)
Discography RICH CHORNÉ: Bringin' in the Blues, feat. Kathy Lyon, Richard Cagle & Tommy Lepson [2022] | Más [2020] | Touch and Go*, feat. Pete Davis [2016] | Hold Me* [2012] | Rich's Brew – A Collection of Original Compositions [2011] | Betty's Bounce* [2011] | DancingStars - Baile  de las Estrellas* [2011] | That's Shor-Nay [2008/1997] | Rich Chorné All Stars, feat. Nadine Rae (compilation) [2005] | My First Car [2001] | 'xx' [xxxx] | (single*)