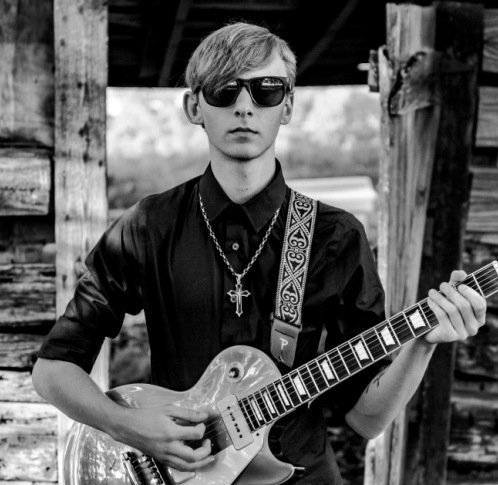 "EDGY, DYNAMIC & POWERFUL…"
Door zijn grootmoeder Doris Powell werd Nathan Pope al erg jong gitarist. Hij nam eerst vaak deel aan blues jams, toerde dan met een eigen band en trok dan voor de Pinetop Perkins Foundation Workshop meerdere keren iedere zomer naar Clarksdale, MS, waar hij les kreeg van o.a. Bob Margolin, Jonn Del Toro Richardson, Victor Wainwright en Christone "Kingfish" Ingram. In 2016 vertegenwoordigde hij de Triangle Blues Society tijdens de IBC in Memphis, TN. In 2018 ontving hij van de Piedmont Blues Preservation Society de "Mike Carr Junior Bluesman of the Year Award".
Nathan Pope debuteerde in 2018 als blues/rock gitarist met 'I'm Not Alone'. Met de release van zijn nieuwe album 'Waiting There For Me' zet dit jong fenomeen al een volgende stap. Twaalf van de dertien songs zijn eigen songs, die al zijn invloeden en voorbeelden bundelen.
"New full-length album, with a jam-packed, powerhouse of blues-rock from beginning to end!
De line-up valt op met namen als drummer Kenny Aronoff (John Mellencamp, John Fogerty), bassist James LoMenzo (Megadeth), Bogie Bowles (Joe Bonamassa) & Tal Bergman (Rod Stewart). De songs drijven op de rock kant van de blues, maar krijgen door Pope's interpretaties een eigen identiteit. De album openers, "Alive" en "Aint Worth Fighting For" laten al meteen een ontketende Pope horen. De titelsong (met (Doris Powell, Bogie Bowles & Dave Wilbur), "Slxw" en "Wxnter" een wat coulantere jonge virtuoos, maar op "My Journey", "Beautiful Cruel World" en "Dream Come True" gooit hij opnieuw alle trossen los. Afsluiters "Blue On Black" en "Krypto's Lullaby" vatten alles nog eens goed samen.
"Nathan Pope's recent nomination for top Rock Artist by the prestigious Carolina Music Awards, speaks words! Discover his new blues/rock release: 'Waiting There for Me'…" (ESC for Rootstime)
Eric Schuurmans
10 CD's te winnen!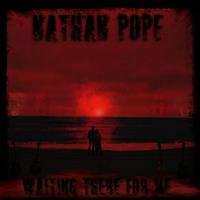 Wil je daar kans op maken, dan mail je ons gewoon even:
je naam, je adres en de vermelding: NATHAN POPE
Binnen een aantal weken wordt uit alle inzendingen de gelukkigen getrokken.
Wij hopen dat u massaal Rootstime - hier - zult mailen
De winnaars worden per mail verwittigd.
'WAITING THERE FOR ME': Tracklist: 01. Alive (feat. Kenny Aronoff & James LoMenzo) – 02. Aint Worth Fighting For – 03. Waiting There For Me (feat. Doris Powell, Bogie Bowles & Dave Wilbur) – 04. Doom – 05. My Journey (feat. Bogie Bowles & Dave Wilbur) – 06. Slxw – 07. Beautiful Cruel World – 08. Wxnter – 09. The One (feat. Tal Bergman) – 10. Dream Come True – 11. Blue On Black – 12. Krypto's Lullaby | Music/Lyrics by: Nathan Pope, or as [noted] | Produced by: Nathan Pope | Credits: Nathan Pope: vocs, guitar, synth & theremin / Doris Poiwell: piano, vocs / Kenny Aronoff, Bogie Bowles, Tal Bergman & Bruce Wassel: drums / James Lomenzo, Dave Wilbur & Dana Trantham: bass
Discography NATHAN POPE: Waiting There for Me, feat. Kenny Aronoff & James Lomenzo [2022] | I'm Not Alone [2018] |