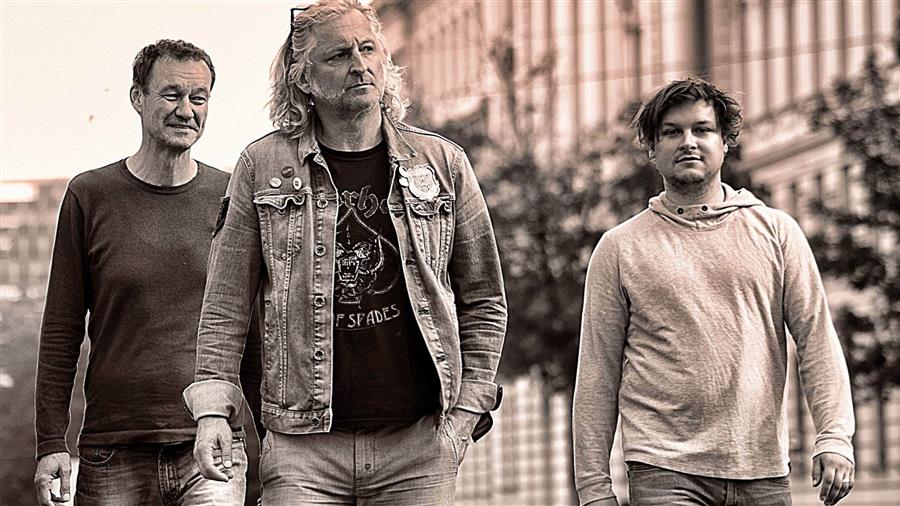 "Even more beautiful and pure 12-bar blues…"
"Sir" Oliver Mally is een Duitstalige artiest, die muzikaal graag bluesy dingen doet met collega's. Zo trad Mally in 2018 op in een kleine Duitse blues club met Peter Schneider. De akoestische set die werd opgenomen, werd uitgebracht met de toepasselijke titel 'Folk Blues Adventures'. Ook nam Mally in 2019 'Overdue' op samen met een Duitse collega, Hubert Hofherr.

Oliver Mally is een Oostenrijkse blues muzikant, gitarist en singer-songwriter. Hij werd geboren in Waga, Steiermark en leerde als tiener zelf elektrische gitaar spelen. Mally zegt beïnvloed te zijn door bluesgitaristen als Albert King, Buddy Guy, John Lee Hooker, BB King en Albert Collins. Als songwriter zijn Townes van Zandt en Steve Earl zijn voorbeelden. In de late jaren '90 werd de akoestische gitaar zijn grote liefde. Vanaf 2002 verschenen er meerdere albums van Mally. In 2017 ontving hij de Gouden Medaille van Stiermarken voor zijn verdiensten als muzikant en organisator.
In 2021 bracht hij 'Tryin' to Get By' uit met de Sir Oliver Mally Group. Deze bestond naast Mally (zang, gitaar) toen uit: Alex Meik (staande bas, bvs), de jonge Peter Lenz (drums, bvs) én enkele gasten: Ian Siegal (gitaar, zang), Raphael Wressnig (Hammond B3) & Hubert Hofherr (harp).
Ongeveer een jaar later en ook opgenomen in de studio van Günther Kolmann in Graz met de Sir Oliver Mally Group, verscheen aanvang deze maand, 'Cancellation Blues'. Naast Mally, zaten ook Alex Meik, Peter Lenz en Hubert Hofherr én, vier "very special guests" met hen in de studio: de Brit Ian Siegal Berry (gitaar & zang), de Oostenrijker Martin Gasselsberger (piano, keys) en de Duitser Peter Schneider (gitaar).
'Cancellation Blues' is op de eerste plaats originele 12-bar blues, zoals de swingende opener "On the Way" met aanstekelige piano tussenkomsten van Gasselberger. Drie covers, waarvan twee van Bob Dylan, vullen de tracklist aan. Er is als eerste, Dylan's "Like a Rolling Stone" en later volgt er ook nog als afsluiter zijn "I Want You". Ik moet zeggen, door hun puurheid en vakkundigheid, goed in de oren klinkende versies! Ook met de eigen nummers scoort hij en de band. Zo schittert Hofherr op harmonica op "21st Century Blues" en het gospelachtige "Cancellation Blues (reprise)" (een knappe reprise zonder Ian Siegal, die zichzelf overtreft op het titelnummer)en zijn nummers als "Trapped", "(Welcome to) Crazyville" en "Shake Up the World" nummers die opvallen door hun stijl en emotionele veelzijdigheid. Om volledig te zijn moet ik nog de Mike Shapiro & Harry Middle brooks Jr. cover "Spooky" vernoemen, die hier mede door Schneider en Gasselberger, naar een hoger niveau getild wordt.
"Solo or with his band, with 'Cancellation Blues' Sir Oliver Mally delivers another versatile contemporary blues album…" (ESC for Rootstime)
Eric Schuurmans
Album tracklist: 01. On the Way – 02. Like a Rolling Stone [Bob Dylan] – 03. 21st Century Blues – 04. Trapped – 05. Cancellation Blues – 06. Almond Street – 07. (Welcome to) Crazyville - 08. Spooky [Mike Shapiro & Harry Middle brooks Jr.] – 09. Shake Up the World – 10. Cancellation Blues (reprise) – 11. I Want You [Bob Dylan] | Music/Lyrics by: O. Mally, or as [noted: 2,8,11] | Produced by: "OMG" | Album credits: Sir Oliver Mally: vocs, guitar / Peter Lenz: drums / Alex Meik: double bass bvs (1) & Guests: Ian Siegal Berry: guitar, vocs (5,11) / Martin Gasselsberger: piano, keys (1,2,8,9), bvs (1) / Peter Schneider: guitar (1,2,8,9) / Hubert Hofherr: harp (3,10)
Discography "SIR" OLIVER MALLY (GROUP*): Cancellation Blues* [2022] | Tryin' to Get By* [2021] | Overdue, w/ Hubert Hofherr [2020 | Folk Blues Adventures – Live, w/Peter Schneider [2018] | The Blues Messengers – Uncut, w/Alex Meik & Peter Müller [2018] | Live Incidents [2017] | Shapeshifter [2015] | This is the Season [2014] | Devils, Monkeys, Aliens [2013] | Strong Believer [2012] | Fleeting Moments [2011] | Ol' Dogs - Nu Yard [2010] | Candystore [2008] | So What? If… [2008] | Radio [2007] | Steppin' Out [2006] | A Hard Night's Day [2006] | Love Is a Devil [2006] | Someone Stole My Christmas Tree [2004] | Bound for Nowhere [2003] | Triple Trouble [2003] | Bulletproof [2001] | I Picked Myself Up [2001] | Live and Lost at the Labyrinth [1999] | Blue Raindrops [1998] | I Wanna Ball Tonight [1997] | Wild Streak [1996] | Rough'n Tough [1995] | Beware of Cats [1993] | Rough Brand [1992] |