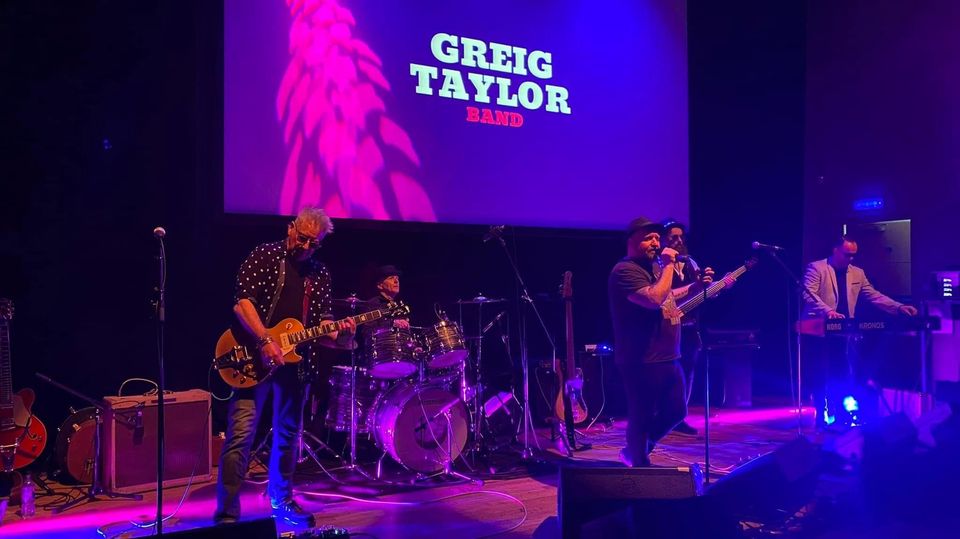 "In the history of my music career few have impressed me like Greig Taylor…" (Earl Thomas)
Zanger, frontman, songwriter, kunstenaar, vader en voorvechter van geestelijke gezondheid Greig Taylor, wordt verder omschreven als "een van de hardst werkende muzikanten van Schotland en een van de beste mannelijke vocalisten van het VK…". Greig was erg populair als leadzanger en co-songwriter van GT's Boos Band, een op blues gebaseerde r'nr band, die in 2016 te zien was in de BBC4-documentaire "UK's Best Part Time Band" en die twee blues albums uitbrachten. De band ontstond na een jam in het najaar van 2010 wanneer Greig Taylor en gitarist John Boos besloten om samen een band op te richten. Bassist David Atkinson en drummer Stephen Coetzee vervoegden hen. Hun debuut album 'Steak House' (2013) werd opgenomen in de Sawmill Cottage studio van de Schotse bluesrock muzikant Lewis Hamilton.
GT bouwde zijn carrière op binnen de Britse blues scene en werd genomineerd tijdens de British Blues Awards 2014 voor "Male Vocalist of the Year". Naast zijn solowerk trad hij op met de Brian Rawson Band, de Original Gary Moore Band en zijn huidige projecten: The Greig Taylor Blues Combo & The Blind Lemon Gators, "Scotland's best delta blues band".
De 4-track EP 'Born to Love You' is opgenomen met de Greig Taylor Band. Het is de voorloper van het aanstaande Greig Taylor Band-album 'The Light'. De band bestaat verder uit: drummer Dave Cantwell (John Martyn), gitarist Brian McFie (Marianne Faithful, Big Dish) en de originele Zal Cleminson's Sin Dogs-leden, bassist Nelson McFarlane (The Sensationele Alex Harvey Band Experience) en drummer David Cowan.
De EP opent met de titeltrack, een rockend wat gospelachtig nummer, met veel piano en met Grammy genomineerde Amerikaanse blues & gospel zanger Earl Thomas. Taylor en Thomas zongen voor de Corona problemen al samen tijdens "The Gospel", shows waarmee ze in 2018 door de VK en delen van Europa toerden. Daarna krijgen we drie "andere" kanten van de band te horen. Op "I Should've Know" krijgen we de Latin/Cubaanse kant te horen, op de swingende GT's Boos Band shuffle "Crucifixion Blues" de blues kant en, op de contrasterende ballade "Tears in My Beer", Greig's gevoelige en emotionele kant.
"The EP 'Born to Love You' is a promising intro to the forthcoming debut album of the Greig Taylor Band…" (ESC for Rootstime)
Eric Schuurmans
Album tracklist:01. Born to Love You, feat. Earl Thomas [Cantwell/Stewart/Cowan/Mcfie/McFarlane/Taylor] – 02. I Should've Know – 03. Crucifixion Blues (live) – 04. Tears in My Beer (live) | Music/Lyrics by: Greig Taylor, or as [noted] | Album credits: Greig Taylor: vocs / Brian McFie: guitar / Dave Cantwell: drums / Nelson McFarlane: bass / David Cowan: keys
Discography GREIG TAYLOR BAND: The Light [20?] | Born to Love You, feat. Earl Thomas (EP,4#) [2022] | Gatorville, The Blind Lemon Gators [2019] |Songbook #1, Greig Taylor [2018] || GT's BOOS BAND: GT's Boos Band [2016] | Steak House [2013] |