Craig Claxton is een in Australië geboren gitarist en singer/songwriter die al meer dan 50 jaar met muziek bezig is. Er gebeurde veel in 1959, het jaar dat Craig in Brisbane geboren werd. Gibson kwam op de markt met de Les Paul Standard (Standard Burst), in de muziekwereld werden er in Los Angeles de eerste Grammy Music Awards uitgereikt, er waren The Beatles, Jimi Hendrix, Cream, The Rolling Stones, Santana, Led Zeppelin, Crosby Stills Nash & Young, Jethro Tull, Frank Zappa en nog veel meer. In zijn tienerjaren ontdekte hij de blues van Muddy Waters, Howling Wolf, John Lee Hooker, Buddy Guy en Robert Johnson om er maar een paar te noemen en nog later via Miles Davis, Django Reinhardt, Weather Report, John McLaughlin en Mike Stern, Steve Khan, Larry Carlton, Lee Ritenour en Robben Ford de jazz. Tijdens zijn studie aan de Griffith University van 1977 tot 1980 ontdekte Craig o.a. de muziek van Steely Dan.

Craig kreeg zijn eerste gitaar toen hij 8 was en keek nooit meer achterom. Op 12-jarige leeftijd gaf hij les aan de plaatselijke gitaaracademie voor muziek en speelde hij optredens in de stad. Sinds 1972 heeft Craig opgetreden met vele Australische bands (als Atomic Boogie Band, Karma, Spellbound en The Electric Blue Chameleons) en met zijn eigen band, The Barbarians. Craig is ook een veel gevraagde sessiemuzikant en speelde met artiesten als o.a. Robben Ford, Mick Hadley en Carol Lloyd. In 2006 opende hij de Guitar Brothers, Australië's belangrijkste gitaarwinkel.
'Azure Blue' is pas zijn éérste studio album en de nummers die Craig Claxton opnam, zijn eigen nummers. "Walk Away from These Blues", de opener is een relaxte jazzy, blues shuffle met hoofdrollen voor Craig's stekende gitaar en de swingende piano van Brendan St. Ledger. "No Sense" wat erna volgt volgt dezelfde stijl, maar is meer bluesy. Craig gooit dan met "Let Myself Out" het roer om en schudt ons wakker met een stuwende en pompende blues rocker met bijtende gitaar en het soulorgel van Brendan St. Ledger. "Dingo" is een dromerig jazzy intermezzo en "Too Much Rain" een ontspannen blues mambo met Craig's bij vlagen twangende gitaar. "Good Intentions" is broeierig en funky en in intro van de rocker "Wild Goose Chase" zit zowaar wat van Jerry Leiber & Mike Stoller's "Riot in Cell Block #9". "Marking Time" is voor de afsluiter "The Long Goodbye" nog even een intieme slow blues.
"Het duurde ruim 50 jaar, maar het was het lange wachten waard op het debuutalbum van Craig Claxton. 'Azure Blue' is een album met lekkere relaxte en bij vlagen pittig rockende, soms jazzy blues..."
"It took over 50 years, but it was worth the long wait for Craig Claxton's debut album. 'Azure Blue' is an album with nice relaxed and at times spicy rocking, sometimes jazzy blues…" (ESC for Rootstime)
Eric Schuurmans
10 cd's te winnen!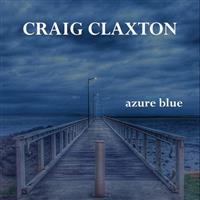 Wil je daar kans op maken, dan mail je ons gewoon even:
je naam, je adres en de vermelding: CRAIG CLAXTON
Binnen een aantal weken wordt uit alle inzendingen de gelukkigen getrokken.
Wij hopen dat u massaal Rootstime - hier - zult mailen
De winnaars worden per mail verwittigd.
Album track list: 01. Walk Away from These Blues – 02. No Sense – 03. Let Myself Out – 04. Dingo – 05. Too Much Rain – 06. Good Intentions – 07. Wild Goose Chase – 08. Marking Time – 09. The Long Goodbye / Music/Lyrics by: Caroline Claxton, w/C. Hammond (1) © 2021 - Produced by: Michael Fix & Brendan St. Ledger / Album credits: Craig Claxton: vocs, guitar / Kevin Howard: bass / John Postlethwaite: drums / Brendan St. Ledger: piano, organ & add. musicians: Neil Wickham: tenor, alt & baritone sax / Mal Wood: trumpet / Michael Fix: guitar solo (5) / Caroline Hammond, Salder Calderwood: bv
Discography CRAIG CLAXTON: Azure Blue [2021] |