"A musical multiped…"
Mark Sanders is een singer/songwriter en multi-instrumentalist afkomstig uit Traverse City in Michigan. Hij nam al zeven albums op, in 2019 'The Night Rolled On' bij Dream Time Records, waar hij als geluidsingenieur werkt. De tien originele songs die hij opnam, zijn allerhande genres zoals Americana, blues en rock en meestal rustige nummers.
Als gitarist, toetsenist, drummer, zanger en songwriter is Marc ook medeoprichter van The Next Exit en The Shakers. In 2012 vormde hij de Mark Sanders Band.
Met "The Night Rolled On" opent Mark erg zelfzeker, in de achtergrond gesteund door de uitstekende back-upzangeres Suzanne Weiler. Sanders is op zijn sterkst in de meer soulgerichte nummers als "Moth to a Flame" en "The Longest Night", de ingehouden nummers als "New World" en de relaxte shuffle "Good to You", maar durft ook te gaan en zichzelf te zijn in uptempo nummers als "Blue Highway" en "Sweet Little Eveything". "Long Road Blues" is een slow blues met Sanders die op gitaar demonstreert en als "True Blue" al de afsluiter is, wordt het klaar dat hij de bekwame "schepper" van elk nummer is.
"Het is helder dat Mark Sanders een muzikale duizendpoot is. Dit laat hij op 'The Night Rolled On' duidelijk als getalenteerde zanger, arrangeur en songwriter horen. Voeg daarbij zijn kunnen als multi-instrumentalist, dan begrijp je waarom dit een prima en gevarieerde productie is…"
"It'is clear that Mark Sanders is a musical centipede. He clearly shows this on 'The Night Rolled On' as a talented singer, arranger and songwriter. Add to all this his abilities as a multi-instrumentalist, then you understand why this is an excellent and varied production…" (ESC for Rootstime)
Eric Schuurmans
10 cd's te winnen!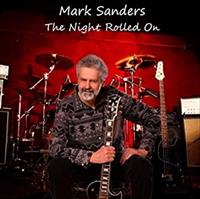 Wil je daar kans op maken, dan mail je ons gewoon even:
je naam, je adres en de vermelding: MARK SANDERS
Binnen een aantal weken wordt uit alle inzendingen de gelukkigen getrokken.
Wij hopen dat u massaal Rootstime - hier - zult mailen
De winnaars worden per mail verwittigd.
Album track list: 01. The Night Rolled On – 02. Moth to a Flame – 03. New World – 04. Blue Highway – 05. Price to Pay – 06. Sweet Little Eveything – 07. The Longest Night – 08. Good to You – 09. Long Road Blues – 10. True Blue / Music/Lyrics by: Mark Sanders © 2019 – Mixed & masterd by: Mark Sanders | Album credits: Mark Sanders: vocs, guitar, keys, drums / Michael O'Brien: bass / Suzanne Weiler: bv
Discography MARK SANDERS: After Hours [2021] | Tonight Somewhere [2020] | The Night Rolled On [2019] | Island Dreams (remasterd) [2019] | The Gamble [2015] | Listen to the Night [2010] |