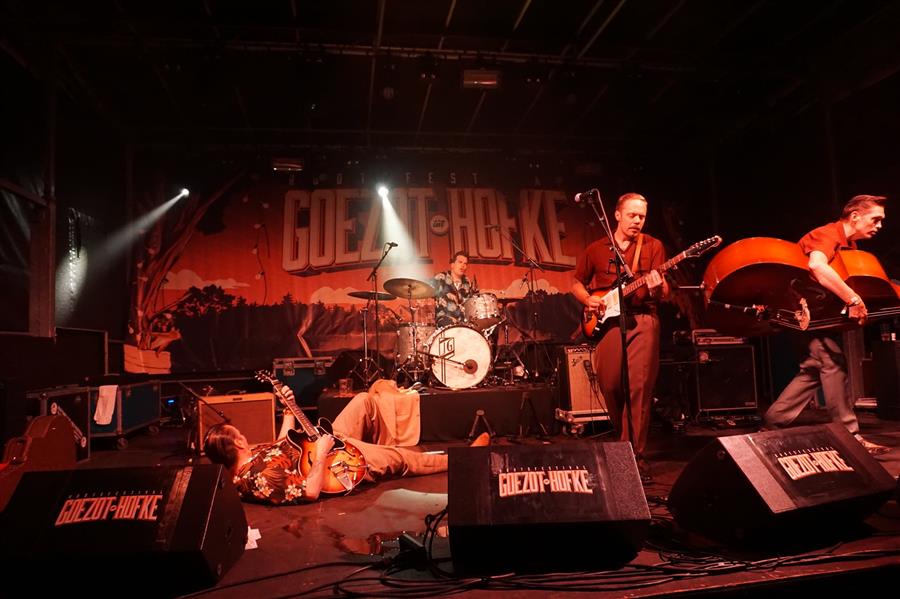 "New album is out now on Rhythm Bomb Records!"
The Kokomo Kings zijn jarenlang de backing band geweest van vele internationaal bekenden als o.a. James Harman, Mud Morganfield (de oudste Muddy Waters, alias McKinley Morganfield telg), Jack Johnson, Lazy Lester, Louisiana Red, John Primer, Big Joe Louis, Keith Dunn en Rusty Zinn. In 2012 gooiden ze het roer om en besloot het Zweeds/Deense viertal hun eigen ding te gaan doen, een eigen 45-toeren promo single "Artificial Natural" uit te brengen en definitief een nieuwe weg in te slaan. In 2013 werd Ronni Auđar -Boysen, de gitarist van de band, de "Danish Blues Artist of the Year' en verscheen hun debuut album 'Artificial Natural'.
Wij maakten ze live al mee tijdens Hookrock 2019 en dit jaar (in september) stonden ze ook op de affiche van Goezot int Hofke om hun  nieuwe album 'A Drive-By Love Affair' te promoten. The Kokomo Kings zijn Martin Abrahamsson (zang, harmonica), Magnus Lanshammar (bas, ritme gitaar), Ronni Auđar-Boysen (lead gitaar) & Daniel Winerö (drums). Bij speciale gelegenheden wil zanger/harmonicaspeler Samuel "Harmonica Sam" Andersson zich nog/ook wel eens bij dit gezelschap aansluiten.
De band beschrijft hun stijl zelf als "een mand onvervalste ouderwetse blues, gemengd met een kopje swamp pop, een soeplepel Hillbilly en een pond wereldse extatische gospelmuziek…". Ze debuteerden in 2013, brachten in 2017 hun tweede studio album 'Too Good To Stay Away From' uit en in 2019 volgde 'Fighting Fire with Gasoline'. Op de voorzijde stond een tekening van een rode jerrycan, wat de nodige explosiviteit deed verwachten.
'A Drive-By Love Affair' is een album met (op één na) songs van Magnus Lanshammer, de bassist van de band. Het album past qua stijl perfect in de traditie van de band en opent met het enige Lanshammer & Winerö nummer "The Wonder Man", gevolgd door "Buckle Up!",de twee nummers waarmee ook in Oud-Turnhout hun set begon. Al genoeg om de dansvloer voor een eerste keer te laten vollopen. "No Dinner Tonight" trekt de strakke rocklijn nog even door, waarna "She's Shaking Up a Storm" en "A Million Stars" de roots rockers zeker zullen plezieren. Na de titelsong en met het veelzeggende "Turning Wine into Water" wordt er nog hoger geschakeld, "Jump Like a Chicken" zegt zonder veel uitleg genoeg en na "The Smile of a Shark" valt met "Drinking Fire and Eating the Ash" het doek.
"Als je ooit in Kopenhagen of Göteborg een avondwandeling maakt moet  je zeker één van hun live juke joints hebt bezoeken. Misschien kom je dan een van de lokale bands als The Kokomo Kings tegen? Hun nieuwe album 'A Drive-By Lover Affair' is een rockend schot in de roos…"
"If you ever spend an evening in Copenhagen or Gothenburg you should definitely visit one of their live juke joints. Maybe you'll bump into one of the local bands like The Kokomo Kings? Their new album 'A Drive-By Lover Affair' is a rocking bull's-eye…" (ESC for Rootstime)
Eric Schuurmans
Album track list: 01. The Wonder Man [M. Lanshammer & D. Winerö] – 02. Buckle Up! – 03. No Dinner Tonight – 04. She's Shaking Up a Storm – 05. A Million Stars – 06. Gotto Get It Off the Hook – 07. A Drive-By Love Affair – 08. Turning Wine into Water – 09. Too Late to Grow Up – 10. Jump Like a Chicken – 11. The Smile of a Shark – 12. Drinking Fire and Eating the Ash / Music/Lyrics by: Magnus Lanshammer, or as [noted] © 2021 - Produced and mixed by: Magnus Lanshammer & Thomas Brixmar | Album credits: Martin Abrahamsson: vocs, guitar / Ronni Auđar-Boysen: guitar / Magnus Lanshammar: bass, bv / Daniel Winerö: drums, maracas
Discography THE KOKOMO KINGS: 4-A Drive - By Love Affair [2021] | 3-Fighting Fire with Gasoline (Gatefold Vinyl 12" LP) [2019] | 2-Too Good to Stay Away From [2017] | 1-Artificial Natural [2013] | The Country Side of Harmonica Sam (7" vinyl single) [2012] | The Kokomo Kings (7" vinyl single) [2012] | Artificial Natural / I Know Where To Go (vinyl single 45rpm) [2012] |