"Chicago Blues and Jazz with a West Coast twist…"
Wat is de link van een Amerikaanse bluesband met DogTown? Van The DogTown Blues Band (DTBB) met DogTown in Californië of St. Louis, Missouri? De juiste link is deze met Californië en Mar Vista in West Los Angeles. Mar Vista, daar waar men in de jaren '70 het skate boarden populair maakte, is ook de buurt waar de leden van de DTBBand elkaar jaren geleden ontmoetten in de Newzone Studio van Wayne Peet, waar hun muzikale ideeën ontsprootten...
De DTBBand bracht recent hun nieuwe album 'Search No Moore' uit, dat ze opnam met: gitarist/producer Richard "Loob" Lubovitch/ mondharmonicaspeler Bill Barrett (de side man van o.a. Rufus Thomas en Gatemouth Brown)/ drummer en eigenaar van Newzone Studio, Lance Lee (Diana Ross, Kenny G)/ up right bassist Trevor Ware (Kenny Burrell)/ toetsenman en opname engineer Wayne Peet & zanger Kaspar Abbo, die er in 2014 -zoals nu ook gastgitarist Marcus Watkins- bij de opnames van hun titelloos debuutalbum niet bij waren. Abbo werd is het kind van een Britse vader en een Amerikaanse moeder en is in de sixties in Londen geboren. Hij verhuisde in de seventies naar de States. 
'Search No More' is de titel van hun nieuwe (derde) album met acht blues klassiekers, een standard en een original. De zangkwaliteiten van Abbo met de bijhorende DogTown-twist, kan je ontdekken op interpretaties van een Jimmie Dotson's verloren klassieker "Search No More", Wille Dixon's "You Shook Me" en Percy Mayfield's "River's Invitation". 'Search No More' is gearrangeerd zoals de blues in de late 1950-jaren, met hedendaagse gitaarsolo's te horen in o.a. "Miss Ann" of, in combinatie met zang en achtergrondzang op het gekende nummer van Tom Johnston, "Long Train Coming". Bill Barrett blaast niet alleen geweldig op zijn chromatische mondharmonica van Hohner, maar zingt ook erg knap op de Percy Mayfield-klassieker "Cooking in Style" en twee verloren parels als "You Better Believe It" van Paul Gayten en "I Wonder" van Cecil Gant.
"Op 'Search No More' The Dog Town Blues band schittert opnieuw met Chicago Blues en Jazz met hun typische West Coast twist…"
"On 'Search No More' The DogTown Blues band shines again with Chicago Blues and Jazz with their typical West Coast twist…" (ESC for Rootstime)
Eric Schuurmans
10 cd's te winnen!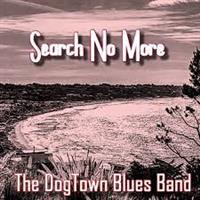 Wil je daar kans op maken, dan mail je ons gewoon even:
je naam, je adres en de vermelding: THE DOGTOWN BLUES BAND
Binnen een aantal weken wordt uit alle inzendingen de gelukkigen getrokken.
Wij hopen dat u massaal Rootstime - hier - zult mailen
De winnaars worden per mail verwittigd.
Album track list: 01. Cooking in Style [Percy Mayfield] – 02. River's Invitation [Percy Mayfield] – 03. You Better Believe It [Paul Gayton] - 04. You Shook Me [Willie Dixon] – 05. All Night – 06. Search No More [Jimmy Dotson] – 07. Miss Ann [Johnson/Penniman] – 08. Glory of Love [Billy Hill] – 09. I Wonder [Cecil Gant] – 10. Long Train Coming [Tom Johnston] / Music/Lyrics by: R. Lubovitch, or as [noted] © 2021 - Produced by: R. Lubovitch | Album credits: Richard Lubovitch: guitar (4,5) / Bill Barrett: chromatic harmonica, vocs (1,3,9) / Wayne Peet: organ, piano, keys / Trevor Ware: upright bass / Lance Lee: drums & Kaspar Abbo: vocs (2,4,6-8,10) / Marcus Watkins: guitar solo (6), bariton guitar (5) + guitars (10)
Discography THE DOGTOWN BLUES BAND: Search No More [2021] | Everyday [2016] | DogTown Blues [2014] |