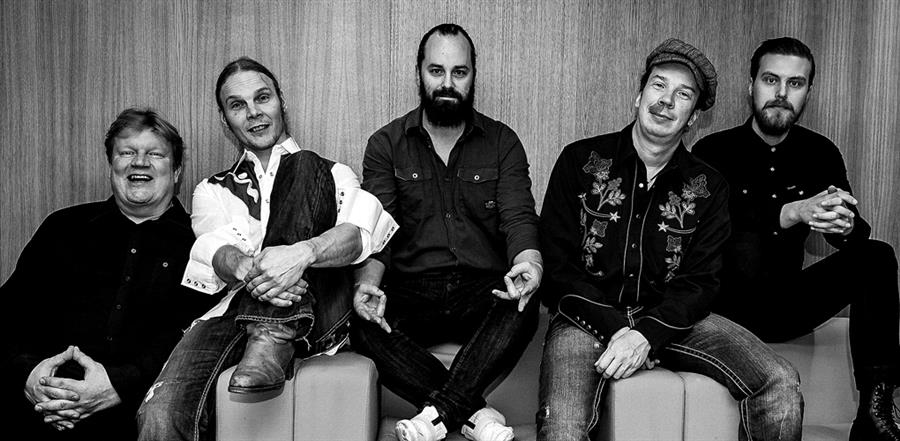 "Wentus Blues Band oli bändi,
johon olemme aina uskoneet kaikki nämä vuodet!..."
Volgens het World Happiness Report van de VN van het voorbije jaar, klimt België drie plaatsen en staat 17de in de ranking van gelukkigste landen ter wereld. Nederland behoudt zijn vierde plaats, maar in Suomi aka Finland, in het land van de duizend meren, zijn de Finnen nog steeds het meest gelukkige volk ter wereld. Zo heel veel weten we niet over al die Finnen, maar wel dat in Kokkola, méér dan 3 decennia geleden, in 1986 om juist te zijn, de Wentus Blues Band van frontman Juho Kinaret het noorderlicht zag. De Wentus Blues Band was een band waarin we altijd zijn in blijven geloven!
Overal in Europa hebben ze (met meer dan 2500 optredens) ondertussen al op een podium gestaan en, ook in Amerika hebben zij hun sporen achtergelaten. Het 5-tal debuteerde in 1989 met een titelloos album. In 2007 vierden zij hun 20-jarig jubileum met het uitbrengen van het dubbele live album 'Family Meeting', opgenomen in het Alexander Theater (aan Bulevardi) in Helsinki. Wat de registratie bijzonder maakt is de indrukwekkende line-up met enkele rock en blues legendes, zoals de overleden Eddie Kirkland (1923-2011), Phil Guy (1940-2008) & Louisiana Red (1932-2012) én, Lazy Lester, (ex-Rolling Stone) Mick Taylor, Kim Wilson, Omar Dykes, Barrence Whitfield, Sven Zetterberg, Eric Bibb en de Zweedse producer/componist Clas Yngström. Hun 30ste verjaardag vierden ze met 'Lucky Strike Mama' (2016). 'Throwback', hun 11de studio album dat we hier al besproken, verscheen in 2018, dit om hun helden en mentors te eren. Op 'Throwback' verscheen een selectie van "favoriete" tracks die door "hen" (lees: Canned Heat, Eddie Kirkland, Louisiana Red…) geschreven zijn. De opnames gebeurden in de Villa Skola, een oude school in Ventus, Kokkola, Finland. De knappe tekening (zoek de namen!) op de hoes was van Patrik Norrman.
"1986-2021: We hebben in die 35 jaar met de boot, auto, trein en vliegtuig versterkers en gitaren vervoerd en zelf 3 Chevy Vans versleten. Met de laatste 'Mean Green Machine' reden we méér dan 500.000km…"
Na 'Too Much Mustard' (een album waaraan Duke Robillard meewerkte) (2019), verscheen recent, in hun 35ste jubileumjaar, 'From the Barrell'. Juho Kinaret (zang), Niko Riippa (gitaar), Robban Hagnäs (bas), Pekka Gröhn (keys) & Daniel Hjerppe (drums) kozen naast drie eigen nummers voor het werk van de "masters" als Duke Robillard, Gary Primich, Eddie Kirkland, Elmore James & Otis Grand. Songs, die hen deden herinneren aan de lange opwindende reis in de voorbije, soms erg bizarre jaren.
"If this Is Love" van Duke Robillard is de opener. Robillard bracht het nummer, dat origineel opviel door een zijn brutale ritme, in 1988 uit met zijn Pleasure Kings op zijn album 'Rockin' Blues'. Ook hier legt Hjerppe vanachter zijn drums het ritme op, terwijl Kinaret zijn liefdersverklaring doet. "My Home" is een gemoedelijke en bekende shuffle van blues veteraan, Gary Primich. Het aanstekelige toetsenwerk van Gröhn is hier erg belangrijk. Sven Zetterberg schreef "Close Talker" een shuffle met knappe slide gitaar, die hier goed op aan sluit. Mick Taylor is een Engelse gitarist en zanger, die vooral bekend is als de voormalige gitarist van de Rolling Stones. Hij was ook een songwriter en schreef o.a. in 1999 de ballade "Losing My Faith". Blues man Eddie Kirkland (1923-2011) -bekend vanwege zijn rigoureuze tourschema's als de "Gypsy of the Blues"- was naast  bluesgitarist, harmonicus, zanger en songwriter ook een rocker. Zijn "I Love You" kreeg in Finland een eigenzinnige update. Joseph Denton "Jay" Miller (1922-1996) was een Amerikaanse producer, muzikant en songwriter uit Crowley, Louisiana, wiens opnames van Cajun, swamp blues en swamp pop de Amerikaanse populaire cultuur beïnvloedden. "I´m a Lover Not a Fighter" is een goed klinkend tussendoortje met wat gratis levenswijsheid. Van Elmore James, een andere blues veteraan, die hier niet mag ontbreken is "Cry For Me Baby", van Otis Grand inclusief de Latino aroma's "No Reason" en vanDeadric Malone aka Don Robey (1903-1975) de slow blues à la lettre, "You Gonna Make Me Cry". Het resterend trio is eigen werk. Van frontman Juho Kinaret de levendige rocker "A Little More Time" en van gitarist Niko Riippa, zowat in dezelfde lijn, de treinrit met wat barrelhouse piano van Gröhn, "Trainfare". Met hun promo single "Last Chance to Dance" sluit het album af.
"'From the Barrell', een geslaagd jubileum album van de Wentus Blues Band. Om blij van te worden!..."
"'From the Barrell', a successful anniversary album by the Wentus Blues Band. To make you happy!..." (ESC for Rootstime)
Eric Schuurmans
10 cd's te winnen!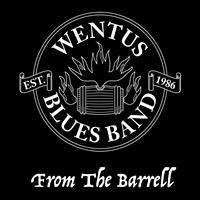 Wil je daar kans op maken, dan mail je ons gewoon even:
je naam, je adres en de vermelding: WENTUS BLUES BAND
Binnen een aantal weken wordt uit alle inzendingen de gelukkigen getrokken.
Wij hopen dat u massaal Rootstime - hier - zult mailen
De winnaars worden per mail verwittigd.
Album track list: 01. If This Is Love [Duke Robillard] - 02. My Home [Gary Primich] – 03. Close Talker [Anders Lewén, Sven Zetterberg] – 04. Losing My Faith [Mick Taylor] – 05. I Love You [Eddie Kirkland] – 06. I´m a Lover Not a Fighter [Jay Miller] – 07. Cry For Me Baby [Elmore James] – 08. No Reason [Otis Grand, L. Bason] - 09. A Little More Time - 10. You Gonna Make Me Cry [D. Malone] – 11. Trainfare – 12. Last Chance To Dance / Music/Lyrics by: Juho Kinaret & Kim Vikman (9), Niko Riippa (11), Robert Hagnäs (12), or as [noted] © 2021 - Produced by: Niko Riippa & Robban Hagnäs | Album credits: Juho Kinaret: vocs, percussion / Niko Riippa: e- guitar / Robban Hagnäs: bass / Pekka Gröhn: piano, Hammond organ / Daniel Hjerppe: drums, percussion & Kim Vikman & Mikael Axelqvist: guitar, drums (7-12)
Discography WENTUS BLUES BAND: From the Barrell [2021] | Too Much Mustard! w/Duke Robillard [2019] | Throwback [2018] | Wentus Blues Band plays Canned Heat: "Future Blues" / "Time Was" (vinyl 7", single) [2018] | Dylan Suomeksi (compilation), w/Wentus Blues Band [2016] | Lucky Strike Mama [2016] | Man of Stone, w/Dick Heckstall-Smith [2015] | Woodstock [2011] | Family Meeting – Live (2cd) [2007] | Agriculture [2007] | Wentus Blues Band feat. Phil Guy – Live in Helsinki – The Last of the Big Spenders [2005] |  Family Album [2004] | No Beginner [2001] | Hoy Hoy, w/Pelle Lindström [1999] | Boogie Man (EP) [1997] | Chitlin' Circuit [1995] | Wentus Blues Band [1989]