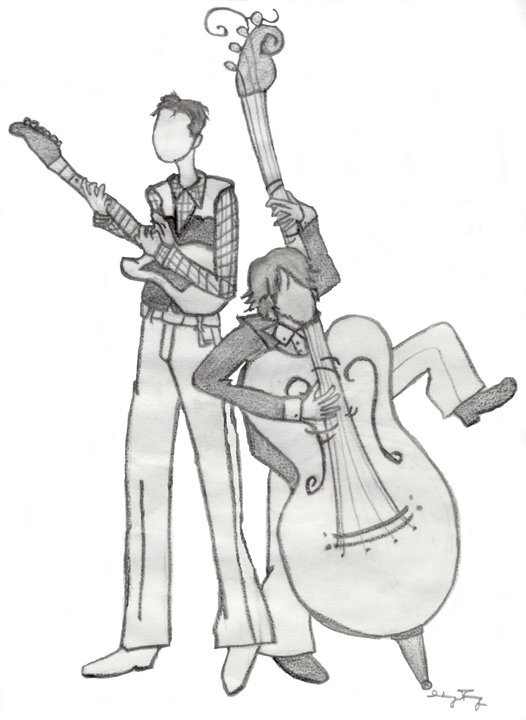 "There are bands for which r'n'r is a lifestyle, and then there are bands for which it is life…"
Een "brothers" band maakt het een recensist altijd gemakkelijk als je moet vertellen over wie het gaat. The Weber Brothers, dat zijn Sam en Ryan Weber, twee broers die al vrij jong, door hun bewondering voor veteraan en nu 86-jarige Ronald "Ronnie" Hawkins, in de muziek belandden. Rompin' Ronnie" was één van de belangrijkste spelers in de rockscene van de jaren '60 in Toronto. Het was "Mr. Dynamo" zelf die hen vroeg voor zijn begeleidingsband The Hawks, als opvolgers van de mannen (Rick Danko, Robbie Robertson, Garth Hudson, Richard Manuel, Levon Helm) die zijn band verlieten om later de Canadees/Amerikaanse rock band -in de jaren zestig de begeleidingsband van Bob Dylan- The Band te vormen. Een uitspraak van The Hawk" spreekt hier boekdelen: "If I'd had the Weber Brothers with me in 1952, Elvis would've been my roadie…".
The Weber Brothers maakten tijdens hun carrière vooral naam door hun energieke, vaak legendarische liveoptredens. In 2010 traden ze tijdens hun 'Left Right Left Right' cd release tour op in The Historic Red Dog in Peterborough in Canada. Sam (gitaar, zang) en Ryan (staande bas) deden de show toen met Tim Bracken (gitaar), Emmet "Corn Dog" Van Etten (drums) en Shai Cookie Peer (keys, orgel).
Voor hun nieuwe (twaalfde) album 'Choose Your Own Adventure' klopten de broers voor hulp op de deur van hun jeugdvriend, drummer en producer Timothy Bracken. Met het nodige schalkse enthousiasme trokken de drie met dertien songs naar de studio. Dat de sfeer, ondanks alle Covid-ellende, er goed in zat, kan je horen aan het resultaat. Met Bracken achter de drums en ook verantwoordelijk voor mixen en mastering, was het duidelijk dat de bezieling en slagkracht al vanaf de eerste nummers ook letterlijk te horen was, waarbij op alle nummers de gepassioneerde zang van Sam ook erg belangrijk was. De opener "Schoolin'", het uptempo "Toys in the Yunkyard", het Beach Boys-achtige "Listen", "Why You Wanna Act This Way" en "I Don't Know Why" -een kort Beatles' moment- staven dit. Er werd ook tijd gemaakt voor enkele relaxte intermezzo's. Zo is er "God Help Us", "Hypothermia" en de afronder "Still the Same Game".
"Met 'Choose Your Own Adventure' staan The Weber Brothers er opnieuw.  Ze trokken met Timothy Bracken naar de studio en maakten er vooral een gemoedelijke reünie van die soms de onbeteugelde pit van hun liveoptredens wat mist. Niet gelaten, want deze broers zijn nog altijd top en dat bewezen ze al jaren…"
"With #13 'Choose Your Own Adventure' The Weber Brothers are back. They went to the studio with Timothy Bracken and mostly made it into a nice and friendly that sometimes lacks a bit the unbridled spirit of their live performances. Forsaken, because these brothers are still great and they have proven that for years…" (ESC, Rootstime.be)
Eric Schuurmans
10 cd's te winnen!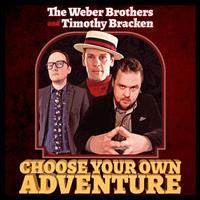 Wil je daar kans op maken, dan mail je ons gewoon even:
je naam, je adres en de vermelding: THE WEBER BROTHERS
Binnen een aantal weken wordt uit alle inzendingen de gelukkigen getrokken.
Wij hopen dat u massaal Rootstime - hier - zult mailen
De winnaars worden per mail verwittigd.
Album track list: 01. Schoolin' – 02. Toys in the Yunkyard – 03. We Were Let Down – 04. Listen - 05. Love Maker – 06. God Help Us - 07. Hypothermia - 08. Why You Wanna Act This Way - 09. I Don't Know Why - 10. Can't Control My Body - 11. Somethin' You Can Talk About - 12. Choose Your Own Adventure - 13. Still the Same Game / Music/Lyrics by: Ryan Weber, Sam Weber & Timothy Bracken © 2021 - Produced by: The Weber Brothers & Timothy Bracken | Album credits: Ryan Weber, Sam Weber & Timothy Bracken: all guitars, bass, keys, vocs / Timothy Bracken: drums, mixing & mastering
Discography THE WEBER BROTHERS: 12-Choose Your Own Adventure, w/Timothy Bracken [2021] | Listen* [12/2020] | When You Wanna Act this Way* [07/2020] | Reverend Ken* [07/2020] | Gonna Be a Good Day* [07/2020] | Let 'em Go* [05/2020] | 11-Schoolin' [05/2020] | I Come from the Future* [04/2020] | 10-Make it Through Too [04/2020] | 9-Patches [2017] |The Last Days of the Broken Harted Jester* [12/2017] | Watching the World Go By*, feat. Emily Burgess [07/2016] | Joltin' Jim*, a Tribute to Joltin' Jim McCoy [03/2016] | Jim*, a Tribute to Joltin' Jim McCoy [03/2016] | Silent Violence* [04/2016] | When Christmas Falls on Peterborough* [2015] | 8-A Weber Brothers Christmas [12/2015] | The Weber Brothers 2002-2012 (compilation) [05/2015] | 7-We [2014] | Thimebomb* [2013] | Jesus, Jesus* [2013] | 6-Baddest Band in the Land [2011] | 5-Left Right Left Right [2010] | 4-Exhibition [2007] | Live @ the Gordon Best [2006] | 3-Bare as Bones [2005] | 2-Lost & Found [2004] | 1-149 Lake Street [2003] | (*single)