"Ambedo is a kind of melancholic trance, a state where we both actively reflect and absorb our surroundings…"
Naast het door toeristen gekende culinaire (Raclette mit Gschwellti, Rösti, Gruyère en Toblerone) kent Zwitserland ook voor muziekliefhebbers een "groter-dan-je-denkt" boeiende muziekscène, waarvan popmusici en rockbands een belangrijk deel uitmaken. Muzikanten/Bands als Dave Knud, de avant-garde pop band Tj Toðdler van Rockford Raymond Wagner ('The Young Man Smile', 2015) en de rock/blues formatie de Ellis Mano Band -waarover we het hier opnieuw willen over hebben- maken hier al jaren deel van uit. Zanger Chris Ellis is er de frontman, Edis Mano de gitarist, Nico Looser de drummer en Severin "Mr. Groove" Graf de bassist. Ellis werd in Zwitserland en Duitsland bekend via tv, Mano en Graf als top sessiemuzikanten en Looser van zijn werk met o.a. Tracy Chapman en Scarlet Rivera.
Hun debuut 'Here and Now' met tien zelfgeschreven bluesy rocksongs, kwam hier in 2019 al aan bod. Aan het album werkten buiten het viertal ook verschillende gastmuzikanten, inclusief blazers en backing vocalisten, mee.
"We chose the album title 'Ambedo' because it reflects the state of the process of recording an album. 'Ambedo' refers to the tendency both to reflect and to absorb. Musicians like us do it all the time, especially when we compose new songs and create a new album..." (guitarist Edis Mano)
'Ambedo' is het tweede studio album van de EMB. De band onderstreept met hun nieuwe nummers een volwassenheid en zelfvertrouwen dat in de voorbije jaren en na moeilijke lockdown maanden is bereikt. "The Horrible Truth", waarmee 'Ambedo' mee opent, is een forse aanstekelige blues/rock song, met uitstekende zang van Ellis, de snijdende gitaar van Mano en het soulvolle orgel van Manuel Halter, die ook al op hun debuut gast was. Op "Sweet Sin" en "Ambedo Mind" laat de band hun warme, intiemere kant horen, terwijl "The Fight for Peace" donkerder klinkt. "Johnny & Susie" is een poppy rocknummer en de warme ballade "Long Road" is een nummer dat gemakkelijk de nodige radiozendtijd kan binnenhalen. Op de blues rocker "The Question" doet gast toetsenist Lachy Doley op Hammond met verve zijn ding en Halter is daarna nog eens aan de beurt op de slowblues "Breakfast". Met "Keep It Simple" en met een knipoog naar Chris Rea wordt het einde ingezet, waarna nog de ballade "Heart 'N Mind" volgt.
"De vier Zwitsers van de Ellis Mano Band leveren met 'Ambedo' een gevarieerd en evenwichtig blues/rock album af, waar ze in de nummers telkens andere sfeervolle accenten leggen …"
"With 'Ambedo' the four Swiss of the Ellis Mano Band deliver a varied and balanced blues/rock album, where they again and again lay different atmospheric accents in the songs…" (ESC, rootstime.be)
Eric Schuurmans
10 cd's te winnen!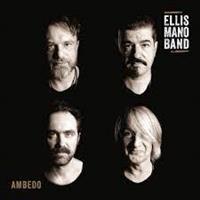 Wil je daar kans op maken, dan mail je ons gewoon even:
je naam, je adres en de vermelding: ELLIS MANO BAND
Binnen een aantal weken wordt uit alle inzendingen de gelukkigen getrokken.
Wij hopen dat u massaal Rootstime - hier - zult mailen
De winnaars worden per mail verwittigd.
Album track list: 01. The Horrible Truth - 02. Sweet Sin - 03. Ambedo Mind - 04. The Fight for Peace - 05. Johnny & Susie - 06. Long Road - 07. The Question - 08. Breakfast - 09. Keep It Simple - 10. Heart 'N Mind / Music by: Edis Mano & Chris Ellis, Lyrics by: Shane Brady, Chris Ellis & Edis Mano © 2021 - Produced by: Edis Mano | Album credits: Chris Ellis: vocs / Edis Mano: guitars / Nico Looser: drums / Severin Graf: bass & Guests: Manuel Halter: Hammond (1,8) / Lachey Doley: Hammond (7)
Discography ELLIS MANO BAND: Ambedo [2021] | Here and Now [2019] |