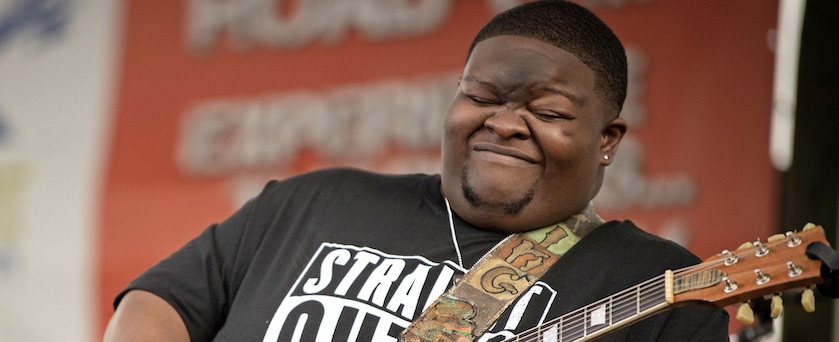 "In this often unruly era of civil disobedience, chaos and disorder, and -dare I say- social and sonic decay, there is still a great deal of beauty in this world. And so Kingfish is…" (Prof. Wayne Goins, Kansas State University)
Ondertussen al zo'n vier jaar geleden, vernoemde ik hier al in mijn Eric Gales' review n.a.v. van zijn album 'Middle of the Road' (2017), de toen 18-jarige gastgitarist Christone "Kingfish" Ingram die op één nummer te horen was, dat we nog meer van dit gitaartalent zouden gaan horen. Christone werkte een jaar later op 'Catfish Blues' (2018) samen met Sebastian Lane en debuteerde in 2019 bij Alligator Records (!) met zijn album 'Kingfish'.
Christone Ingram is geboren in Clarksdale, MS, in een muzikale familie en was als het ware "voorbestemd" om muzikant te worden. De ganse familie zong in de plaatselijke kerk en Christone's moeder was een nicht van de countrymuziek legende Charley Pride. Christone drumde op zijn zesde, speelde bas als hij negen was, kreeg op zijn elfde zijn eerste gitaar en trad in dat jaar ook al voor de éérste keer op in de bekende Ground Zero Club, aan de zijde van een van zijn mentors, blues zanger/gitarist Bill "Howl-N-Madd" Perry. Het was deze Perry die hem de naam "Kingfish" gaf. In 2014 trad Kingfish, toen deel uitmakend van een delegatie muzikanten van het Delta Blues Museum, op in de White House voor Michelle Obama. Ondertussen stond hij al met wereldsterren (Buddy Guy, Tedeschi Trucks, Eric Gales, Robert Randolph…) op verschillende podia in Amerika (Chicago Blues Fest, Beale Street Music Fest, Waterfront Blues Fest, Biscuit & Blues, Legendary R&B Cruise…) en in Europa. Wij konden hem voor het eerst zien tijdens Moulin Blues 2016, waar Christone oud en jong tijdens het jaarlijks feestje in Ospel verbaasde.
"These are songs written when I got home from the road and came back to the 662. This album is much more personal than the first one, because I'm dealing with things that I've been going on in my life since then…"
Ook op zijn langverwachte vervolgalbum '662' werkte Christone "Kingfish" Ingram samen met Grammy Award winnaar, co-songwriter, producer en drummer Tom Hambridge. Christone schreef met Tom Hambridge en Richard Fleming mee aan (op één na) alle 14 nummers op dit album. Over de songs op het album zegt Christone zelf dat "het  nummers zijn, die hij schreef onderweg naar huis naar de 662-regio (van Mississippi). Dit album is veel persoonlijker dan het eerste. Ik zing nu over dingen die sindsdien in mijn leven gebeurd zijn…". De songs zijn daarom doorspekt met suggestieve, autobiografische stukken en persoonlijke teksten, die de waarheid vastleggen en uitstralen, zoals alleen Kingfish die kan vertellen in "Something in the Dirt" en "Too Young to Remember". De titel(song) van het album is vernoemd naar het telefoonnetnummer van zes provincies in de noordelijke helft van Mississippi. "De code werd gebruikt vanaf 1999, het jaar waarin ik werd geboren, dus ik voel me daar zeker mee verbonden…". In "662" schildert Christone levendige beelden van kerken op elke hoek, de baan van zijn vader bij Cooper Tyres en zijn broer die naar Baltimore verhuisde. In "Long Distance Woman" en "That's What You Do" bezingt hij het leven van een vermoeide artiest "on the road". "Mensen zien alleen de glamoureuze kant, maar ze realiseren zich niet dat we meestal niet eens kunnen genieten van de mooie hotels, of de bezienswaardigheden en geluiden van de stad waarin we spelen…". Nummers als "She Calls Me Kingfish" en "I Got to See You" hebben als thema hoop en romantiek, terwijl "You're Already Gone" het universele thema van liefde en verlies omarmt. In "My Bad" gaat het over een waargebeurd drama, als je "in the heat of the moment" vaak dingen zegt die je niet meent. Dan is er het soulvolle "That's All It Takes", Christone's "eigen versie van het baby-please-come-on-home'-nummer..." en "Another Life Goes By", dat een aanklacht van de huidige generatie zwarte artiesten die met raciale barrières te maken hebben en talloze stereotypen moeten doorstaan, die uiteindelijk hun inspanningen als muzikanten ondermijnen, verwoordt. Op "Not Gonna Lie" verwijst hij naar het nakomen van zijn belofte -gedaan aan niemand minder dan zijn mentor, Buddy Guy- "to KEEP the BLUES GOIN'", waarna er na de reguliere afsluiter "Your Time is Gonna Come" nog een bonus nummer volgt. "Rock & Roll" dat Christone schreef met Ashley Ray & Sean, is een epische lofzang die hij opdraagt aan zijn overleden moeder Latrell Pride Ingram. Na haar dood heeft Christone "geleerd om naar het leven te kijken en het te accepteren voor wat het is, en gewoon blij te zijn met wat je hebt…".
"Sinds zijn debuut is Christone "Kingfish" Ingram als songwriter enorm gegroeid, waarbij hij in zijn teksten ook zijn eigen durft bloot te geven. Dat hij daarnaast ook een beter muzikant geworden is, is te horen op zijn tweede studio album '662', een album dat de hele blueswereld snel moet ontdekken!..."
""Since his debut, Christone "Kingfish" Ingram has grown enormously as a songwriter, who also dares to expose himself in his lyrics. That he has also became a better musician can be heard on his second studio album '662', an album that the whole blues world needs to discover soon!..." (ESC - .Rootstime.be)
Eric Schuurmans
Album track list: 01. 662 – 02. She Calls Me Kingfish – 03. Long Distance Woman – 04. Another Life Goes By – 05. Not Gonna Lie – 06. Too Young to Remember – 07. You're Already Gone – 08. My Bad – 09. That's All It Takes – 10. I Got to See You – 11. Your Time is Gonna Come – 12. That's What You Do – 13. Something in the Dirt – bonus track – 14. Rock & Roll [w/Ashley Ray & Sean McConnell] / Music/Lyrics by: Tom Hambridge & Christone Ingram, w/Richard Fleming (2,5,6,8,10,13) or as [noted: 14] © 2021 - Produced by: Tom Hambridge, bonus track: produced, mixed & mastered by Nick Goldston| Album credits: Christone "Kingfish" Ingram: vocs, guitar / Tom Hambridge: drums, b-vocs (1,10), chimes (4) / Kenny Greenberg: guitar (1,2,4,9) / Bob Britt: guitar (3,5,7,10) / Glenn Worf: bass (1,2,4,9) / Tommy MacDonald: bass (3,5,6,7,8,10,11,12,13) / Marty Sammon: piano (2,11,13), Hammond B3 organ (6,8,9), Wurlitzer Piano (8) / Max Abrams: sax (9) / Julio Diaz: trumpet (9) - Bonus track: Christone "Kingfish" Ingram: vocs, guitar / Nick Goldston: drums, bass, piano, keys,a- guitar / Brooke Stephenson: b-vocs
Discography CHRISTONE "KINGFISH" INGRAM: 662 [2021] | Kingfish [2019] |