No Possession is de "revisted" versie van No Posession Blues, waarmee ze na 2018, twee albums en meerdere wisselingen in de bezetting, muzikaal een andere richting uitging. Het is een vierkoppige Zweedse blues/rock band met als frontman Micko "Ylmen" Ylinikka (gitaa, harmonica, zang), bassist Mattias "Steve" Vestlund, gitarist David Ylinikka & drummer Tomas Andersson. In 2011 won No Possession Blues het Scandinavische Blues Contest. Ze debuteerden in 2013 met 'No Possesion Blues', waarna in 2017 'Patchwork' volgde. Niet alleen voor een andere naam, maar ook voor wat meer richting Classic Rock, werd er gekozen.
Hun derde album (of moet het het debuut album van No Possession zijn?) kreeg de naam 'Third Time's Charm'. Op de tracklist staan twaalf door Micko Ylinnikka geschreven nummers die ze met gasten opnamen én, die doen denken aan een bluesy variant van bands zoals The Rolling Stones, The Small Faces en The Black Crowes.
Het album bevat géén wereldveranderende rock nummers, maar aardige in de oren klinkende songs als de opener "Lights Out", "Find My Way Home", "Retold and Recycled", het Stones' achtige "Beggars Can't Be Choosers" en "Knockout Punch", met daar tussen door aardig en goed gezongen ballades als "Feel This Way" & "The Sunshineman" en het folky "Capital Crime".
"'Third Time's a Charm' van No Possession is een aardige, aangename rock plaat. Voor de echte Classic Rock liefhebbers, denk ik, zullen ze wat meer moeten doen om hen echt te overtuigen…".

"'Third Time's a Charm' by No Possession is a nice, enjoyable rock record. To really convince the real Classic Rock aficionados, I think they will have to do a little more…".(ESC – Rootstime.be)
Eric Schuurmans
10 cd's te winnen!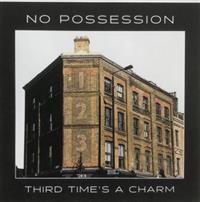 Wil je daar kans op maken, dan mail je ons gewoon even:
je naam, je adres en de vermelding: NO POSSESSION
Binnen een aantal weken wordt uit alle inzendingen de gelukkigen getrokken.
Wij hopen dat u massaal Rootstime - hier - zult mailen
De winnaars worden per mail verwittigd.
Album track list: 01. Lights Out – 02. Find My Way Home – 03. Dark Eyes – 04. Retold and Recycled – 05. Feel this Way – 06. Beggars Can't Be Choosers – 07. Capital Crime – 08. Black Coal, Thin Ice – 09. Taste of Blood – 10. Out to Dry – 11. Knockout Punch – 12. The Sunshine Man / Music/Lyrics by: M. Ylinikka © 2021 - Produced by: No Possession | Album credits: Micko "Ylmen" Ylinikka: lead guitar, harmonica, vocs / Mattias "Steve" Vestlund: bass, vocs / David Ylinikka: lead guitar, vocs / Tomas Andersson: drums, b-vocs & Add. musicians: Ann Roach: b-vocs (1-3,8-11) / Bjørn Palander: organ (3), piano (9) / Kenneth Carlsson: piano (8) / Svenne Johansson: trumpet (1)
Discography NO PESSESSION (BLUES*): Third Time's a Charm [2021] | Patchwork* [2017] | No Possession Blues* [2013] |