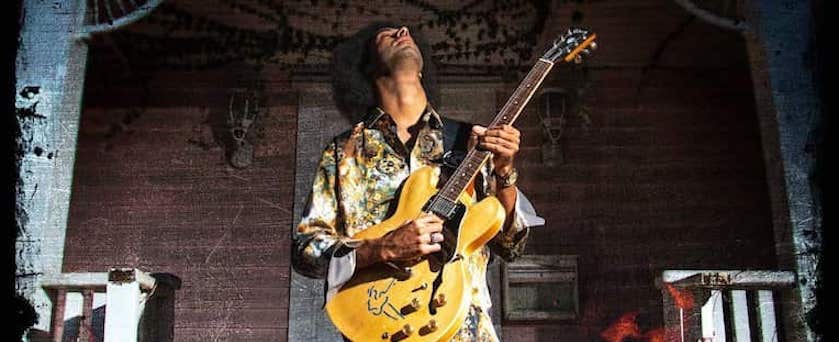 "With my music, I tell my stories in my own way, with my own voice. You won't ever hear me on stage telling someone else's stories. Muddy Waters, B.B. King and JL Hooker all told their own stories. That's what I'm doing…"
Blues muzikant, zanger, songwriter en gitarist Selwyn Birchwood werd in 1985 in Orlando (Florida) geboren. Over hem de volgende pré-Covid feiten die allen in 2015 op festival weiden in de Lage Landen plaatsvonden: hij trad toen op in Wuustwezel op de (laatste!) Nacht van de Blues, in Herent tijdens het (Ge)Varenwinkel Blues & Roots Festival (waar hij en label collega Jarekus Singleton op het podium door de baas van Alligator Records "himself", Bruce Iglauer aangekondigd werden) én, in Ospel tijdens Moulin Blues. Op Moulin Blues, dat al 35 jaar het toonaangevende blues- & rootsfestival van Nederland is en dat wereldwijd aanzien geniet, leerden we tijdens een interview dat we met toen met hem deden Birchwood kennen als de vriendelijke artiest, met de opvallende Afro haardos en de onafscheidelijke lap steelgitaar.
De vader van Selwyn is afkomstig uit het kleine eiland Tobago, dat in de delta van de Orinico in de buurt van Trinidad, op zo'n 30 km van de kust van Venezuela ligt. Zijn moeder is afkomstig uit de UK. Rond zijn 17de ontdekte Selwyn via Buddy Guy, Freddie King, Muddy Waters, Albert King, Lightnin' Hopkins en Albert Collins de bluesmuziek. Op zijn 19de werd hij, o.w.v. zijn muzikale kwaliteiten, uitgenodigd door zijn buurman, blueszanger en lap steel gitarist, Sonny Rhodes. Rhodes bracht zijn eerste album 'I Don't Want My Blues Colored Bright' uit in 1977. Rhodes werd Selwyn's mentor en Selwyn tourde meerdere jaren met hem als gitarist in de States en Canada (terwijl hij nog verder studeerde aan de universiteit van Tampa).
In 2010 richtte Selwyn Birchwood met bassist Donald "Huff" Wright, drummer Curtis Nutall en saxofonist Regi Oliver de Selwyn Birchwood Band op. In 2013 won de band de IBC. Chief Alligator Bruce Iglauer, die toen in de jury zat en die in 2012 al lovend was over de band, bood hem daarna een platencontract aan. Bij hem debuteerde hij in 2014 met 'Don't Call No Ambulance'.
Deze maand brengt Birchwood bij Alligator Records -"Genuine House Rockin' Music since 1971" dat, zoals je kan tellen dit jaar zijn 50ste verjaardag viert!- zijn nieuwe album 'Living in a Burning House' uit. De album line-up bestaat naast Birchwood verder uit bassist Donald Wright, drummer Philp "Squeak" Walker en toetsenist Walter "Bunt" May (B3, Wurlitzer, piano). Saxofonist Regi Oliver (bariton, tenor & alto sax) vervoegt het trio en co-producer/Grammy Award winnaar Tom Hambridge (Buddy Guy, Christone "Kingfish" Ingram, Susan Tedeschi) zingt onopvallend in het achtergrondkoor, terwijl hij afgemeten de tamboerijn schudt.
Birchwood schreef en arrangeerde 13 nieuwe nummers. Als je vanaf de rockende, wat funky opener "I'd Climb Mountains" via het huiveringwekkende "Living in a Burning House" en het relaxte "Revelation", "She's a Dime" en "One More Time" tot de door Regi Oliver hoog in de lucht geblazen aanstekelige blues rocker "Through a Microphone" surft, moet je zeker letten op de opvallende teksten die Birchwood over de huidige blues scene schreef. Birchwood's stem en visie zijn duidelijk, zijn geluid is scherp en meeslepend en zijn verhalen gedenkwaardig en blijvend. Wat we hier moeten aan toevoegen zijn verder de volgende tracks die ook heel wat indruk nalieten: het swingende met een brede glimlach gezongen "You Can't Steal My Shine", de blues shuffle "Mama Knows Best" waarop Chimes Diunna Greenleaf soulvol duetteert met Birchwood en o.w.v. de aanstekelige lap steelgitaar "Freaks Come Out at Night". Na het funky "Rock Bottom" volgt er nog de dromerige afsluiter, "My Happy Place".
Met 'Living in a Burning House' wapent Selwyn Birchwood zich met de juiste ingesteldheid voor de toekomst, die zeker beter wordt. Zoals wij zullen vele fans uitkijken naar de festivals, die snel terug komen gaan en waarop we samen onze liefde voor de muziek kunnen beleven.
"With 'Living in a Burning House' Selwyn Birchwood arms himself with the right attitude for the future, which is sure becoming to be better. Like us from Rootstime, many fans will be looking forward to the festivals, which will return soon and where we can live our love for music together…" (ESC for Rootstime.be)
Eric Schuurmans
Release: 29/01/2021
Album track list: 1. I'd Climb Mountains - 02. I Got Drunk, Laid and Stoned - 03. Living in a Burning House - 04. You Can't Steal My Shine - 05. Revelation - 06. Searching for My Tribe - 07. She's a Dime - 08. One More Time - 09. Mama Knows Best -10. Freaks Come Out at Night - 11. Through a Microphone - 12. Rock Bottom - 13. My Happy Place / Music/Lyrics by Selwyn Birchwood ℗ 2021 – Produced by Selwyn Birchwood & Tom Hambridge
Album Line-up: Selwyn Birchwood: vocs, guitar, lap steel, glockenspiel /  Piccolo Flute Donald "Huff" Wright: bass / Philp "Squeak" Walker: drums / Walter "Bunt" May: B3, Wurlitzer, piano / Regi Oliver: baritone, tenor & alto sax & Tom Hambridge: bg-vocs (5,6), tambourine / Chimes Diunna Greenleaf: vocs (9) / CeCe Teneal: bg-vocs (8)
Discography SELWYN BIRCHWOOD: Living on a Burning House [2021] | Pick Your Poison [2017] | Don't Call No Ambulance [2014] | Road Worn [2013] | FL Boy [2011]