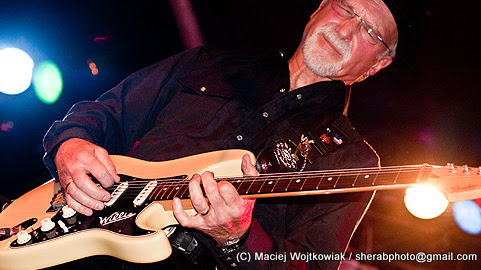 "Every taste in the BLUES..."
William "StratCat Willie" Hayes aka StratCat Willie is een oldschool bluesman die in zijn 50-jarige carrière beïnvloed werd door Mike Bloomfield, T-Bone Walker, Ronnie Earl, Johnny Winter en BB King. Hayes begon als muzikant in een klassieke rock coverband en vormde in 1995 de vierkoppige Blues Plate Special, die furore maakte in de Southern Tier of New York State, een geografische sub regio van de bredere regio Upstate New York in het zuiden van de staat NY. Met hen nam hij drie studio en een live album op.
Vorig jaar stond hij in de studio met enkele muzikanten waarmee hij in de voorbije decennia al veel langer samenwerkte. Als StratCat Willie & the Strays nam hij met toetsenist Neal Massa en voor zes nummers met bassist John Wisor & drummer Dave Fiorini en, voor de andere zeven bassist Vinnie Burvee & Dave Salce voor zijn soloproject 'On the Prowl' de dertien nummers op. Percussionist Jeremy Hummel is op "Life is Good " te horen.
"Starting with an invitation, taking you through the pain of love gone bad, and ending with "The Good News of the Blues"!..."
Vanaf de opener "Come On In" t.m. het vijfde nummer "1:38 in the Mornin'" stelt Willie zich de (eeuwige) vraag, "wat houdt de blues in?...". Hij maakt hierbij gebruik van verschillende blues stijlen. Het autobiografische nummer met de aanstekelige piano van Massa "Come On In" à la Elmore James, de shuffle "Sure 'Nuff Got the Blues" in de stijl van Freddie King en "I Know" met een wervelend orgel en een duidelijke knipoog naar Sonny Landreth. In "Since You Left Me" zit er een swingend latino/rumba-ritme en gaat Willie ten onder aan verwarring, wat het resultaat is van verlaten te zijn door zijn geliefde. In de klassieke ballade en 11 bar blues "1:38 In the Morning" is ook nu weer de afgesprongen relatie het onderwerp.
Met de instrumental "Scramblin'" verandert het tempo en lijkt Massa's orgelspel op dat Booker T en de gitaar die van SRV. De soulvolle ballade "It's Just That Way" gaat daarna de jazzy shuffle "I've Got It Bad" vooraf waarin zowel Willie (door zijn grappige lyrische accenten) als Massa en bassist Burvee schitteren. Het opvallende "Life Is Good" zou een Allman Brothers-nummer kunnen zijn, waarbij de gitaar, piano en percussie -bijna zeven minuten lang- heel veel indruk maken. "Take it Easy Baby" is ontdaan van het overbodige en zet Wisor op staande bas in de schijnwerpers. Willie neemt ons op "Eat, Drink, Boogie, Repeat" daarna mee naar de jaarlijkse IBC en het iconische Rum Boogie Café in Memphis en op "Big Easy Bound" stelt Willie zich een roadtrip naar New Orleans voor waarbij hij zijn filosofie samenvat over hoe blues die ons allemaal genezen kan. Met het opzwepende "Good News of the Blues", sluit het album af en eindigt het feestje.
Het is volop feest als je met StratCat Willie & the Strays zijn 'On the Prowl' doorneemt.  Voor de reislustige muziekliefhebber is dit een uitgebreide tour doorheen alle stijlen van de blues.
"It's a party when you go with StratCat Willie & the Strays through ''On the Prowl'. For the travel-loving music lover, this is an extensive tour through all styles of blues..." (ESC for Rootstime.be)
Eric Schuurmans
Album track list: 01. Come On – 02. Sure 'Nuff Got the Blues – 03. I Know – 04. Since You Left Me – 05. 1:38 In the Morning – 06. Scramblin' – 07. It's Just that Way – 08. I've Got it Bad – 09. Life is Good – 10. Take it Easy Baby – 11. Eat, Drink, Boogie, Repeat – 12. Big Easy Bound – 13. Good News of the Blues / Music/Lyrics by: William Hayes, w/ or as [noted] ℗ & © 2021 - Produced by: StratCat Willie Hayes | Album credits: StratCat Willie Hayes: guitars, vocs, featuring: John Wisor: bass / Dave Fiorini: drums (1,2,6,8,10,13) / Neal Massa: keys / Vinnie Burvee: bass / Dave Salce: drums (3-5,7,9,11,12) / Jeremy Hummel: percussion (9)
Discography STRATCAT WILLIE & THE STRAYS: On the Prowl [2020] || w/BLUES PLATE SPECIAL: Basic Ingredients [2010] | Choice Cuts! Live, Haylitt's Wizery, January 25, 2009 [2010] | Back for Seconds [2005] | Hot 'n Tasty [2002] ||