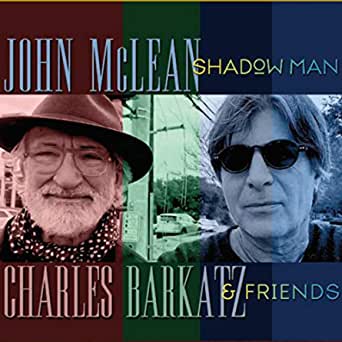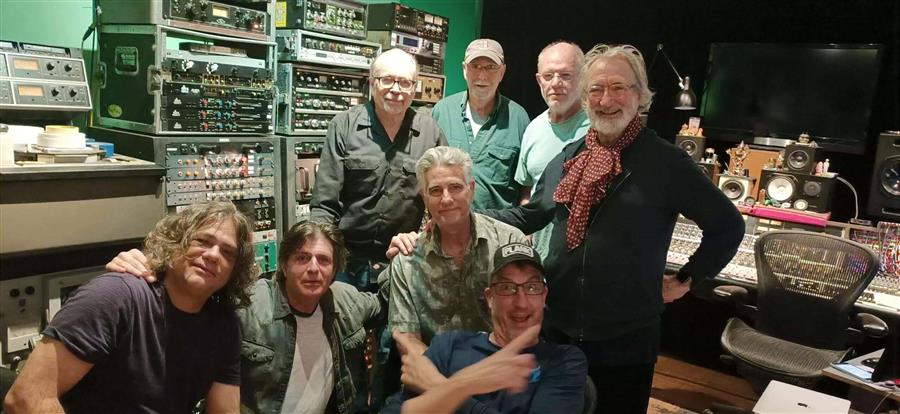 Chris Maresh-Charles Barkatz-Derek O'Brien-Mark "Kaz" Kazanoff-Nick Connolly-John Chipman-Stuart Sullivan-John McLean
 "A sound that treads nicely in blues, jazz and roots territories with an international flair…"
In het voorbije jaar werkten jazz muzikanten John McLean & Charles Barkatz met producer/saxofonist, harmonicaspeler Mark "Kaz" Kazanoff in de Wire Recording studio (met engineer Stuart Sullivan) in Austin, TX, samen voor de opnames van 'Shadow Man'. Ze werden gebackt door een Austin "all-star" band, die bestond uit gitarist Derek O' Brien, bassist Chris Maresh, toetsenist Nick Connolly (keys, B3) & drummer/percussionist John Chipman. Naast The Texas Horns (Mark Kazanoff, John Mills, Al Gomez), werkten nog enkele andere gasten (Elaine Barber, Austin Symphony: harp & Alex Coke: sax) aan het project mee.  
De nu 80-jarige singer-songwriter/jazzgitarist John McLean is een bereisd muzikant. Hij groeide op in zowel Long Island, NY, als Detroit en ging naar het Berklee College of Music in Boston. Na zijn verhuis naar Florida behaalde McLean in 1988 zijn masterdiploma aan de Universiteit van Miami. Hij gaf daarna in Nova Scotia les en vestigde zich uiteindelijk in Chicago, om zich meer op zijn muziek te concentreren. McLean werd één van de beste jazzgitaristen in de area en speelde op ongeveer 20 opnames van andere artiesten mee, waaronder Chicago-vocalisten Terry Callier, Grazyna Auguscik en Patricia Barber. Hij werkte verder ook samen met o.a. Randy Brecker, Jane Ira Bloom en Jerry Garnelli. McLean debuteerde in september 2001 solo met 'Easy Go', dat uitgebracht werd op Premonition Records.
De 71-jarige gitarist Charles Barkatz werd geboren in Parijs. Als jazzman was hij in de "stad van de liefde" bandleider van verschillende groepen, zoals het Fairweather Quintet. Hij trad daar op in de Petite Journal de Montparnasse en in de Duc de Lombards. Als componist van jazz, blues en folksongs, is Barkatz ook een fervent kenner van Antônio Carlos Jobim en Latin muziek. Jobim (1927-1994) was een Braziliaans songwriter, componist, arrangeur, zanger en pianist, de belangrijkste exponent van de bossanova. Jobim wordt beschouwd als de Gershwin van de Latijns-Amerikaanse muziek.
Keyboardist Nick Connolly discribed his music as "beatnik blues…"
McLean en Barkatz -ze passen niet 100% in het profiel van typische bluesartiesten- ontmoetten elkaar in 2019 via saxofonist Alex Coke, die ook op hun eerste album 'So Nice to Come Home To' (2019)  te horen is.
'Shadow Man' werd opgenomen met iedereen in één grote kamer, waarbij  "spontaniteit de dag regeert en collectieve gemoedstoestanden variëren" van verdriet en spijt tot flirterige eigenzinnigheid en bevrijdende verlossing. Hoogtepunten zijn onder meer de pittige opener "Leaky Shoes Blues", het soulvolle door The Texas Horns aangestuurde "The Brooklyn Blues Café", het dromerige "Lucia", de swingende titelsong en "Back Train", waarop de trein rustig puffend over het spoor rolt. "Bathtub Blues" is naast het John Mayall-achtige "She Cry Blues" het meest bluesy nummer van de setlist. Door vooral de stuwende harmonica van Kazanoff en de honky-tonk piano van Connolly kreeg het nummer de meest aanstekelige groove. Het prachtige "Silver Lake - Lac D'Argent" mogen we hier zeker niet vergeten. Het nummer, in het Frans gezongen, is het meest mystieke en brengt alles impressies samen in jazzy, expressieve gitaarpartijen, onopvallend dromerig toetsenwerk en Elaine Barber's heldere accenten op harp.
Het is geweldig om het nieuwe jaar te kunnen inzetten met een fantastisch blues/jazz album. Geniet op 'Shadow Man' met John McLean & Charles Barkatz uitvoerig van jazz en blues, waarbij naast het technische meesterschap, de sfeer de sound bepaalt.
"Enjoy jazzy blues with John McLean & Charles Barkatz on 'Shadow Man' extensively where, in addition to technical mastery, the atmosphere determines the sound…" (ESC for Rootstime.be)
Eric Schuurmans
Album track list: 01. Leaky Shoes Blues – 02. The Brooklyn Blues Café – 03. Lucia – 04. Shadow Man – 05. She Cry Blues – 06. Sister of Mine – 07. Bathtub Blues – 08. Silver Lake (Lac D'Argent) – 09. Black Train – 10. New Life / Music/Lyrics by: John McLean (1-7,9,10) & Charles Barkatz (2,4,6,8,9) ℗ & © 2020 - Produced & arranged by: Mark "Kaz" Kazanoff | Album credits: John McLean: vocs / Charles Barkatz: vocs, guitar / Derek O' Brien: guitar / Nick Connolly: keys, B3 organ / Chris Maresh: e- & upright bass / John Chipman: drums, percussion & The Texas Horns: Mark "Kaz" Kazonoff: tenor sax, harmonica (7,9,10) – John Mills: baritone sax & Al Gomez: trumpet / Alex Coke: soprano sax (3), flute (6) / Elaine Barber: harp (3,8) / The Dirty Old Man: Nick Connollt, John Chipman, Stuart Sulivan, Derek O' Brien, Chris Maresh, Kaz Kazanof & Charles Barlatz: bg-vocs
Discography JOHN MCLEAN: Shadow Man, w/Charles Barkatz & Friends [2020] | So Nice to Come Home To, w/Charles Barkatz – feat. Alex Coke [2019] | Parts Unknown [2017] | Better Angels, feat. Grazyna Auguscik (vocs) & Zach Brock (violin) [2007] | Man Are Lovers Too [2002] | Easy Go [2001] | If I Gave my Heart to You [2000] | Chants Judeo Espagnols [1996]
|| CHARLES BARKATZ: Shadow Man, w/John McLean & Friends [2020] | So Nice to Come Home To, w/John McLean, feat. Alex Coke [2019] |