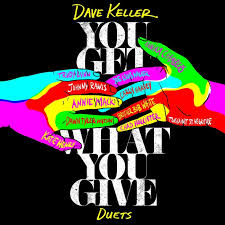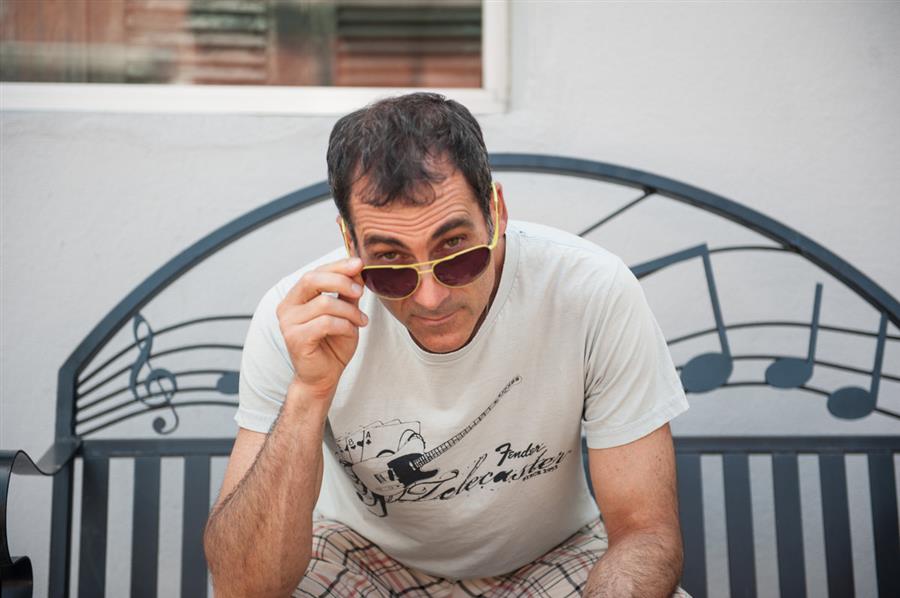 "Hands together!..."
Songwriter, gitarist en soul/blues zanger Dave Keller is afkomstig uit Massachusetts, maar vond ondertussen zijn plek in Vermont. Hij kocht zijn eerste gitaar met het zakgeld dat hij verdiende in een dranken shop. Hij leerde gitaar spelen van o.a. Paul Rishell, een blueslegende uit Boston die met Annie Raines een country blues geïnspireerd duo vormt. Na een blues radioshow met Jake Guralnick, verdiepte Keller zich in Ray Charles, Son House en de gospelmuziek uit de jaren '40 /'50.
Tussen 1993 en 2001, na zijn verhuis naar Vermont, bracht Keller met zijn band drie albums uit: één met akoestische blues ('Deep Down In My Soul', 1993), één met elektrische blues ('Faith', 1998, feat. Eddie Shaw) en één met ouderwetse soul, R&B en funk ('Down At The Aloha', 2001).
In 2008 speelde Keller als gast op een album van Ronnie Earl ('Living In The Light', by Ronnie Earl & The Broadcasters, feat. Dave Keller, 2008). Daarna bracht hij nog vier albums uit: 'Play for Love' (2009), 'Where I'm Coming From?' (2011), 'Where I'm Coming From' (2011) & 'Soul Changes' (2014). Keller treedt regelmatig op met zijn Dave Keller Band als backing band van Johnny Rawls en, tijdens soul shows met The Revelations (met o.a.  Otis Clay & "Swamp" Dogg).
Twee jaar na 'Right Back Atcha' (2016) debuteerde Dave Keller met 'Every Soul's a Star' bij Bob Trenchard's Catfood Records. De muzikanten die hem hierbij hielpen waren de leden van de Catfood Records' huisband, The Rays (Johnny Rawls): bassist Bob Trenchard, drummer Richy Puga, de legendarische Motown gitarist Johnny McGhee (The Five Stairsteps, LTD) & toetsenist Dan Ferguson (Hammond B3, Wurlitzer, keys). Zij kregen hierbij de steun van saxofonist Nick Food (tenor & bariton sax), trompettist Mike Middleton, backing zangeressen Janelle Thompson & Shakara Weston en percussionist Christopher Serrano. De opnames in de Sonic Ranch in Tornillo, TX, gebeurden o.l.v. producer Jim Gaines (Santana, SRV, Luther Allison).
"Recorded Live at Bucks County Blues Society's Killer Guitar Thriller, Terchon VFW, Edgely, PA, April 28, 2019…"
In 2018 bracht Keller bij Catfood Records 'Every Soul's a Star uit. Dit jaar (opnieuw) bij Tastee-Tone Records in januari -de nummers werden in april 2019 live opgenomen in Edgely, Pansilvania- 'Live @ the Killer Guitar Thriller' en recent 'You Get What You Give – Duets'. De kern van zijn band bestond uit Ira Friedman (keys), Alex Budney (bas) & Jay Gleason (drums). Op dit laatste album nam hij, op 11 tracks, samen met verschillende bevriende artiesten, vocale duetten op. Voor de duets kon hij rekenen op: Annika Chambers, Carly Harvey, Annie Mack, Trudy Lynn, Johnny Rawls, Joe Louis Walker, Dawn Taylor Watson, Chad Hollister, Brother Bob White, Katie Henry & dichter Toussaint St. Negritude.
Het idee voor zijn zevende album kwam bij Dave Keller op na de moord op George Perry ("I can't breathe!") Floyd Jr. (1973-1920), toen Keller besefte hoe de bevolking van de VS in woede uit elkaar viel. Als artiest die groot werd met zwarte muziek, vond hij dat hij ook iets moest doen aan de structurele discriminatie van zwarte Amerikanen. Hij besloot een aantal muzikale vrienden uit te nodigen om zijn songs in duetvorm op te nemen. Zo ontstond 'You Get What You Give – Duets', een album waarvan de opbrengsten ten goede komen aan organisaties in de VS, die zich inzetten voor raciale gerechtigheid en gelijkheid.
De geweldige souldiva Annika Chambers mag met "One More Tear" het album openen. Naast de band is er op het nummer ook een blazerssectie te horen, met Mario Perrett op tenor sax, Mark Early op bariton sax & Tom Palance op trompet. Met dezelfde line-up, maar met trombonist Garth Retallack (i.p.v. Perrett), doet daarna Carly Harvey de zang op "That Thing We Do" en komt Annie Mack aan de beurt op "You Get What You Give", waarbij niet minder dan zes backings haar hier ondersteunen. "The Evil that Men Do" is opzich een bijzonder nummer. Op ieder vers zingt er een andere vocalist (opeenvolgend Keller, Trudy Lynn, Annika Chambers, Annie Macken en, voor de vijfde strofe, de "echte" soul man, Johnny Rawls. Daarnaast is er ook de geweldige Ira Friedman, die vanachter haar piano, aan deze soul ballade een bijzondere meerwaarde geeft. Met Joe Louis Walker en Chris Robertson op gitaar volgt er "Scratchin' at Your Door", met Trudy Lynn "Your Kind of Fool" en met Dawn Tyler Watson, "God is Love / Love is Everything". "The Spark" is een ballade die Keller met Friedman op piano doet, waarna hij op "Make It To Tomorrow" duetteert met Chad Hollister, die ook van zijn cajun gebruikt maakt. Veel emotie zit er in "Land of the Lonely" en het duet dat Keller Johnny Rawls doet. Ze worden hier, nu op orgel begeleid door Friedman. Voor de gospel "Precious Lord, Take My Hand" kan hij nog rekenen op de 89-jarige Brother Bob White, die zelf achter de piano zit. Voor de afsluiter is er nog "The Kiss I Want", een warm duet met Katie Henry, waarna de dichter, klarinettist Toussaint St. Negritude geheel op zijn manier mag eindigen met "I'm Gonna Let It Shine". Keller begeleidt hem op National steel gitaar en harmonica.
Dave Keller bewijst met 'You Get What You Give – Duets' wat voor een geweldige songschrijver en soul/blues zanger -met het hart op de juiste plaats- hij is. Zijn duets zijn hartverwarmend en worden met grote klasse gebracht. Dit is een album voor het goede doel, handen in mekaar én kopen dus!
"On 'You Get What You Give, Duets' Dave Keller proves -with the heart in the right place- what a great songwriter and soul / blues singer he is..." (ESC for Rootstime.be)
Eric Schuurmans
Album track list: 01. One More Tear, w/Annika Chambers – 02. That Thing We Do, w/Carly Harvey – 03. You Get What You Give, w/ Annie Mack – 04. The Evil that Men Do, w/ Trudy Lynn, Annika Chambers, Annie Mack & Johnny Rawls – 05. Scratchin' at Your Door, w/Joe Louis Walker – 06. Your Kind Of Fool,  w/Trudy Lynn - 07. God Is Love / Love Is Everything, w/Dawn Tyler Watson - 08. The Spark - 09. Make It To Tomorrow, w/Chad Hollister – 10. Land of the Lonely, w/Johnny Rawls - 11. Precious Lord, Take My Hand, w/Brother Bob White / 12. The Kiss I Want, w/Katie Henry - 13. I'm Gonna Let It Shine, w/Toussaint St. Negritude / Music/Lyrics by: Dave Keller, or w/ [11: Thomas A. Dorsey / 13: words by Toussaint St. Negritude] ℗ & © 2020 / Produced by Dave Keller | Album credits: Dave Keller: vocs (all tracks, exc. 11,13, 4: 1th+last verse), e- (1-3, 5-7,10-12) a- (3,9) & National steel (13) guitar, harmonica (13) / Duets: vocs w/: Annika Chambers (1, 4: 3th verse), Carly Harvey (2), Annie Mack (3, 4: 4th verse), Trudy Lynn (4: 2nd verse,6), Johnny Rawls (4: 5th verse,10), Joe Louis Walker (5), Dawn Taylor Watson (7), Chad Hollister (9+cajon), Brother Bob White (11), Katie Henry (12), Toussaint St. Negritude (13) / E-guitar: Chris Robertson (5: slide guitar, outro solo), Vince Allen (7: solo) / Alex Budney: bass (1-3,5-7,10,12) / Drums: Jay Gleason: (1-3,5-7,10,12), Jay Gleason (10) & Larry Gann (11) / Ira Friedman: organ (1-3,5-7,10,12), piano (4) / Tenor sax: Mario Perrett (1,3,7,12), Mark Early (1-3,7,12) + bari sax (1,3,7: solo,12) /  Trumpet : Tom Palance (1-3,7,12) / Trombone: Garth Retallack (2) / Bg-vocs (& handclaps) (3): Katie Sterling, Havvah Keller, Idalee Keller, April Caspari (+5), Chad Hollister & Johnny Rawls
Discography DAVE KELLER: You Get What You Give - Duets [11/2020] | Live @ the Killer Guitar Thriller [01/2020] | Every Soul's a Star (label debut Catfood Records) [2018] | Right Back Atcha [2016] | Soul Changes [2014] | Where I'm Coming From [2011] | Play For Love, by The Dave Keller Band [2009] | Living In The Light, by Ronnie Earl & The Broadcasters, feat. Dave Keller  [2008] | Down At The Aloha, by The Dave Keller Band [2001] | Faith, by The Dave Keller Blues Band, feat. Eddie Shaw [1998] | Deep Down In My Soul (a cassette of acoustic blues originals and covers) [1993] |