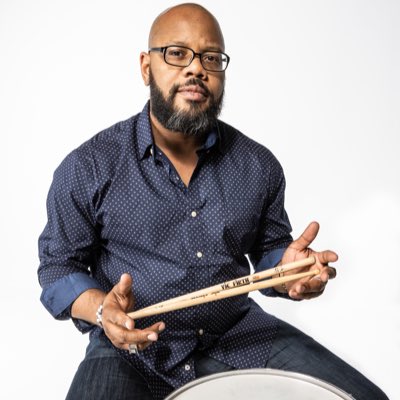 "A live tribute to the great Bobby "Blue" Bland…"
Bobby "Blue" Bland aka Robert Calvin Brooks (1930-2013) was een blueszanger met veel soul in zijn sound. Zijn fluwelen zangstem afgewisseld met keel kliks en gegrom, stond bekend als de "chicken-bone" sound, het kippenbottengeluid. In 1981 werd "Blue" Bland opgenomen in de Blues Hall of Fame, in 1992 in de Rock and Roll Hall of Fame en in 1997 ontving hij een Grammy Lifetime Achievement Award.
Als zoon van de onsterfelijke Bobby "Blue" Bland, moest Rodd ook blues muzikant worden. Rodd werd géén blueszanger, maar drummer van bands in zijn thuisstad Memphis. Zo werkte hij al samen met Brimstone Jones, Will Tucker, Ashton Riker en de Blues Players Club. Bobby vertelde aan Rodd vlak voor zijn dood dat blues muzikant James Cotton Blands zijn halfbroer was.
Als kind sloeg Rodd al op potten en pannen en wat ouder werd hij de tweede drummer in de band van zijn vader, waar twee drumstellen op het podium opgesteld stonden. Rodd drumde zo samen met John "Jab'o" Starks, Harold "Peanie" Porter en Tony Coleman. Rodd is te horen op Bobby's album 'Live on Beale Street' (1998), maar ook als drummer op Ian Siegal & the Youngest Sons' 'The Skinny' (2011), Will Tucker's 'Worth the Gamble' (2015), Benny Turner & Cash McCall's 'Going Back Home' (2018) en op The Reverend Shawn Amos' 'Breaks it Down' (2018). 
In 2019 in mei nam Rodd Bland in B.B. King's Blues Club in Beale Street in Memphis, zes nummers op. Het zijn niet de zes "Best off", maar nummers die Bobby opnam bij het Duke en ABC label. Rodd nodigde drie getalenteerde artiesten uit om de nummers te zingen. Op het swingende openingsnummer "Up And Down World" (uit BB Bland's 'His California' uit 1973) moet Rodd het opnemen tegen de blazers van dienst, terwijl Chris Stephenson moeiteloos de zang doet. Bobby "Blue" Bland nam "St. James Infirmary Blues" voor het eerst op in 1961. Het verscheen later op zijn reeds genoemde 'Live On Beale Street' album in 1998. Hier doet Ashton Riker emotioneel een hedendaagse Neo-Soul uitvoering over het Blue Bland Orchestra-arrangement. De 1977-opname van "Sittin' on a Poor Man's Throne" werd gearrangeerd door Michael Omartian en bevatte enkele van LA's beste sessiemuzikanten, waaronder Ray Parker Jr., Lee Rittenour en Ernie Watts. The Members Only Band vaart hier met onverschrokken precisie door de verfijnde, met sociaal commentaar geladen, soulbrander die ook door Stephenson gezonden wordt en die door Harold Smith met veel wah-wah's overladen wordt. Een charismatische Jerome Chism leidt de band doorheen de andere drie nummers. Hij neemt het op tegen de blazers de speelse samenvatting van de hit "I Wouldn't Treat A Dog (The Way You Treated Me)" uit 1974. Daarna demonstreert hij zijn flamboyante vocale vaardigheden op "Soon as the Weather Breaks", een dynamische slow blues met een gitaarsolo van Smith en (inclusief een bassolo van Jackie Clark) "Get Your Money Where You Spend Your Time".
"Op het album 'Live on Beale Street – A Tribute to Bobby "Blue" Bland' brengt Rodd Bland & the Members Only Band, geïnspireerd door zijn vader én de lessen die hij als muzikant opdeed, met passie, eer, respect en liefde een live eerbetoon aan Bobby "Blue" Bland..."
"On the album 'Live on Beale Street – A Tribute to Bobby "Blue" Bland', Rodd Bland & the Members Only Band, inspired by his father and the lessons he learned as a musician, bring with passion, honour, respect and love, a live tribute to Bobby "Blue" Bland..." (ESC - Rootstime.be)
Eric Schuurmans
10 cd's te winnen!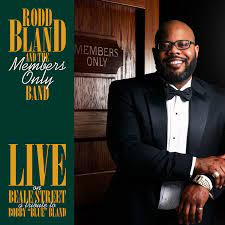 Wil je daar kans op maken, dan mail je ons gewoon even:
je naam, je adres en de vermelding: RODD BLAND AND THE MEMBERS ONLY BAND
Binnen een aantal weken wordt uit alle inzendingen de gelukkigen getrokken.
Wij hopen dat u massaal Rootstime - hier - zult mailen
De winnaars worden per mail verwittigd.
Album track list: 01. Up and Down World (instrumental) [Vernon Morrison & Don Robey] – 02. St. James Infirmary [Irving Mills] – 03. Sittin' on a Poor Man's Throne [Ron Hiller, Bill Mononen & Richard Wamil] – 04. I Wouldn't Treat a Dog (the Way You Treated Me) [Dan Walsh, Michael Omartian, Michael Price & Steve Barri] – 05. Soon as the Weather Breaks [Robert Bland, Maggie Evans & Vee Pea] – 06. Get Your Money Where You Spend Your Time [Tommy Tate] / Music/Lyrics by or as [noted] © 2021 | Album credits: Vocs: Chris Stephenson (1,3), Ashton Riker (2) & Jerome Chism (4-6) / Rodd Bland: drums / Jackie Clark: bass / Harold Smith: guitar / Chris Stephenson: keys / Marc Franklin: trumpet / Scott Thompson: trumpet / Kirk Smothers: sax
Discography RODD BLAND AND THE MEMBERS ONLY BAND: Live on Beale Street, A Tribute to Bobby "Blue" Bland [2021] | Live on Beale Street, Bobby "Blue" Bland [1998] |