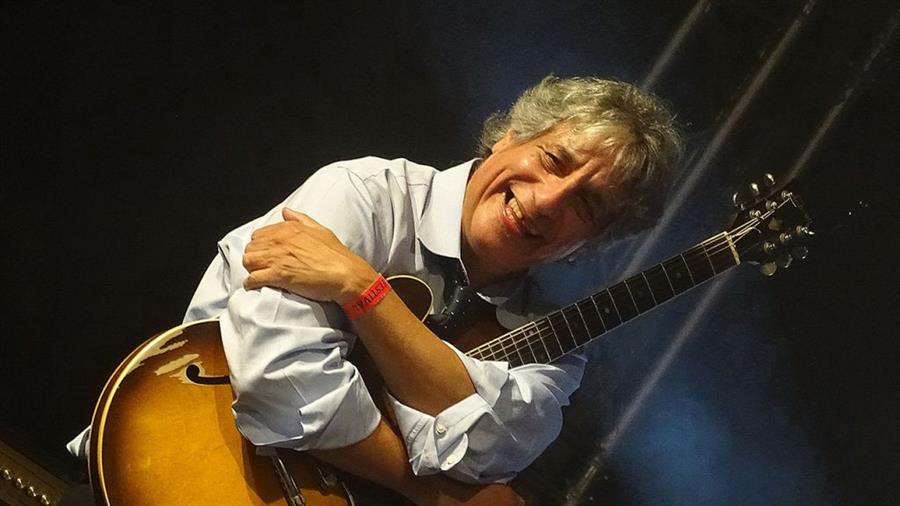 "An absolute blinder of a guitarist, with the voice of B.B. King and the chops of Albert King…"
(Bruce Iglauer, Alligator Records)
Chris Cain is een getalenteerde multi-instrumentalist en singer/songwriter uit Californië die, beïnvloed door B.B. en Albert King en verschillende jazzmuzikanten, met zijn muziek een amalgaam van blues, soul, jazz en funk brengt. Chris groeide op in een "mixed" gezin in de multiculturele Oostkant van San Jose, CA. Zijn vader was zwart en zijn moeder Grieks. Hij begon gitaar te spelen toen hij acht was en begin jaren zeventig startte zijn carrière als professioneel muzikant. Cain speelde midden jaren tachtig in meerdere clubs in Californië, kreeg een behoorlijke aanhang en tekende een platencontract bij Blue Rock'it Records, het label dat in 1983 door Patrick Ford in Upper Lake, CA, opgericht werd.
Zijn 1987-debuut album 'Late Night City Blues' -dat hij opnam met (lead) tenorsaxofonist Noel Catura, bassist Ron Torbensen, saxofonist Mark Whitney en drummer Robert Higgins- kreeg vier Blues Music Award-nominaties. In 1988 kreeg de Chris Cain Band meerdere WC Handy Award nominaties, waaronder "Blues Band of the Year" & "Guitarist of the Year". In 1990 tekende Cain een contract bij Blind Pig Records, waar hij zijn tweede studio album 'Cuttin' Loose', 'Can't Buy a Break' (1992) en 'Somewhere Along the Way' (1995) uitbracht.

Het laatste album dat we hier in 2017 van Chris Cain bespraken -zijn éérste! Titelloze- werd bij Little Village Foundation uitgebracht. Waarom een titelloos album? Waarom hij "voorbestemd" was om zanger te worden en wat waren zijn plannen voor de toekomst? En, nog meer vragen... Luister voor de antwoorden naar het korte interview dat we toen met deze sympathieke en openhartige artiest deden tijdens Swing Wespelaar 2017.
Zijn 15de album 'Raisin' Cain' nam Cain opnieuw op in San Jose, o.l.v. Kid Anderson (producer, opname, mix, afwerking + gitaar, melodica) met Greg Rahn (keys), Steve Evans (bas), drummers Derrick "D' Mar" Martin & Sky Garcia, Lisa Leuschner Anderson (b-vocs), Michael Peloquin (sax – horn arrangements), Mike Rinta (trombone), Jeff Lewis (trompet) & Doug Rowan (bariton sax).
Chris Cain opent 'Raisin' Cain' met het funky "Hush Money" en met wijze woorden, maar waarin vooral zijn gitaar het hoogste woord voert. "You Won't Have a Problem When I'm Gone" is een uptempo shuffle en meteen ook al een "andere" Cain, die hier zelf met de voorhanden liggende oplossing komt. Of niet, want op "Too Many Problems" herziet hij alles en moet Greg Rahn vanachter zijn jazzy piano hem helpen met oplossingen te komen. Na de bekommernissen en de slow blues "Down on the Ground" volgt "I Believe I Got Off Cheap" en nog meer funky blues rock, de sound die we van Cain gewoon zijn. Een van de rustige nummers is het autobiografische "Born to Play" waarop hij voor ons de deur nog verder openzet. "I Don't Know Exactly What's Wrong with my Baby" is al drect erna een volgende slow blues en het soulvolle "Out of My Head" dat de blazers nog eens een podium biedt. Op "As Long as You Get What You Want" filosofeert Cain tussen alle aanstekelige solo's even rustig en "Space Force", waarmee hij afrondt, is nog snel een laatste pittige funky escapade.
Bij Alligator Records verschijnt deze maand 'Raisin' Cane', de nieuwe van Chris Cain, waarop hij in goed gezelschap opnieuw zijn grote klasse en veelzijdigheid etaleert.
"This month Alligator Records will release 'Raisin' Cane', the new one from Chris Cain, on which he once again, in good company, displays his great class and versatility…" (ESC – rootstime.be)
Eric Schuurmans
Album track list: 01. Hush Money – 02. You Won't Have a Problem When I'm Gone – 03. Too Many Problems - 04. Down on the Ground – 05. I Believe I Got Off Cheap – 06. Can't Find a Good Reason – 07. Found a Way to Make – 08. Born to Play – 09. I Don't Know Exactly What's – 10. Out of My Head – 11. As Long as You Get What You Want – 12. Space Force / Music/Lyrics, all songs by: Chris Cain ℗ & © 2021 – Produced, recorded, mixed & mastered by: Kid Andersen @ Greaseland Studios, San Jose, CA | Album credits: Chris Cain: vocs, guitar, piano (4,8), Wurlitzer e- piano (6,12), clavinet (12), ARP soloist (12) /  Greg Rahn: Fender Rhodes piano (1,3,9,11,12), piano (2,4), organ (3-6,8,10), Wurlitzer e- piano (4) / Steve Evans: bass / Derrick "D' Mar" Martin: drums (1-3,5,7,9,11), percussion (1-3,5-7,9,11,12) / Sky Garcia: drums (4,6,8,10,12) / Kid Anderson: rhythm guitar (3,9), a- guitar (7), melodica (12), b-vocs (6) / Lisa Leuschner Anderson: b-vocs (11) / Michael Peloquin: tenor sax (1,3,5,8,10), alto sax (2) – horn arrangements (1,3,5) / (1,3,5,8,10): Mike Rinta: trombone, Jeff Lewis: trumpet & Doug Rowan: baritone sax
Discography CHRIS CAIN: Raisin' Cain [2021] | Chris Cain [2017] | King of the Blues [2015] | So Many Miles [2010] | Hall of Shame [2003] | Cain Does King [2001] | Christmas Cain [1999] | Live @ the Rep [1998] | Unscheduled Flight [1997] | Somewhere Along the Way [1995] | Can't Buy a Break [1992] | Cuttin' Loose [1990] | Late Night City Blues [1987] |