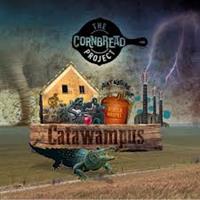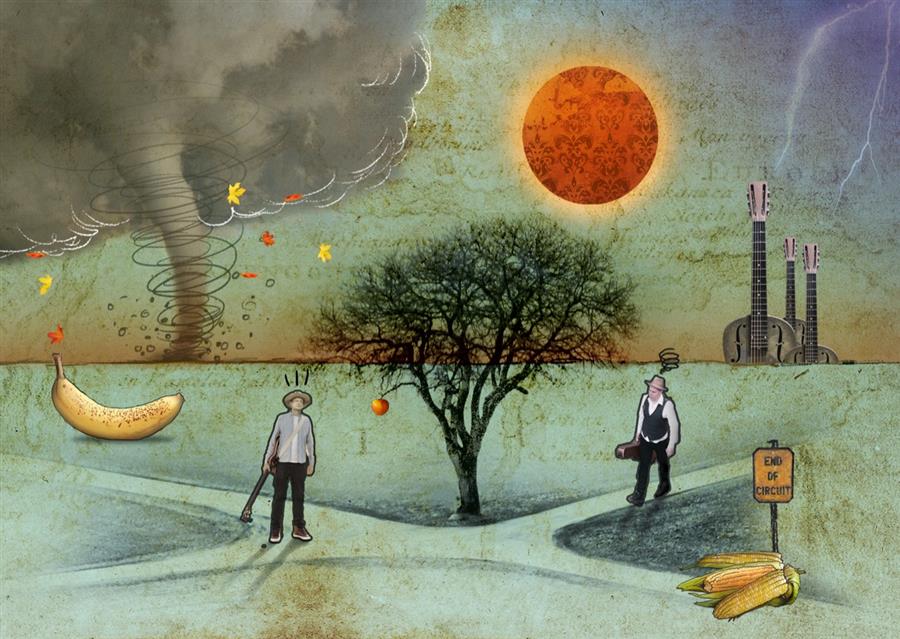 " The Blues, as you have never heard them before… "
In 2018 startten muzikanten/producers Peter Nande (Straight Shooter Productions) en Laust Krudtmejer (Krudtmejer Production) het Cornbread Project. Beiden ontmoetten elkaar in 2017 in de Mojo Blues Bar in (Løngangstræde 21C, 1468) København. Zanger/mondharmonicaspeler Peter Nande kennen we o.a. als lid van o.a. Blues Jamboree, een blues collectief met enkele van de beste muzikanten van Denemarken in het genre (met o.a. Miriam Mandapiri, Lea Thorlann,Paul Banks, Jakob Munck, Mik Sjack, Olav Poulson en de Zweed Svante Sjöblom) dat 2 albums op zijn naam heeft staan. Nande werkte eerder al samen met Big Creek Slim. Ook onder zijn eigen naam nam hij op, waarvan de verschillende California Sessions, met illustere gastmuzikanten als James Harman, Junior Watson en Carl Sonny Leyland, de bekendste releases zijn. Nande kan ondertussen putten uit zo'n 15 jaar ervaring met het opnemen en produceren van zijn eigen albums en die van andere artiesten (James Harman, Gary Primich, Big Joe Louis, Mud Morganfield, Big Creek Slim e.a.), met Harman als een primaire invloed.
Hun debuutalbum kreeg de naam 'Catawampus'. Vanwaar Catawampus? Het woord/begrip is "een term voor iets dat niet uitgelijnd is, scheef staat". Het woord omschrijft daarnaast ook "iets heftigs, een duistere kracht van afrekening". Wat hier in beide gevallen geldt voor de meeste tracks op het album. De 10 tracks bevatten samples, loops en beats uit bestaand materiaal, samengevoegd met nieuw opgenomen muziek. De ruggengraat van de cd is roots, blues en soul, doordrenkt met muziek uit het Amerikaanse zuiden uit een lang verleden, maar gepresenteerd met hedendaagse productieconcepten.

Cornbread: melted lard + sugar + egg + salt + cornmeal + flour…
"Hobo Blues" (feat. Big Creek Slim) opent 'Catawampus'. Dit is een Bernard Besman / John Lee Hooker nummer over een man die zijn huis en zijn moeder verlaat: "Yes, I left my dear old mother, dear old mother, dear old mother / I left my honor, need a crime, oh Lord…". De Catawampus' versie valt op door het hedendaags, spookachtig chain-gang-geïnspireerd gezang, dat herinnert aan heftige, verleden tijden van onderdrukking. "Rollin' & Tumblin'" is een blues song, die voor het eerst opgenomen werd in 1929 door Hambone Willie Newbern (1899-1947). Iedereen kent de Muddy Waters' versie, hier prachtig (wat nasaal) gezongen door Sahra da Silva. In de bewerking vallen de baslijn, de jazzy drum en de Albert King-geïnspireerde gitaar solo op. James Harman is te horen op 2 tracks. De 1ste keer in het funky "You Got to Choose" en een 2de keer in de afsluiter "Grandma Lurleen's Recipe", waarin (gesproken) het maïsbroodrecept wordt uitgelegd. Dus: neem nota! Big Creek Slim doet het voor de 2de keer op "On My Way" en Sahra op "Change My Ways". Op "Kokomo Blues", het Fred McDowell nummer, is het Troels Jensen die er een country blues nummer van maakt, op "Autumn Shakedown" doet de Ier Richard Farrell zijn ding, op "My Little Machine" Big Joe Louis en op "Manish Boy", een indrukmakende Mud Morganfield.
Met 'Catawampus' leveren Peter Nande & Laust Krudtmeijer Nielsen een boeiende release af. Het is hun hedendaagse kijk op blues, door op experimentele en innovatieve wijze ermee aan de slag te gaan.
" With 'Catawampus' Peter Nande & Laust Krudtmeijer Nielsen deliver a fascinating debut as a duo. It's their idiosyncratic, contemporary view of blues, by working with it in an experimental and innovative way… " (ESC for Rootstime.be)
Eric Schuurmans
10 cd's te winnen!
Wil je daar kans op maken, dan mail je ons gewoon even:
je naam, je adres en de vermelding:THE CORNBREAD PROJECT
Binnen een aantal weken wordt uit alle inzendingen de gelukkigen getrokken.
Wij hopen dat u massaal Rootstime - hier - zult mailen
De winnaars worden per mail verwittigd.
Album track list:
01. Hobo Blues [Bernard Besman / John Lee Hooker] feat. Big Creek Slim - 02. Rollin' & Tumblin' [Mckinley Morganfield] feat. Sahra da Silva - 03. You Got to Choose - feat. James Harman - 04. On My Way - feat. Big Creek Slim - 05. My Little Machine - feat. Big Joe Louis - 06. Autumn Shakedown - feat. Richard Farrell - 07. Kokomo Blues [Fred McDowell] feat. Troels Jensen - 08. Manish Boy [Marshall Jones] feat. Mud Morganfield - 09. Change My Ways - feat. Sahra da Silva - 10. Grandma Lurleen's Recipe - feat. James Harman
Lyrics/music © 2019 by: as [noted]
Album line-up:
Laust "Krudtmejer" Nielsen: bass / Peter Nande: vocs, harmonica, SPD, percussion / Sahra da Silva: vocs, keys / Richard Farrell: vocs, guitar / Nicklas Kure: guitar / Marco Diallo: drums
& Featuring (in order of appearance): Big CreekSlim, Sahra da Silva, James Harman, Big Joe Louis, Richard Farrell, Troels Jensen & Mud Morganfield
Discography The Cornbread Project:
Catawampus [2019] | Travelling Blues Nights (Live), by Tim Lothar & Mojo Workings [2017] | Two for the Road, by Tim Lothar & Peter Nande [2009] | In It for the Ride, by Tim Lothar [2008] |  With Blues Jamboree: Ride Train Ride – Live Vol. 2 [2014] | Grab a Root An' Owl – Live Vol. 1 [2014] | With Lothar, Nande & Schack:  Walk Right In [2018] |