De Texaanse blues singer-songwriter/violiste Dede Priest heeft al jaren iets met muzikanten van onze Nederlandse buren. Priest debuteerde in 2007 met 'Candy Moon' met Nederlandse muzikanten en, ook voor de opvolger 'Kinky At the Root' [2011], waren het opnieuw zowat dezelfde muzikanten (van Shiner Twins) die deel uitmaakten van de line-up: gitarist Richard van Bergen, bassist Roelof Klijn en drummer Jody van Ooijen. Tussen 2013 en 2015 speelde/ zong ze bij Tangled Eye (Dede Priest: zang, viool/ Jan Mittendorp: gitaar/ Jasper Mortier: drums), waarmee ze de albums 'Dream Wall' [2014] en 'The Other 7 Songs' [2015] uitbracht.
Rond 2015 start Priest's samenwerking met Johnny Clark & The Outlaws. Hans Klerken aka Johnny Clark richtte in 1994 de Bullfrog Blues Machine op, nam met hen drie albums op en startte in 2007 met The Outlaws, met wie hij twee EP's en een studio album ('Two Tears In a Bucket' [2009]) opnam.
De opvolger van 'Flowers Under the Bridge' van Dede Priest & Johnny Clark's Outlaws [2017] kreeg de naam 'Crocuses from Ashes'. Het is een album met 5 originele Priest/Klerken originals. De nummers zijn ook nu weer de typische mix van stijlen, waarbij blues de basis vormt. Opener is het rustige, wat etherische "You Are Gonna Rise", gevolgd door het bluesy "Vermillion Allure" (waarin Dede's viool prominent aanwezig is) en het broeierige "Superlovely". De slide gitaar van Johnny opent het groovy "Texas Hurricane" en ook in de afsluiter/titel song "Crocuses" staat Dede's snijdende soulstem centraal. Ook in dit slepend, wat funky laat Johnny met enkele stekelige licks knap van zich horen.
" Dede Priest & Johnny Clark's Outlaws verlengen hun samenwerking met 'Crocuses from Ashes'. Wij rekenen de volgende keer op meer, want als je de melk bij de poes zet… " (ESC for Rootstime.be)
Eric Schuurmans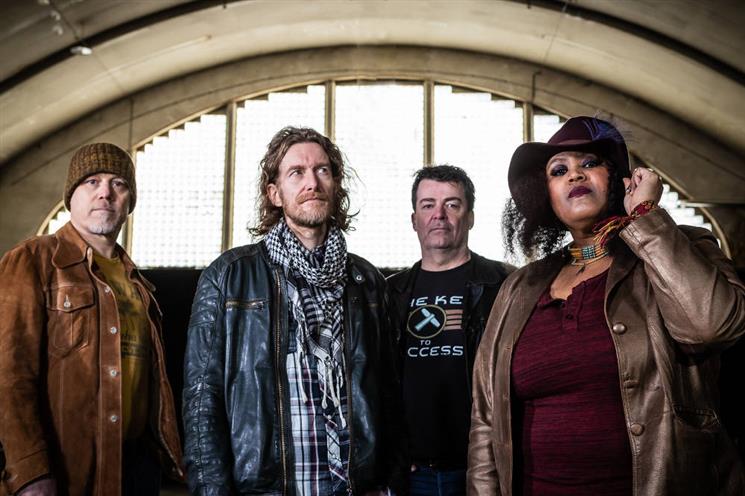 01/07/2019 @ The Maple – Evergem
12/07/2019 @ Big Rivers Festival – Dordrecht, NL
Album track list:
01. You Are Gonna Rise - 02. Vermillion Allure - 03. Superlovely - 04. Texas Hurricane - 05. Crocuses – Lyrics/music by: D. Priest & H. Klerken © 2019
Album line-up:
Dede Priest: vocs, violin, guitar: lead (all, exc.3), rhytm (3),violin / Johnny Clark (aka Hans Klerken): vocs, guitar: lead (3), rhythm (all) & the Outlaws: Ray Oostenrijk: bass - Leon Toonen: drums
Discography Dede Priest & Johnny Clark's Outlaws:
Crocuses From Ashes (EP,#5) [2019] | xx [20xx] | Flowers Under the Bridge [2017] | Nooit Voor Lief (EP) [2015]
Discography DEDE PRIEST:
The Other 7 Songs* [2015] | Dream Wall* [2014] | Kinky At the Root [2011] | Candy Moon [2007] || *With Tangled Eye (Dede Priest: Vocals & Violin / Jan Mittendorp: Guitar / Jasper Mortier: Drums)
Discography JOHNNY CLARK's OUTLAWS:
Never For Granded (EP,6#) [2015] | Blue Label (Solo, acoustic) [2014] | Outlaw's Night Out (EP,6#) [2012] | Two Tears In a Bucket [2009] | Cross That Line* [2005] | Blue Tattoo* [2003] | Buckle-Up!* [2000] | - - By Bullfrog Blues Machine