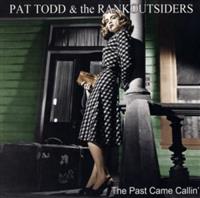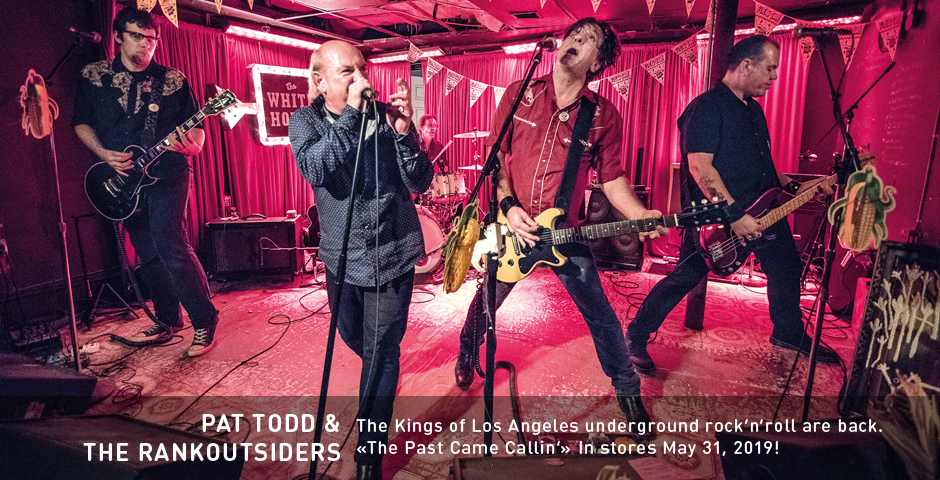 " I believe in the vision of each of our artists… " (O. Hausman)
In 2013 startte de r'n'r fannaat Oliver Hausman in Berlijn (het centrum van de Europese rock, punk en garage scene) met Hound Gawd! Records. Pat Todd & the Rankoutsiders, een punk rock band uit LA, brachten deze maand in Berlijn (na 'Blood & Treasure' [2016]) hun vijfde studio en hun tweede Hound Gawd! Records album, 'The Past Came Callin'' uit. Todd, de ex-zanger van de outlaw rock band Lazy Cowgirls, vormde in 2004 de nieuwe formatie de Rankoutsiders.
Naast Todd (zang, gitaar, harmonica) zijn de andere bandleden die aan het nieuwe album meewerkten: man van het eerste uur Nick Alexander (lead gitaar, mandoline) & Kevin Keller (gitaar), bassist Steven Vigh en drummer Walter Phelan. Van de 14 nummers zijn 11 nummers originele Pat Todd nummers, waarvan enkele "nieuw" zijn, maar de meeste eindelijk wat ouder en eindelijk af geraakten.

Zo is de opener "If Only I Could Fly Backwards in Time" een nummer dat al 15 jaar in de pijplijn zat, maar eindelijk het licht mocht zien en "The Ballad of Crystal Valladares" en nummer dat drummer Walter Phelan op de track list zette. "Run" is een aanstekelige rocker over terugvallen op het vertrouwde en, "Down In Old Boerne" een Texaanse folksong die Todd als kind leerde van zijn ouders. De harmonica solo (zijn éérste!) blaast Todd zelf. "Goin' Nowhere" is een nummer dat geschreven werd voor het album '14 & Nowhere', maar nooit de meet haalde en "Yeah, Ya Had a Bad Night",een nummer dat ook al zo'n 20 jaar in de kast lag. Todd is al langer een fan van William Bell en dat wil hij laten horen met "Any Other Way" en een ander voorbeeld is Dale Hollon (The Sons of Hercules), waarvan hij "Idle Time" covert. "Somewhere Down the Line" is een veel gespeeld live nummer, dat een plaatsje op een album verdient en de afsluiter, "Just Between You & Me", een rustig, wat triest nummer om, zoals de meeste van de songs, niet opnieuw te drammerig te moeten over komen. 
'The Past Came Callin'' van Pat Todd & the Rankoutsiders is een soort van compilatiealbum met vooral oude nummers, die eindelijk de studio haalden. Vele herinneringen en vooral veel punkrock, die uit hetzelfde vat lijken te komen, wat soms (bijna) vervelend wordt.
Eric Schuurmans
10 cd's te winnen!
Wil je daar kans op maken, dan mail je ons gewoon even:
je naam, je adres en de vermelding: PAT TODD & THE RANKOUTSIDERS
Binnen een aantal weken wordt uit alle inzendingen de gelukkigen getrokken.
Wij hopen dat u massaal Rootstime - hier - zult mailen
De winnaars worden per mail verwittigd.
Album track list:
01. If Only I Could Fly Backwards in Time - 02. The Ballad of Crystal Valladares - 03. Call You on Sunday Night - 04. Run - 05. Down in Old Boerne - 06. The Ring, The Bottle & The Gun [Kevin Keller] - 07. Goin' Nowhere - 08. A New Pair of Eyes - 09. Yeah, Ya Had a Bad Night - 10. Any Other Way [William Bell] - 11. Idle Time [Dale Hollon & The Sons of Hercules] - 12. Somewhere Down the Line - 13. The Future Callin' - 14. Just Between You & Me – Lyrics/music by: Pad Todd, except where [noted] © 2019 – Produced & mixed by: Earle Mankey & Pad Todd
Album line-up:
Pat Todd: vocs, a- guitar, harmonica / Nick Alexander: e- & a- guitar, vocs / Kevin Keller: e- & a- guitar, vocs & lead vocs (6) / Steven Vigh: bass, vocs / Walter Phelan: drums, percussion
Discography Pat Todd & the Rankoutsiders:
The Past Came Callin' [2019] | Blood & Treasure [2016] | 14th and Nowhere [2013] | Holdin' onto Trouble's Hand [2008] | Outskirts of Your Heart (2CD) [2007] |