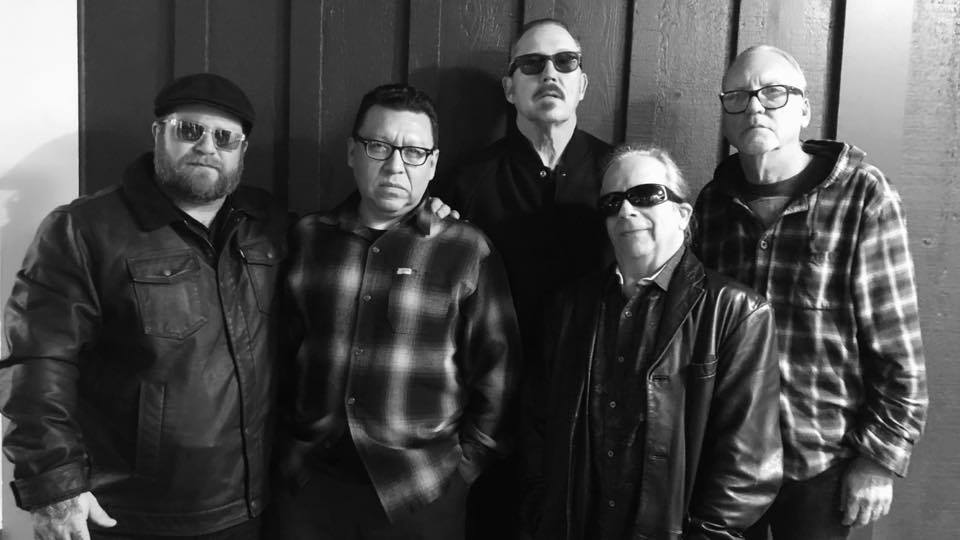 " From psychedelic blues-rock to vintage Michigan Avenue grooves and much, much more!... "
Nog meer "oude" bekenden! The 44's ontmoetten we tijdens Moulin Blues 2015, waarvoor ze rechtstreeks vanuit L.A. naar Ospel afreisden, samen met "special guest" en oude bekende, Kid Ramos. Het was toen met Johnny Main (zang, gitaar), drummer J.R. Lozano, bassist Mike Hightower (Lester's Butler Band, Johnny Maestro's Mama's Boys) en het jonge harmonica fenomeen "Shady" Jake Huffman (die hen aanbevolen werd door Rod Piazza).
The 44's is een uit LA afkomstige blues roots/rock band. Ze maakten hun entree in 2007 tijdens de IBC in Memphis, waar ze vierde eindigden. De bandleden waren Tex Nakamura (harmonica), Johnny Main (zang, gitaar), Mike Turturro (bas) en J.R. Lozano (drums). De band trok de aandacht van Kid Ramos (The Fabulous Thunderbirds, The Mannish Boys, Los Fabulocos) toen ze optraden in de Doll Hut, Anaheim, CA. In 2008 tourden ze samen met Los Lobos. In 2010 openden The 44's tijdens het Doheny Blues Festival voor BB King. The 44's stonden samen op de planken met Kid Ramos, Johnny Dyer en Rod Piazza.
Met Kid Ramos als producer, verscheen in 2010 hun debuut 'Boogie Disease'. In 2012 volgde 'Americana' en in 2015 'On The 13th'. Deze maand verscheen hun nieuwe album 'Twist the Knife'. De hertimmerde (album) line-up bestaat uit Johnny Main (zang, gitaar), Eric Von Herzen (harmonica), drummer Gary Ferguson, bassist Mike Hightower (Lester's Butler Band, Johnny Maestro's Mama's Boys) en Junior Watson (gitaar).
Op de cd, 8 tracks. De opener "Cuttin' Deep", een instrumental, is de enige Johnny Main original. Daarna is het aaneengesloten hommage/tribute aan al die kerels die hun grote voorbeelden zijn. Ik bedoel hier o.a. Muddy Waters ("Champagne and Reefer"), Chester Arthur Burnette aka Howlin' Wolf ("Howlin'"), "Big Bill" Broonzy ("Too Many Drivers"), T-Bone Walker ("44's Shuffle") en… Nummers, die ik hier zeker ook moet vermelden zijn Doyle Bramhall II's "Rosie" en James Harman's "Helsinki Blues".
Ook nu weer was het het wachten waard op 'Twist the Knife', de nieuwe van frontman, bandleider Johnny Main en zijn 44's. Opnieuw is het volop genieten van een portie energieke bluesy roots rock en nog veel, veel meer! Keep the 44's alive!
" Again, it was worth waiting for 'Twist the Knife', the new album of frontman, band leader Johnny Main & his 44s. Again, it's fully enjoying a portion of energetic bluesy roots rock and much, much more... Hope to see you soon and, keep the 44's alive! " (ESC for Rootstime.be)
Eric Schuurmans
Album track list:
01. Cuttin' Deep (instrumental) - 02. Sugar You [R.Berry] - 03. Howlin' [C.Burnette] - 04. Champagne and Reefer [M.Waters] - 05. Too Many Drivers [Sam Hopkins] - 06. Rosie [D.Bramhall II] - 07. Helsinki Blues [J.Harman] - 08. 44's Shuffle (instrumental) [T-Bone Walker] – Lyrics/music by: The 44's, except where [noted:2-8] © 2019 – Produced by: T-44's
Album line-up:
Johnny Main: vocs, guitar / Eric Von Herzen: harmonica / Mike Hightower: bass / Gary Ferguson: drums & Junior Watson: guitar (1-5,7,8)
Discography The 44's:
Twist the Knife [2019] | On The 13th [2015] | Americana [2012] | Boogie Disease [2010] |