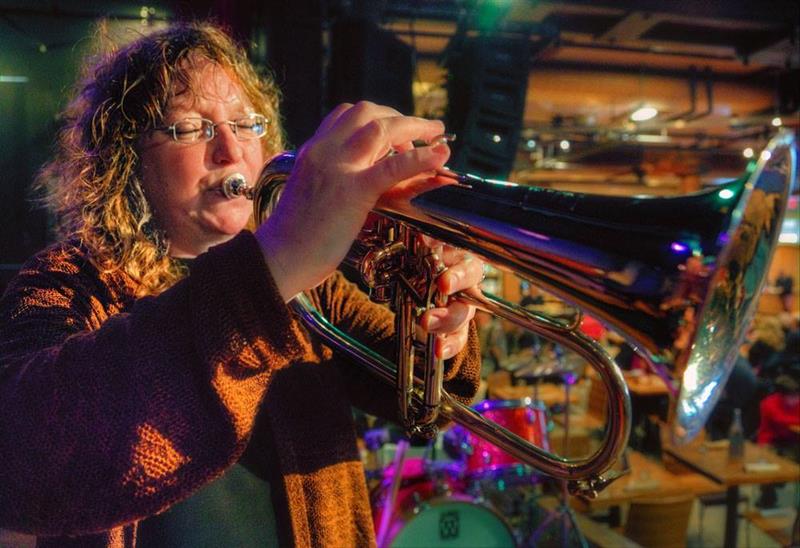 " The magic carpet of Pam's lyrical trumpet sound... "
Op festivals praat je vaak met artiesten. Tijdens Duvel Blues dit jaar, na het interview met Wade Shuman, liep ik backstage bijna letterlijk zijn trompettiste Pamela Fleming tegen het lijf. Op haar vraag of ik ook haar cd's kende, moest ik wat onwennig neen knikken. Het werd een ontmoeting met een dame die ook dit jaar in Puurs het mooie weer hielp maken en die me vroeg eens naar haar laatste album 'Buds' te luisteren.
Pam Fleming is Amerikaanse trompettiste. Ze leidt haar band Fearless Dreamer, tourt al vele jaren en nam als trompettiste al op met Hazmat Modine en klezmerbands als de NY-se Metropolitan Klezmer en Isle of Klezbos. Pam is te horen op de opnames van vele Indie-artiesten in de Jazz-, Rock-, Pop- en Reggae-genres. Ik noem hier enkele als Gov't Mule ('Mighty High' [2007]), Lilith Fair-artiesten Natalie Merchant, Sarah McLachlan, Indigo Girls en reggae sterren Burning Spear, Dennis Brown en Maxi Priest. Hier wetende dat ik zeker niet volledig ben.
" Through the shape shifting moods and grooves of this diversely original recording. Deep, mesmerizing, and funky… "
Haar solodebuut album 'Fearless Dreamer' nam ze op in 1998. Het werd omschreven als haar onthulling van "donkerdere soulgeheimen", waarbij ze "haar formidabele muzikale verbeelding ontketent in grooves van Moody World Jazz, Reggae en Funk". In 2014 bracht ze met de Dead Zombie's Band 'Rise and Dance' uit, knap omschreven als "an all-original recording of the spookier side of Life!". 'Buds' verscheen in 2017 en werd opgenomen met Allen Won (sax, fluit), Jim West (grand piano, keys), Peter Calo (gitaar), Leo Traversa (bas) & Todd Isler (drums, hadgini, kanjira).
De 10 nummers op 'Buds' zijn opnieuw originele Pam Fleming songs. Zin in een fascinerende trip? Zorg dat je ontspannen bent en onderga de vlucht op het magische tapijt van Pam's lyrische trompetgeluid, waarbij je uiteenlopende stemmingen en grooves moet ondergaan. Diep, betoverend en funky zijn nummers als de titelsong, "Power Spot", "Coolman Funk", het ethersiche "4:20am", het Latino getinte "Shades" en "Mama Don't Leave Us Now".
Maak zeker eens tijd vrij voor de geweldige jazz trompettiste Pam Fleming. Met te luisteren naar 'Buds' neem je plaats op haar magisch tapijt en ga je zeker begrijpen waarom!
" Be sure to make time for the great jazzy trumpet player Pam Fleming. By listening to 'Buds' you take a seat on her magic carpet and you will certainly understand why! " (ESC for Rootstime.be)
Eric Schuurmans
Album track list:
01. I've Had Enough - 02. Buds - 03.Leo - 04. Power Spot - 05. Taken Away - 06. Coolman Funk - 07. 4:20am - 08. Shades - 09. Mama Don't Leave Us Now - 10. Keep It Movin' – Lyrics/music by: Pamela Fleming © 2019 – Produced by: Pamela Fleming
Album line-up:
Pam Fleming: trumpet, flugelhorn, percussion / Allen Won: tenor & soprano sax, flute, alto & bass flute / Peter Calo: a- & e- guitar / Leo Traversa: bass / Jim West: piano, synth / Todd Isler: drums, Hadgini, kanjira
Discography Pam(ela) Fleming & Fearless Dreamer:
Buds [2017] | Rise and Dance by Pam Fleming's Dead Zombie Band | Climb [2004] | Fearless Dreamer [1998] |