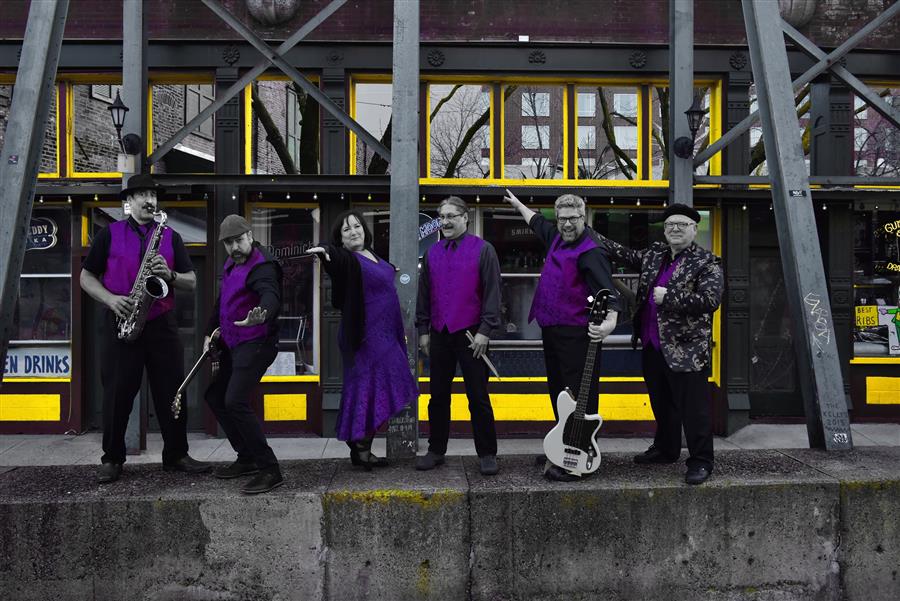 " They found the Heart of Memphis and brought it home… "
Michele D'Amour (McDanel) is al sinds 2012 de frontdame van The Love Dealers. Michele groeide op in West Seattle, WA. Ze speelde als kind al piano, zong eerst in het kerkkoor en later in lokale bands. 
The Love Dealers brengen een swampy mix van blues, funk en rock. De line-up van de band bestond origineel uit Rick Bowen (drums), Patrick McDanel (bas) en Greg Dolan (gitaar). In 2014 was de band finalist tijdens de Washington Blues Society's IBC en in 2017 won Michele de Grand Prize tijdens de John Lennon Songwriting Competition. 2018 was nog een beter jaar want toen kreeg Michele met haar band 3 nominaties van de Washington Blues Society: "Best Blues Album" (voor 'Lost Nights at the Leopard Lounge'), "Best Blues Songwriter" en "Best Bass" (Patrick McDanel).
Hun EP 'Sin Comin' On' [2014], kreeg 3 opvolgers, het debuut studio album 'Ante Up' [2015], 'Lost Nights at the Leopard Lounge' [2017] en 'Wiggle Room' [2018]. De opvolger 'Heart of Memphis' verscheen in mei bij Blueskitty Records.
Van de 8 tracks die ze opnam, zijn 7 nummers eigen nummers en "Memphis Soul Stew" een King Curtis' klassieker. The Love Dealers bestonden tijdens de opnames uit Patrick McDanel (bas), Dave Delzotto (drums), Jeff Cornell (gitaar), Brian Olendorf (keys) & Noel Barnes (sax). "Another Sleepless Night" opent het album met de nodige Latino flair op een salsaritme, terwijl Michele zingt over een andere eenzame nacht zingt zonder haar man. Jeff Cornell zet vervolgens "Dirty Pool" in met een gruizige gitaarriff voor het smerige verhaal van een vrouw die wordt geminacht. In de zwoele rumba "Come On Over" is het genieten van de piano van Brian Olendorf en een spookachtige solo van gasttrompettist Greg Lyons. Noel Barnes doet daarna zijn eerste sax solo in het soulvolle "Cradle to the Hearse". Drummer Dave Delzotto zorgt daarna voor een hectisch ritme in het funky "No Time", met D'Amour die de ironie van onze cultuur van instant bevrediging uiteenzet. De titelsong "Heart of Memphis" is het verhaal van hun reis naar Beale Street. Michele noemt de naam van enkele beruchte clubs en verwijst naar de inspiratie die uit de grote delta stroomt. Memphis wordt de thuis van de blues en, de geboorteplaats van de Rock'n'Roll genoemd, maar staat ook bekend voor het eten dat door een multiculturele mix van invloeden beïnvloed wordt. In "Memphis Soul Stew" brengt de band brengt een eerbetoon aan de stad, waarbij elk van de Love Dealers knap zijn inbreng doet tijdens het pittige instrumentale gedeelte. Het album wordt afgesloten met de Gospel blues "Strange Angels", een bitterzoet testament van de vreugde en pijn die te vinden is in een dancehall, op een bepaalde avond en de rol van entertainers als dienaren van de ziel.
'Heart of Memphis', het vijfde album van Michele D'Amour & The Love Dealers kan je hun beste prestatie noemen, want ze vonden er het Hart van Memphis zeker en brachten het, verpakt in nummers naar huis.
" 'Heart of Memphis', the fifth album by Michele D'Amour & The Love Dealers can be called their best performance, because they certainly found the Heart of Memphis and brought it, packed in 8 songs, home... " (ESC for Rootstime.be)
Eric Schuurmans
Album track list:
01. Another Sleepless Night - 02. Dirty Pool - 03. Come On Over - 04. Cradle to the Hearse [with Barnes] - 05. No Time - 06. Heart of Memphis [with Cornell] - 07. Memphis Soul Stew [King Curtis] - 08. Strange Angels – Lyrics/music by: Michele D'Amour, except where [noted] © 2019
Album line-up:
Michele D'Amour McDanel: lead & backing vocs / Patrick McDanel: bass / Jeff Cornell: guitar / Dave Delzotto: drums / Brian Olendorf: keys / Noel Barnes: tenor & baritone sax & Special guests: Rae Gordon: b-vocs (6) / Sheila Kelly & Kristi Miller: b-vocs (3,8) / Greg Lyons: trumpet / Greg Schroeder: trombone
Discography Michele D'Amour & the Love Dealers:
Heart of Memphis [2019] | Wiggle Room [2018] | Lost Nights at the Leopard Lounge [2017] | Ante Up  [2015] | Sin Comin' On (EP) [2014] |