Captain Morgan Express is een bluesband uit en geboren in Utrecht.NL. Ze laat zich inspireren door de Red Devils, The Hoax en Sean Costello en ze "mengt zompige moerasklanken uit New Orléans met stadse geluiden uit Chicago en delta blues uit het diepe zuiden. Swingende shuffles worden afgewisseld met opzwepende beats en hypnotiserende voodoo vibes…" (tot zover de Facebook info).
Johnny 'Boy' Brouwer (zang, blues harp), Hans Gerrietsen (gitaar), Phil Admiraal (bas) & Frank Boot (drums) maken van de Captain Morgan Express vooral een opwindende live band. In 2014 brachten ze de EP 'Urban Cowboy' uit. In het voorbije jaar namen ze in Utrecht in hun eigen vertrouwde repetitieruimte hun eerste studio album 'Fistful of Dirt' op.
"Met gepaste trots" presenteren ze nu hun nieuwe, live & unplugged album 'Naked to The Nipple', dat dit jaar in januari in Utrecht (op het terras aan café Willem Slok) op het Nieuwjaarsduik Festival opgenomen werd. Ze gingen voor de live opnames voor het éérst akoestisch, wat een beetje "blootgaan" (tot op de tepel) betekende.
Live opnames moet je sterk en met een berekend risico beginnen. Captain Morgan Express doet het met "Chicken Shack Boogie" een jump-boogie uit 1948 van de West Coast blues artiest Amos Milburn. Ze nemen dan even wat gas terug met de shuffle "In the Middle of the Night" waarin Brouwer op harmonica voor de groove mag zorgen. Met "Icepick's Confession" gaat het tempo dan weer snel omhoog. Het is een geslaagde cover van een nummer uit James Harman's album 'Do Not Disturb' [2006]. "Congo Square" werd in 1990 opgenomen door John Mayall (& the Bluesbreakers: 'A Sence of Place') en ook later door o.a. Sonny Landreth, maar stond ook vanavond op de setlist. Een sfeermaker is Sonny Boy Williamson's "Checking up on my Baby" dat voor vele blues artiesten al bijna een "must" is. Wat we kenden van de vorige studio opname is Muddy's "Catfish Blues" of, hoe hopeloos een man zijn kan. Er blijft ons nog de afsluiter, een meer dan 10 minuten lange versie van de Slim Harpo klassieker "Hip Shake". Wat kan je je nog meer wensen op hun 50ste optreden?
'Naked to The Nipple' vraagt om nog méér levend bloot van de Captain Morgan Express!... (ESC for Rootstime.be)
Eric Schuurmans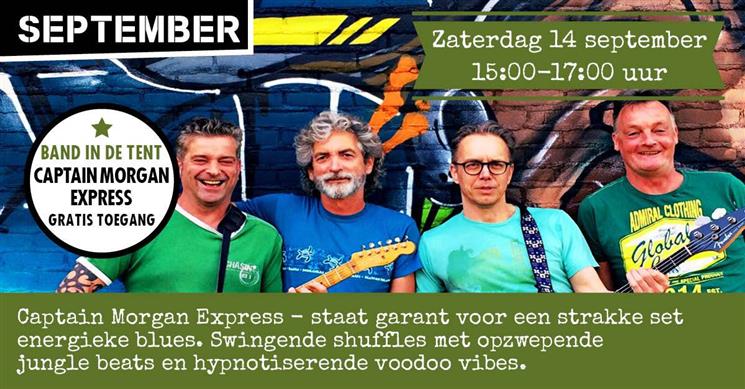 Album track list:
01. Chicken Shack Boogie [Amos Milburn] - 02. In the Middle of the Night - 03. Icepick's Confession [J. Harman] - 04. Congo Square [J.Mayall] - 05. Checking up on my Baby [Sonny Boy Williamson II] - 06. Catfish Blues [Muddy Waters] - 07. Hip Shake [James Moore/Slim Harpo] © 2019 – Produced by: Thijmen de Vries / Hans Gerrietsen
Album line-up:
Johnny "Boy" Brouwer: lead vocs, blues harp / Hans Gerrietsen: a- guitar, b-vocs / Phil Admiraal: bass, b-vocs / Frank Boot: snare drum a brushes
Discography Captain Morgan Express:
Naked to the Nipple (Recorded live at Willem Slok, Utrecht, 13/01/19) [2019] | Fistful of Dirt [2017] | Urban Cowboy (EP) [2014] |