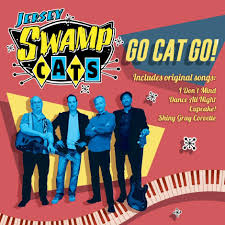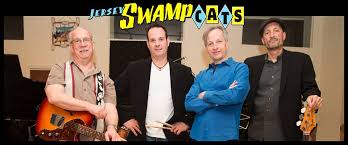 " A genuine dish of all-American good time tunes from Orange, New Jersey…  "
Gerry Gladston (zang, piano), Don Leich (zang, gitaar), Chris Reardon (drums, b-vocs) & Larry Ghiorsi (zang, bas) zijn vaak te vinden in blues bars in de regio NY/NJ als, The Jersey Swamp Cats. Deze piano en gitaar gestuurde Amerikaanse band brengt een authentieke mix van blues, New Orléans' R&B, oude R&R, rockabilly en jump blues. Het zijn creatieve, moerassige vertolkingen van klassiekers van o.a. Fats Domino, Freddie King, professor Longhair, Louis Prima, T-Bone Walker, Big Joe Turner, Jerry Lee Lewis en Albert King.
Ze debuteren met 'Go Cat Go!', een in eigen beheer uitgebracht album, dat in de Mozart Studio in Little Falls, NJ, opgenomen werd. Hoe kan je beter een party starten dan met de Louis Prima/Keely Smith klassieker "Jump, Jive and Wail", die ook The Brian Setzer Orchestra in hun songboek had zitten. De eerste original op het album "Cupcake!", is een Chicago blues nummer over een "crazy little gal". "Blue Monday" is een Fats Domino tribute met Don Leich die zingt en Larry Ghiorsi en Chris Reardon die op bas en drums de groove bepalen. Met "I Don't Mind" verplaatsen we ons naar New Orléans en knipoogt Gladstone naar Allen Toussaint en Dr. John. De gasten Anthony Salimbene Jr. op sax en Patrick Dudasik op trompet versterken hier het viertal. Albert Collins' "Too Tired" is hier een vette shuffle en in de jazzy blues "Dance All Night" roept Gladston iedereen op "to swing". Bassist Ghiorsi zingt in de traditional "Tootie Ma is a Big Fine Thing" en de Albert King Rhumba "I Get Evil", die we ook kennen als "Don't You Lie to Me",is een blues standard uit 1962. Het nummer dat de rij afsluit is "Shiny Gray Corvette", een klasse rocker voor op de weg op te gaan tegen "over a hundred miles an hour".
Met 'Go Cat Go!', het debuutalbum van de Jersey Swamp Cats, maken deze 4 uit Orange, NJ, een geslaagde start. In een wereld waar niets moet garanderen ze je ongetwijfeld een gezellige avond.
" With 'Go Cat Go!', the debut release of the Jersey Swamp Cats, these 4 from Orange, NJ, make a successful start. In a world where nothing has to be guaranteed, they undoubtedly guarantee you a pleasant evening… " (ESC for Rootstime.be)
Eric Schuurmans
10 cd's te winnen!
Wil je daar kans op maken, dan mail je ons gewoon even:
je naam, je adres en de vermelding: JERSEY SWAMP CATS
Binnen een aantal weken wordt uit alle inzendingen de gelukkigen getrokken.
Wij hopen dat u massaal Rootstime - hier - zult mailen
De winnaars worden per mail verwittigd.
Album track list:
01. Jump, Jive, and Wail [Louis Prima, Keely Smith] - 02. Cupcake! - 03. Blue Monday [Dave Bartholomew] - 04. I Don't Mind [traditional] - 05. Too Tired [Albert Collins] - 06. Dance All Night - 07. Tootie Ma is a Big Fine Thing [traditional] - 08. I Get Evil [Albert KIng] - 09. Shiny Gray Corvette
Lyrics/music © 2019 by: G. Gladston, unless where else [noted] - Produced by: xx
Album line-up:
Gerry Gladston: vocs, piano / Don Leich: vocs, guitar / Chris Reardon: drums, b-vocs / Larry Ghiorsi: bass, b-vocs & Special Guests: Anthony Salimbene Jr.: tenor sax / Patrick Dudasik: trumpet
Discography Jersey Swamp Cats:
Go Cat Go! [2019] |