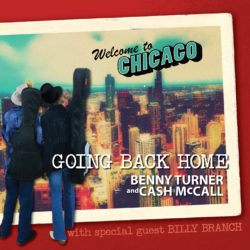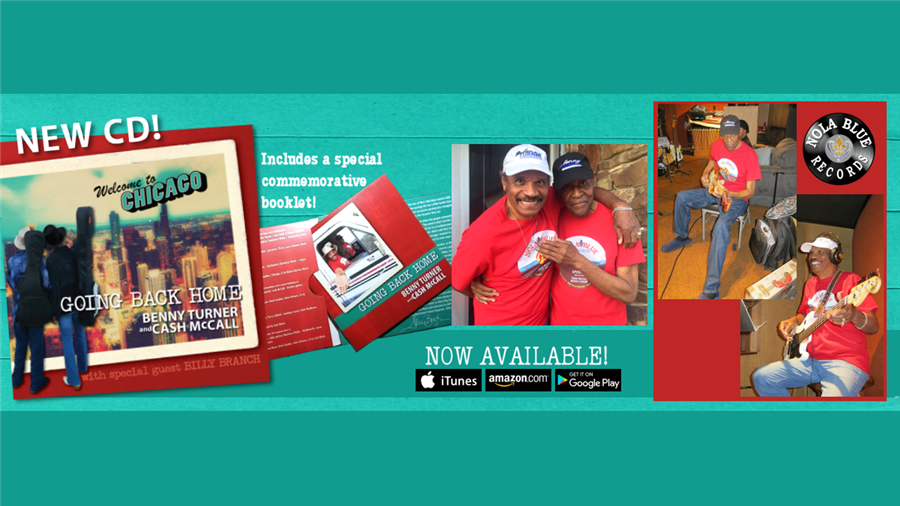 " Two Chicago blues legends reunite to revisit their roots and the songs they once played nightly in South and West Side nightspots… "
In de interviews die ik doe, hoor ik vaak dat iemand muzikant(e) wordt, als hij (of zij) opgroeit in een muzikale omgeving. Dit geldt zeker voor de familie King Turner. Benny en zijn oudere broer Frederick (lees: Freddie) leerden gitaar spelen van hun moeder Ella Mae (King) Turner en hun broers Leon en Leonard King. In de jaren '50 verhuisden ze naar Chicago, waar Benny's carrière als zanger / gitarist begint bij The Kindly Shepherds, een gospel groep van het Nashboro Records label. Daarnaast speelde Benny ook met zijn broer in clubs in Chicago. Daar ontmoet hij Dee Clark, met wie hij met zijn R&B band gaat touren. Later trekt Benny op met The Soul Stirrers. Benny was bassist in de Freddie King Band tot aan de dood van zijn broer Freddie (1934-1976) en, na een stop van enkele jaren, in de band van Mighty Joe Young (1927-1999), voor dat hij twintig jaar lang, de bandleider werd van Marva Wright (1948-2010). Benny's vriendschap met Cash Mccall moet ik hier zeker ook vermelden. Ter gelegenheid van King's 80ste verjaardag, tourde hij in 2014 occasioneel met de originele leden van de Freddie King Band. Op zijn zestigste brengt Benny 'When She's Gone' [2016] uit. Het is een ode aan zijn overleden moeder Ella Mae King (1918-1987). In 2017 publiceerde Benny zijn autobiografie "SURVIOR: The Benny Turner Story".
Cash McCall (in 1941 geboren in Missouri als Morris Dollison Jr.) is een blues gitarist, zanger en songwriter. Hij is bekend van zijn R&B hit uit 1966 "When You Wake Up". In de periode dat hij deel uitmaakte van de Gospel Songbirds nam hij op voor Nashboro Records. Als R&B solo artiest werkte hij voor de Thomas, Checker en Paula labels. Voor Chess Records werkte hij als sessie muzikant en songwriter. Hij werkte zo samen met Minnie Riperton, Etta James en Bo Diddley. McCall maakte ook deel uit van de Willie Dixon's band. Met Dixon nam hij 'Hidden Charms' op.
Al zestig jaar zijn blues legendes Benny Turner en Cash McCall vrienden. De nummers die ze in hun Chicago periode samen brachten namen ze op in studio's in Memphis, New Orléans en Chicago en verzamelden ze op 'Going Back Home'. Het album met tien nummers bevat vooral hun favoriete klassiekers en een Cash McCall nummer ("Money"). Voor de opnames konden ze rekenen op meerdere muzikanten, waaronder "special guest" Billy Branch ("It Hurts Me Too" en "Bring It On Home"). 
In de opener "Got to Find a Way" vallen naast de blazers ook de Turner Sisters (dochter Benita Turner, Carla Davis & Yvette Whittler) op . Zij zorgen voor de Staples Singers vibe. Daarna volgt al de eerste van de drie Willie Dixon's cover "Spoonful", een hommage aan Howlin' Wolf en Freddie King die beiden op de Chess' opnames uit 1960 meespeelden. "Shake Your Money Maker" en "It Hurts Me Too", twee nummers van Elmore James, mogen hier in deze Chicago tribute zeker niet ontbreken en, zeker niet als Billy Branch op de Tampa Red hit alles uit zijn harmonica perst. Er hangt ook nog wat Elmore James aan "It's a Man Down There", een rockend nummer dat George Crockett en Jack Daniels bewerkten op basis van een nummer van James. Op harmonica is hier Johnny Sansone te horen. In "The Dirty Dozens" zit wat van Fats en om te eindigen volgen er nog twee numers van Willie Dixon. "Built For Comfort" en "Bring It On Home", met hierin de tweede bijdrage van de harmonica meester Billy Branch, die afsluitend zelf ook zingt.
Geweldig wat deze blues veteranen hier op 'Going Back Home' doen. Benny Turner en Cash McCall brengen niet alleen een geweldige ode aan music city Chicago, maar bewijzen zelf ook dat ze nog steeds bij de top behoren!
" Just GREAT what these blues veterans do on 'Going Back Home'. Benny Turner and Cash McCall not only bring a great tribute to music city Chicago, but also prove that they still belong to the top!.. "  - esc for www.rootstime.be
Eric Schuurmans
10 cd's te winnen!
Wil je daar kans op maken, dan mail je ons gewoon even:
je naam, je adres en de vermelding: BENNY TURNER & CASH MCCALL
Binnen een aantal weken wordt uit alle inzendingen de gelukkigen getrokken.
Wij hopen dat u massaal Rootstime - hier - zult mailen
De winnaars worden per mail verwittigd.
Album track list:

01."Got to Find a Way" [Jimmy Leonard Jones] - 02."Spoonful" [Willie Dixon] - 03."Poison Ivy" [Melvin London] - 04."Money" [Cash McCall] - 05."Shake Your Money Maker" [Elmore James] - 06."It Hurts Me Too" [Elmore James] - 07."It's a Man Down There" [George Crocket & Jack Daniels] - 08."The Dirty Dozens" [Little Johnny Jones] - 09."Built For Comfort" [Willie Dixon] - 10."Bring It On Home" [Willie Dixon] – Written by as [noted] ℗ 2018 – Produced by: Benny Turner
Album line-up:
Benny Turner: vocs (1,3,5,7,9), bass, rhythm guitar, b-vocs (6) / Cash McCall: vocs (2,4,6,8), rhythm guitar
(1): Carla Davis: lead vocs, The Turner Sisters: b-vocs, Butch Mudbon: r-guitar, Raishene Webb: keys, Jason Mingledorff: sax, Barney Floyd: trumpet & Terry Saffold: drums / (2): Joe Krown: keys, Raishene Webb: organ, Johnny Sansone: harmonica & Terry Saffold: drums / (3):  Jack Miele: r-guitar, Raishene Webb: keys & terry Saffold: drums / (4): Butch Mudbone, Raishene Webb & Terry Saffold: b*-vocs, Buth Mudbone: r-guitar, Raishene Webb: keys & Terry Saffold: drums / (5): Buth Mudbone: slide guitar, Raishene Webb: keys, Jason Mingledorff: sax, Barney Floyd: trumpet & Brentt Arcement: drums / (6): Billy Branch: harmonica, Butch Madbone: slide guitar, Raishene Webb: keys & Terry Saffold: drums / (7): Jack Miele: r-guitar, Joe Krown: keys, Raishene Webb: organ, Johnny Sansone: harmonica & terry Saffold: drums / (8): Joe Krown: keys & Rodd Bland: drums / (9): Johnny Sansone: harmonica, Joe Krown: keys, Raishene Webb: organ & Terry Saffold: drums / (10): Billy Branch: vocs, harmonica, Butch Mudbone: second guitar, Joe Krown: keys, Raishene Webb: organ & Terry Saffold: drums    
Discography BENNY TURNER:
Going Back Home, with Cash McCall [2019] | xx [20xx] | My Big Brother's Blues [2017] | When She's Gone [2016] (nominated for best traditional Blues Album & best Soul Blues Album at the Blues Blast Awards in 2016!) | Journey [2014] | A Tribute to My Brother Freddie King [2011] | After the Levees Broke, by Marva Wright [2007] (producer, arranger, bass, b-vocs) | Do Right Woman: The Soul of New Orleans, by Marva Wright [2006] (bass) | Paris Mississippi Blues, by Memphis Slim [2005] (bass) | Bluesiana Mama, by Marva Wright [1999] (bass) | Mighty Man Mighty, by Joe Young [1997] (bass) | Born with the Blues, by Marva Wright [1996] (bass) | Let the Good Times Roll, by Freddie King [1994] (bass) | When the Gates Swing Open, by Otis Clay [1994] (guitar, b-vocs, bass) | The Gospel Truth, by Otis Clay [1993] (guitar, b-vocs, bass) | The Blues Is..., by Otis Clay [1991] (vocals, bass) | Live at the Wise Fools Pub, by Mighty Joe Young   [1990] (bass) | Live in Antibes, 1974, by Freddie King [1988] (bass) | Takin' Care of Business, by Freddie King [1985] (electric bass, bass) | Freddie King (1934-1976), by Freddie King [1977] (bass) | Larger Than Life, by Freddie King [1975] (bass) | Very Much Alive and in Montreux, by Memphis Slim [1973] (bass) | Gives You a Bonanza of Instrumentals [1965] (bass)
Discography CASH MCCALL:
Going Back Home, with Benny Turner [2019] | The Best of Cash McCall [2007] | Blues Classics (compilation) [1996] | Cash Up Front [1987] | No More Doggin' [1983] | Omega Man [1973] |