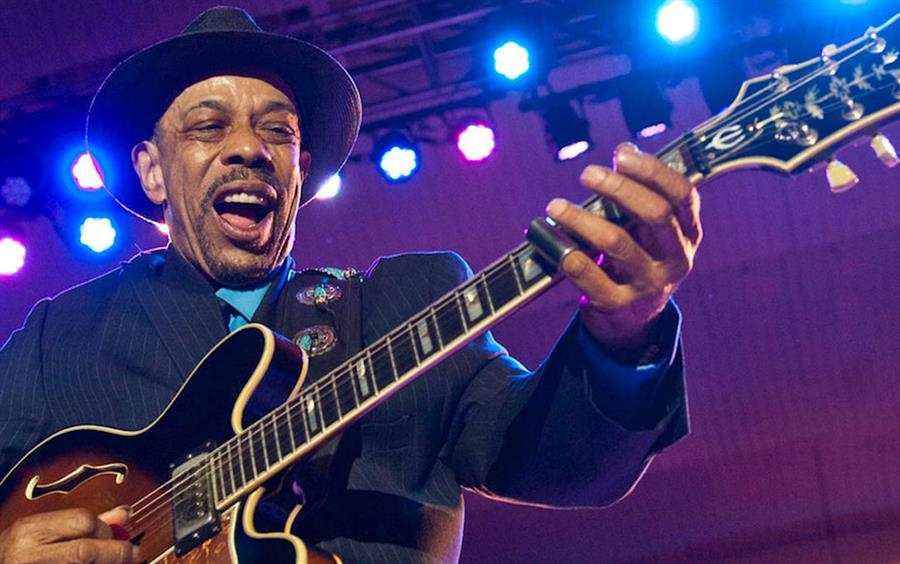 " The mission of John Primer's new release is to shine on his history as a soul-singer when he began his music career way back in the 1970's with The Brotherhood Band… "
John Primer, geboren in Camden in 1945, MS, is een "oude" Chicago blues zanger en gitarist. John groeide op met de muziek van Muddy Waters en Elmore James. Als jonge knaap zingt hij spirituals in het plaatselijke kerkkoor en op zijn negende, leert hij gitaar spelen. In 1963, hij was 18, verhuist John naar Chicago en richt er in de jaren '70 zijn eigen groepen The Maintainers en The Brotherhood Band op. De "eigen" stijl van de groep was gebaseerd op de ervaringen uit de Mississippi Delta en de Chicago West Side. Door John's vlekkeloos gitaarspel en zijn goede zangkwaliteiten, werd hij in 1974 lid van de huisband van de Theresa's Lounge (een blues en roots club in Chicago). Hier ontmoet hij Sammy Lawhorn, de ex-gitarist van Muddy Waters, iemand die veel invloed zal hebben op zijn stijl. In 1979 wordt John gevraagd om mee te spelen met de Willie Dixon's Chicago Blues All Stars en in 1980 werd hij de leider van de Muddy Waters Band. Hierin speelt hij tot in 1983, wanneer Muddy Waters sterft. John wordt daarna de leider van Magic Slim & The Teardrops. Samen touren ze meer dan 13 jaar. Met genoeg ervaring op zak, begint John hierna opnieuw te spelen met een eigen band. In 2008 brengt hij onder zijn eigen Blues House Production label een nieuw album 'All Original' uit. John kreeg in 2009 een Grammy Award en in 2013 de "Acoustic Album of the Year" en de "Traditional Blues Male Artist of the Year" Blues Music Awards.   
Voor een nieuw album 'The Soul of a Blues Man' (met 3 nieuwe songs!) trok John Primer met The Real Deal Blues Band (Steve Bell: harmonica / Chuck a Luck: bas / Lenny Media: drums / Ronnie Hicks: keys / Charlie Kimble: sax &  Special Guest Mike Flynn: gitaar) naar de studio. De missie was om John in de kijker te zetten als soulzanger, zoals hij zijn muziekcarrière begon in de jaren '70 met The Brotherhood Band. De cd bevat 11 soul-Chicago blues nummers, prima blues gitaar en mondharmonica en soulvolle saxofoon, verankerd door de beste traditionele Chicago blues.
'The Soul of a Blues Man' is Primer's éérste soul blues album, dat hij in de House of Tone studio opnam en op zijn eigen label Blue House Productions uitbrengt. Van de nummers die hij covert zijn er van bekende artiesten (Bob Dylan: "Meet Me in the Morning", Tony Joe White: "Rainy Day in Georgia", Price & Logan: "Stagger Lee" en Leon Russell: "Help Me Through the Day") en mindere goden als Clarence Carter (de swingende opener "Slip Away"), Toussaint McCall (het soulvolle "Nothing Takes the Place of You") en Earl Forest (het funky "Still Called the Blues"). Songs die beroemd gemaakt werden door o.a. Bobby Bland, Freddie King, Lloyd Price, Johnnie Taylor, Brook Benton en Clarence Carter.
De nieuwe originals zijn "You Shouldn't Tell a Lie", een uptempo nummer met een aanstekelige drive, de slepende shuffle "Please Don't Leave Me Baby" en het kerkelijke "Meet Me in the Park".
Op 'The Soul of a Blues Man' is John Primer weer op zijn best als soul man te horen. Op zijn nieuwe album bewijst hij hoe onderschat hij is als een zanger, met een krachtige, genuanceerde zang. Met harpman Steve Bell maakt Primer, met zeldzame inventiviteit, het mooie weer. 'Soul of a Blues Man' is John Primer op zijn best!
" On 'The Soul of a Blues Man' John Primer can be heard again at his best as a soul man. On his new album, he proves how underrated he is as a singer, with powerful, nuanced vocals... " (ESC for Rootstime.be)
Eric Schuurmans
Album track list:
01. Slip Away [Clarence Carter] - 02. Help Me Through the Day [Leon Russell] - 03. Meet Me in the Morning [Bob Dylan] - 04. You Shouldn't Tell a Lie - 05. Nothing Takes the Place of You [Toussaint McCall] - 06. Stagger Lee [Price & Logan] - 07. Please Don't Leave Me Baby - 08. Get Your Money Where You Spend Your Time [Tommy Tate] - 09. Rainy Day in Georgia [Tony Joe White] - 10. Meet Me in the Park - 11. Members Only [Larry Addisson] - 12. Still Called the Blues [Earl Forest]
Lyrics/music © 2019 by: John Primer (4,7,10), unless where else [noted] - Produced by: Felix Reyes (House of Tone Studio) & co-producer: Lisa Primer (Blues House Productions LLC)
Album line-up:
John Primer: vocs, guitar / Steve Bell: harmonica / Chuck a Luck: bass / Lenny Media: drums / Ronnie Hicks: keys / Charlie Kimble: sax & Special Guest: Mike Flynn: 2nd guitar
Discography John Primer:
The Soul of a Blues Man, feat. The Real Deal Blues Band – with special guest Billy Flynn [2019] | Ain't Nothing You Can Do, with Bob Corritore [2017] | That Will Never DO, with The Real Deal Blues Band [2016] | Classisc Chicago Bles, Live & Unreleased, feat. Bonnie Lee, Nick Holt, Earl Howell & John Primer [2016] | You Can Make It If You Try, with The Teardrops [2014] | Knockin' Around These Blues, with Bob Corritore [2013] | Blues On Solid Ground [2012] | Call Me John Primer [2011] | Let's Live It Up [2010] | It's a Blues Life, with The Real Deal Blues Band [2009] | All Original [2008] | Blue Steel: A Tribute To Elmore James [2003] | It's A Blues Life [2000] | Knockin' At Your Door [1999] | Easy Baby: Zoo Bar Collection, Vol. 6 – with The Teardrops [1999] | Blues Behind Closed Doors [1998] | Keep On Lovin' the Blues [1997] | Cold Blooded Blues Man [1997] | The Real Deal [1995] | Stuff You Got To Watch [1993] | Poor Man Blues: Chicago Blues Session, Vol. 6 (with Magic Slim & Billy Branch) [1991] |