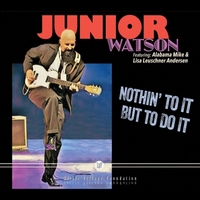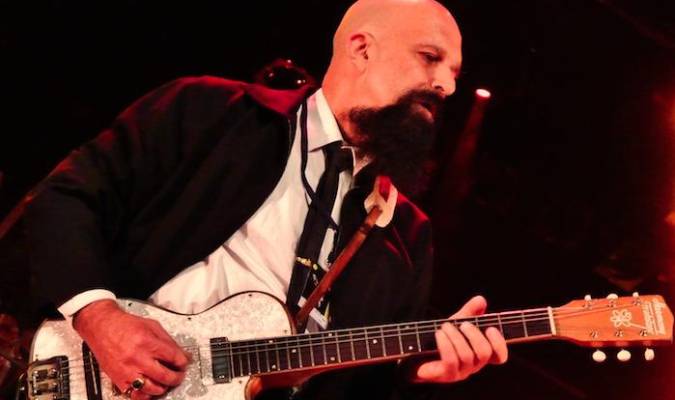 " With nearly thirty years of experience, Junior Watson has reached cult status… "
Een grote naam, een bijna icoon, in de internationale blues scene is zeker Junior Watson! Hij heeft gedaan wat alle grote artiesten ook hebben gedaan: verschillende stijlen smelten, om een geheel eigen stijl te creëren. Naast zijn interpretatie van blues en swing voegt hij vaak eigen jazz-getinte accenten toe, aan alles wat hij speelt. Zijn invloeden zijn heel divers als Tiny Grimes, Oscar Moore, Bill Jennings, Rene Hall, Robert Jr. Lockwood, Jimmy Rogers, Eddie Taylor, Guitar Slim, Earl Hooker en, waarschijnlijk nog anderen.
Zijn CV als artiest is even groot als indrukwekkend. Hij was een van de oprichters en zo'n tien jaar lid van The Mighty Flyers, vervoegde daarna Canned Heat en toerde een tijdje met mondharmonicaspeler, zanger Lynwood Slim (1953-2014). Zijn lijst met muzikale samenwerkingen omvat o.a. Big Mama Thorton, George Smith, Jimmy Rogers, Shakey Jake, Luther Tucker, Charlie Musselwhite, Kim Wilson en William Clark.
In het verleden is Junior (te) vaak sideman of aanbevolen artiest geweest. Voor het eerst in zijn carrière heeft hij voor zijn nieuwe soloalbum 'Nothin' to It But to Do It' gewerkt met een band die op de achterbank zit en hem al het rijden laat doen. Voor het eerst hoor je deze geweldige, originele artiest ten volle uit. Hij trok voor de opnames naar de Greaseland Studio's van Kid Andersen, waar hij met o.a. Jim Pugh (keys), Gary Smith (harmonica), Kedar Roy (staande bas), Andrew Guterman (drums) & Sax Gordon (sax) vijftien tracks voor Pugh's Little Village Foundation opnam.
" This recording not only features the wild & swingin' jaw-dropping guitar antics from Watson… "
Dit album bevat niet alleen opnames van de wilde en swingende gitaar capriolen van Watson, maar ook vocale bijdragen van Lisa Leuschner Andersen en Alabama Mike. Alabama Mike doet het eerst op "A Shot in the Dark", een slow blues (met geweldige solo's van Sax Gordon) die Junior met Mike schreef en later op het swingende "That's Tough", een nummer van Joe Boot & The Fabulous Wings. Naast "The Pee Wee Classic", zijn instrumentale tribute aan Pee Wee Crayton, zijn de covers gekozen uit "wildly obscure 60's" R&B begraven schatten. Het is de "Queen of Greaseland" -hier eindelijk eens als leadzangeres! - Lisa Leuschner Andersen die demonstreert en imponeert op "Don't Freeze on Me" (geschreven door Ken Curtis en opgenomen door Jessie Mae in 1962), Elsie Mae's single uit 1964 "Whole Lot Of Lovin'", "One Way Street" (een niet eerder uitgebracht nummer uit 1966 van Stax-opnamekunstenaar Sharon Tandy geschreven door het songwritingsteam van Isaac Hayes en David Porter), "I Found You" (de soul kraker van Yvonne Fair uit 1962) en Chuck Sims' tearjerker "You're Gonna Need Me Before I Need You". Op "Louella" (van Big Don Gray) zingt Junior Watson zelf. Verder doet hij dat ook -begeleid door Gary Smith op harmonica- op "Well, You Know" (voor het eerst gezongen in 1959 door Dusty Brown) en op Charles "Hungry" Williams' "So Glad She's Mine" (origineel opgenomen in 1956 door Charles Williams).
Er blijven dan nog vier instrumentale tracks over: de opener "Up and Out" (opgenomen in 1965 door de Arizona Blues Hall of Fame-inductee Duke Draper, het geluid denken aan Booker T & The MG's), Duke Ellington's "Ska-Ra-Van", het zwoele "Summer of Love" van Felix Garcia (was de B-kant van "Two Tacos" een single uit 1958 van Felix And His Guitar With The Hot Peppers) en -met een swingende Jim Pugh op orgel- "Space Fight". Het nummer werd door Sam Lazar opgenomen in 196, met Grant Green op gitaar.
Met 'Nothin' to It But to Do It' bewijst "goochelaar" Junior Watson opnieuw waar zijn cultstatus om draait. Kid Andersen is als co-producer -hij is duidelijk een fan- de juiste man om het beste van Watson (en vrouwlief Lisa Leuschner) naar voren te brengen. Als je van de echte blues houdt, zal deze release nog lang in je hoofd blijven hangen.
" With 'Nothin' to It But to Do It' "guitar wizard" Junior Watson proves (again) what his cult status is all about… " (ESC for Rootstime.be)
Eric Schuurmans
Album track list:
01. Up & Out [Duke Draper,'65 DKR] (Instrumental) – 02. Don't Freeze on Me [Jessie Mae, '62 DRA] feat. Lisa Leuschner Andersen: vocs – 03. Louella [Big Don Gray, M.J.C] (Junior Watson- vocs) – 04. Ska-Ra-Van [Duke Ellington & Skatalite's Roland Alphonso] (Instrumental) – 05. A Shot In The Dark (Jr Watson/Alabama Mike Benjamin] feat. Alabama Mike: vocs – 06. Whole Lot Of Lovin' [Elsie Mae, '64 Smash] feat. Lisa Leuschner Andersen: vocs – 07. Summer of Love [Garcia] (Instrumental) – 08. That's Tough [Joe Boot & The Fabulous Wings, '58 Celestial] feat. Alabama Mike: vocs – 09. One Way Street [unreleased Sharon Tandy, Hayes/Porter] feat. Lisa Andersen: vocs - 10. Well You Know [Dusty Brown, '59 Bandera] - 11. Space Fight [Sam Lazar w/Grant Green, '60 Argo] (Instrumental) – 12. I Found You [Yvonne Fair, '62 King] feat Lisa Leuschner Andersen: vocs – 13. So Glad She's Mine [Charles "Hungry" Williams, '56 Checker] (Junior Watson: vocs) – 14. The Pee Wee Classic (Junior Watson) – Instrumental) – 15. You're Gonna Need Me Before I Need You [Chuck Sims, Aladdin] feat. Lisa Andersen: vocs / Words/music © 2019 by: Junior Watson (5,14), unless otherwise [noted] - Produced by: Junior Watson & Kid Andersen
Album line-up:
Junior Watson: guitar, vocs (3) & West Coast All-Star blues band: Gary Smith: harmonica / Jim Pugh: keys (piano, organ) / Kedar Roy: upright bass / Andrew Guterman: drums / Sax Gordon: saxophone
& Feat. Lisa Leuschner Andersen: voc (2,6,9,12,15), Alabama Mike: vocs (5,8), Kid Andersen: miscellaneous
Discography Junior Watson (as leader, solo):
Nothin' to It But Do It, feat. Alabama Mike & Lisa Leuschner Andersen (Little Village Foundation 1033) [2019] | Live From Outer Space, with The Red Wagons (Bluebeat Music 103) [2012] | Jumpin' Wit Junior (Regal Radio Records 10038) [2012] | If I Had A Genie (Heart & Soul 10799) [2002] | Back To Back, with Lynwood Slim (Crosscut CCD 11059) [1998] | Long Overdue (Black Top 1099) [1994] |