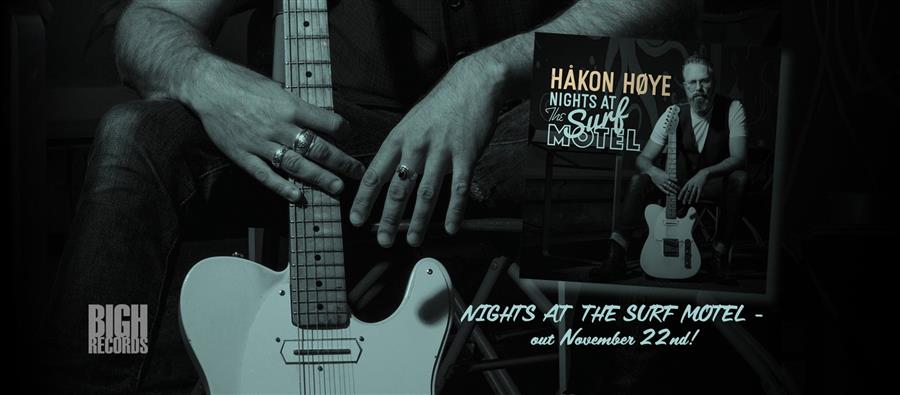 " A dash of Soul, a pinch of Gospel, a spoonful of Blues and a pint of good ol' Rock 'n' Roll… "
Sommigen zullen Håkon Høye linken aan twee andere Scandinaviërs die we hier eerder recenseerden, Joakim Tinderholt ('Hold On' [2018]) en/of Billy T aka William "Bill" R. Troiani ('Reckoning' [2016]'); waar hij ooit van de album line-up deel uitmaakte en voor wij hij nummers schreef en de producer was. Het zijn namen, die verder ook nog in deze recensie zullen terugkomen.
Billy T aka William "Bill" R. Troiani, geboren in NYC, speelde twaalf jaar lang samen met Eddie Kirkland (1923-2011) en daarna tien jaar met de Tom Russell Band, om daarna in 1997 naar Oslo te verhuizen, waar hij in de Muddy Waters Blues Club de Billy T Band als huisband leidde. Daar was hij bij de lancering van de jonge Noorse talenten Amund Maarud en Kid Andersen (Rick Estrin & the Nightcats). Sinds 2003 bestaat de line-up van de Billy T Band uit William R. Troiani: zang, bas, Håkon Høye & Ian FFrederick Johannessen: gitaar en Robert Alexander Pettersen: drums.
Håkon Høye, afkomstig uit Oslo, Noorwegen, groeide op in Tynset met een vader die klarinet en accordeon speelde. Op negenjarige leeftijd begon hij op saxofoon en in zijn vroege tienerjaren pakte hij de gitaar.
De blues is altijd een van zijn belangrijkste invloeden geweest. De afgelopen 15 jaar is hij een belangrijk figuur in de Noorse blues gemeenschap geweest en verwierf hij een behoorlijke reputatie als gitarist, zanger en producent. Sinds het begin van de jaren 2000 werkt hij regelmatig samen met Bill Troiani in verschillende bands die zijn ontstaan buiten de scene rond de Muddy Waters Blues Club in Oslo. Maken deel uit van Høye's band The Honey Tones: Per Tobro: bas, zang - Robban Skoglund: drums, percussie & Kasper Skullerud Værnes: tenorsax. Høye doet ook solo studiowerk en live performances.
Høye backte artiesten als Mitch Kashmar, Kid Ramos, Jackie Payne, Nappy Brown en Tad Robinson. In 2008 speelde hij samen met Billy T op de veelgeprezen release van Louisiana Red, 'Back to the Black Bayou'. Het album werd in 2010 genomineerd door The Blues Foundation voor twee Blues Music Awards. De Billy T Band werd in 2010 en 2012 bekroond met de Noorse "Spellemannspris" (Noorse Grammy) in de Blues-categorie voor hun tweede album 'L.O.V.E.' en het derde album 'Mo-Billy-T'.
In november 2013 bracht Håkon Høye solo 'Bout Time' uit. De opvolger 'Nights at the Surf Motel' verscheen in november. Høye deed de opnames met Tobro (bas), Værnes (sax), drummer Vetle Larsen én een lange rij gasten. Van de tien nummers die ze opnamen schreven Høye en Troiani er acht. Het resultaat werd omschreven als "Een scheutje Soul, een snuifje Gospel, een lepel Blues en een pint goede ol' Rock 'n' Roll"…

Op het nieuwe album ligt de nadruk op de zang in de bluesy Americana "Stay Awhile" (met Eivind Høye op accordeon en Kid en Lisa L Andersen, die de backings zingen) en de sexy swamp groove van "Time Will Tell" en gaat de muziek van klassieke blues en rock tot Americana. Of, als je uitgaat van de inspirators, van de klassieke blues van Lightnin' Hopkins, de gospel en soul van Pops Staples en de ouderwetse rock van The Stones en AC/DC.

In de opener "Junkyard of Dreams" vind je zeker wat van de Rolling Stones, "One Floor Down" is een funky rocker en "Good Thing" soul. "My Darkest Hour" drijft op Americana, "Wastin' Time With You" rockt en de afsluiter, "Nights at the Surf Motel" (met Troiani op bas en Kjell Magne Lauritzen op piano) is een bluesy ballade. De covers zijn "You Must Believe It" (van Curtis Mayfield) en de poppy soul in het zwoele "Sweet Sugar You" van Richard Berry.
In zijn drukke agenda vond Håkon Høye nog wat tijd voor wat nieuw solo werk. 'Night at the Surf Motel' vat goed Høye's andere en meer persoonlijke kwaliteiten van uitstekend singer-songwriter, producer en gitarist samen.
" 'Night at the Surf Motel' summarizes well Håkon Høye's other and more personal qualities of excellent singer-songwriter, producer and guitarist… " (ESC for Rootstime.be)
Eric Schuurmans
10 cd's te winnen!
Wil je daar kans op maken, dan mail je ons gewoon even:
je naam, je adres en de vermelding: HÅKON HØJE
Binnen een aantal weken wordt uit alle inzendingen de gelukkigen getrokken.
Wij hopen dat u massaal Rootstime - hier - zult mailen
De winnaars worden per mail verwittigd.
Album track list:
01.Junkyard of Dreams - 02. Stay Awhile - 03. One Floor Down - 04. Good Thing - 05. You Must Believe It [C. Mayfield] - 06. Sweet Sugar You [R. Berry] - 07. My Darkest Hour - 08. Time Will Tell - 09. Wastin' Time With You - 10. Nights at the Surf Motel / Words/music © 2019 by: Håkon Høye & W. R. Troiani, unless otherwise [noted: 5,6] - Produced by: Håkon Høye, Kim E. Bergseth & William R. Troiani
Album line-up:
Håkon Høye: lead vocs, guitars, e- bass (3,6,7), loops (8) / Per Tobro: e- bass / Vetle Larsen: drums, percussion / Kasper Skullerud Værnes: tenor & baritone sax (3,5,6) & Additional musicians: William R. Troiani: e- bass (4,5,10), b-vocs (6,9) / Kjell Magne Lauritzen: piano (1,6,10) / Eivind Høye: accordion (2) / Alexander Pettersen: drums (7) / Kim E. Bergseth: organ (2-4,9), b-vocs (2,4) / Christopher "Kid" Andersen: b-vocs (2) / James, Dwayne & Walter Morgan (Dons of The Soul Revivers): b-vocs (4,5)
Discography Håkon Høye:
Nights at the Surf Motel [2019] | Bout Time [2013] || with Billy T Band (Bill Troiani): Reckoning [2016] | Mo-Billy-T [2012] | L.O.V.E. (Just a Silly Notion) [2010] | Back to the Black Bayou, by Louisiana Red feat. Billy T Band [2010] | A Little Mixed Up [2007]