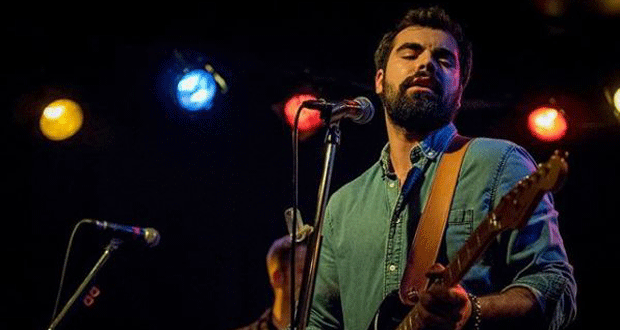 Aris Paul is een singer-songwriter, gitarist uit Pittsburgh, PA. Hij is de frontman van een originele roots/ rockband die keiharde blues verkennen, indie, alt. country, folk, soul en alle vormen van roadmuziek. Gitarist Joshua Erhardt, drummer Jake Locke en bassist Keith Quinn maken deel uit van de Aris Paul Band.
Muzikant word je sneller als je in een muzikale familie bent geboren. Aris Paul is geen uitzondering. Zijn vader, Paul Pantelas, was in de jaren '70 en '80 muzikant en reizende gitarist. In 1988 openden Paul en zijn broer George Pantelas een van de populairste blues bars van Pittsburgh. Iets meer dan tien jaar later in een huis vol stoffige, oude wegkoffers, pakte Aris zijn eerste gitaar op en, hij heeft die sindsdien niet meer neergezet. In de zomer van 2016 won Aris de Dos Equis/ WYEP singer-songwriter competitie voor zijn bluegrass compositie "Rambler's Creed".
Op 18-jarige leeftijd kreeg Aris een contract bij Plateau Records in Nashville, TN. Van 2009 tot 2011 nam Aris Paul op in verschillende studio's in Nashville, waaronder de wereldberoemde Hilltop Studio. Na zijn afstuderen aan het Allegheny College in 2013, keerde Aris terug naar Pittsburgh en sloot hij zich aan bij een lokale, country-rockband uit Beaver County, Ben Benson & de BP's. Aris' persoonlijke gitaarheld, Warren "Kingfish" King was in zijn tijd een legende uit Pittsburgh en wordt nog steeds door zowel Aris als zijn vader, Paul, beschouwd als een van de beste van Pittsburgh.
" There's this thing I like to call the Rust Belt sound. It's where blues, country and rock co-exist and blend into one… "
'Drive All Night' is de titel van het debuutalbum van de Aris Paul Band. De songs die Aris voor het album schreef, zijn vooral songs, waarmee hij buiten de lijnen durft te kleuren, waarbij invloeden van rock, country en Americana te herkennen zijn en in elkaar vloeien. Wat de nummers gemeen hebben, dat wat het album bij elkaar houdt, is dat ze je ergens naar toe voeren. Ze gaan over de drang om te reizen, waarbij reislust zowel een romantisch begrip als een psychische aandoening is. De reis die Aris Paul met je doet is er een met meerdere hoogtepunten en geen tolgelden.

In de opener "Guitar Man" is het de muzikant die de weg opgaat en die zoals hij in "Waste of Time" suggereert, geen tijd wil verliezen. Het tempo gaat omlaag op "Bad Habits, Bad Luck", een country song met mooie pedal steelgitaar van Pete Freeman. "Wheels" rockt over de wegen heen en "Drive All Night" leidt je rustig door de nacht. Bill Toms zingt op "Radio" en Madeline Rae duetteert op "Come & Go". Er is daarna Johnny Rooster op harmonica in "You Can't Fix Lonely" en in "Home" lijkt het of er iemand op je wacht. De afsluiter "Rambler's Creed" is het credo van de muzikant die altijd onderweg is.
Aris Paul levert met 'Drive All Night' al direct een sterk debuut af. Zijn rock is aanstekelig, melodieus en zijn teksten boeiend. Paul Aris is nog jong en ambitieus, dat maakt hem nu al apart.   
" With 'Drive All Night', Aris Paul immediately delivers a strong debut. His rock is contagious, melodic and his lyrics fascinating… " (ESC for Rootstime.be)
Eric Schuurmans
Album track list:
01. Guitar Man - 02. Waste of Time - 03. Bad Habits, Bad Luck - 04. Wheels - 05. Play - 06. Drive All Night - 07. Radio feat. Bill Toms - 08. Come & Go feat. Madeline Rae - 09. You Can't Fix Lonely feat. Johnny Rooster - 10. Fast Track - 11. Home - 12. Rambler's Creed / Words/music © 2019 by: Aris Paul - Produced by: Jesse Naus & Keith Quinn
Album line-up:
Aris Paul: vocs, guitars / Bass: Keith Quinn: e-, vocs, Ryan McMasters: e- & u- bass / Drums: Cory Caruso, Alex Peck / Pete Freeman: pedal steel / Andrew Hendryx: mandolin / Justin Bechak: keys / Bill Toms: vocs (7) / Madeline Rae: vocs (8) / Johnny Rooster: harmonica (9)
Discography Aris Paul Band:
Drive All Night [2018] |