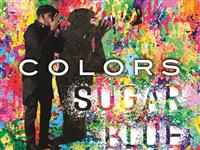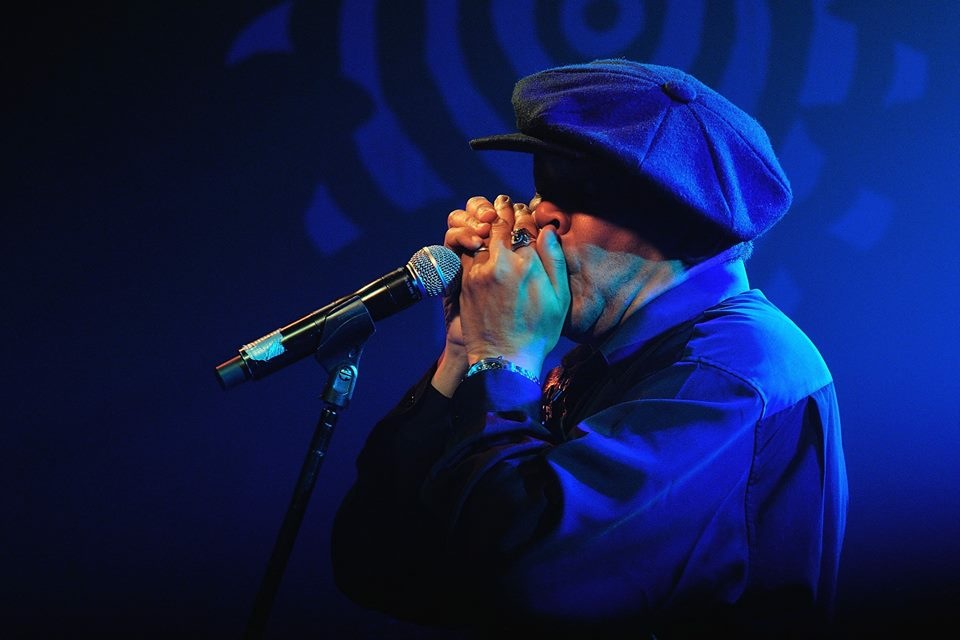 " For they who love sublime harmonica… "
De 70-jarige James Whiting aka Sugar Blue is een blues muzikant en harmonicaspeler, die opgroeide in Harlem, NY. Al jong wist hij dat hij later muzikant wou worden. Van zijn tante kreeg hij zijn eerste harmonica. Zijn eerste pogingen waren nummers van Bob Dylan en Stevie Wonder, die hij op de radio hoorde. Later geraakte hij onder de invloed van jazz grootheden als Dexter Gordon en Lester Young.
Sugar Blue's eerste opnames dateren van in 1975, die hij als sessiemuzikant deed met Brownie McGhee en Roosevelt Sykes deed. In 1978 tourde hij met Louisiana Red en is hij te horen op zijn albums. Sugar Blue werd bekend bij het brede publiek, van in de tijd dat hij in Frankrijk was en, nadat hij te horen was op de single van de The Rolling Stones "Miss You" (de opener van het 'Some Girls' album [1978]).
Sugar Blue debuteerde zelf in 1979 met zijn album 'Crossroads', waarop ook trombonist Mike Zwerin te horen is. In 1984 speelt Blue met Willie Dixon's Chicago Blues All Stars en in 1985 wint hij een Grammy als "Best Traditional Blues Album". Blue is samen met Brownie McGhee te zien in de film "Angel Heart" (1987). Zijn volgende albums zijn 'Blue Blazes' [1994], 'In Your Eyes' [1995], 'Right Now' [2006], 'Code Blue' [2007] en 'Threshold' [2010].
'Voyage' kwam uit in 2016 en we hebben daarna drie jaar moeten wachten op de opvolger, 'Color'. Buiten de Beatles' cover "Day Tripper" (knap is de waarop Sugar Blue van deze klassieker een Jazz Funk-dans maakt), zijn alle songs nieuwe composities. Naast zijn bandleden zijn er special guests: Afrika Riz, Ling Bo en de gitaristen Nick Tremulus & Rick Barnes.
De openings track "And the Devil Too" is een tribute aan BoDiddley en is co-written met Tremulis (Rick Danko, The Band). Gitarist is Rico McFarland (James Cotton, Lucky Peterson, Albert King, Tyrone Davis…). Op de country rocker "Bass Reeves" (het verhaal van de Lone Ranger uit de tv-show, de vrijgevochten slaaf die US Marshall werd)is Sergio Montaleni gitarist, Ilaria Lantieri bassist en Yan Bodhoo drummer. "We'll Be Allright" is een lied van hoop. Een jong koor uit Soweto, SA, Afrika Riz doet hier de koorzang. Max De Bernardi doet het fingerpicken op "Good Old Days" (en "Downhill"), hierbij begeleid op harmonica door Sugar Blue en wasbord door Washboard Chaz. "Dirty Ole Man" is een klassiek blues nummer en op het relaxte "Shangai Sunset" (een ode aan de metropool) is Ling Bo op sheng (een Chinees rietinstrument, de voorloper van de harmonica) te horen. Het akoestische "Bonnie and Clyde" is een folky rocksong en de afsluiter, "Keep On", een rustig rockende country ballade.
Sugar Blue blijft ook op 'Colors' de wat onopvallende harpist, die met verve hoge scoort, bij hen die wat van muziek kennen en die van sublieme harmonica houden.
" On 'Color' Sugar Blue also remains the somewhat inconspicuous harpist, who scores high with verve, with those who know something about music and who love sublime harmonica… " (ESC for Rootstime.be)
Eric Schuurmans
Release: 10/12/19
Album track list:
01. And the Devil Too - 02. Bass Reeves - 03. We'll Be Allright, feat. Afrika Riz - 04. Day Tripper [Lennon - McCartney] - 05. Good Old Days - 06. Man Like Me – 07. Dirty Ole Man - 08. Shangai Sunset, feat. Ling Bo - 09. Downhill - 10. Bonnie and Clyde - 11. Keep On / Words/music © 2019 by: Whiting, Tremulis (1), Montaleni (2), Lantieri (3,8,10,11), Della Torre (3), Mhlanga (3), Makino (6), Debernardi (7) unless otherwise [noted: 4] - Produced by: Sugar Blue & Ilaria Lantieri
Album line-up:
James Whiting aka Sugar Blue: vocs, harmonica / Guitar: Rico McFarland, Max De Bernardi: & dobro (5,9), Sergio Montaleni (2), Marco Guarnerlo (4), Moto Makino (6) / Bass: Johnny B. Gayden (4,9), Ilaria Lantieri (1,2,6,11), Joewaun Scott aka Jay Red Bass (8) / Drums, perussion: Brady Williams, Yan Bodhoo (2,8,11) / Damiano Della Torre : keys / Jennifer Hall: b-vocs 4) / Washboard Chaz: washboard (5) & Special guests: Afrika Riz: choir (3), Ling Bo: sheng (8), Nick Tremulis & Rick Barnes: guitar (1)
Discography Sugar Blue:
Colors [2019] | Voyage [2016] | Raw Sugar Live [2012] | Threshold [2010] | Code Blue [2007] | Right Now [2006] | In Your Eyes [1995] | Blue Blazes [1994] | Absolutely Blue - recorded 1982 [1991] | High Voltage Blues, with Louisiana Red [1984] | From Chicago to Paris - recorded 1980,         with Slim Pezin & Earl Howell [1982] | Crossroads - recorded 1979 [1980] | King Bee, with Louisiana Red [1979] | Red, Funk & Blue, with Louisiana Red [1978] || Compilations / Reissues: Another Man Done Gone (reissue of 'Crossroads' and 'From Chicago to Paris') [2007] | The Blues Spectrum of Louisiana Red [1998] | From Paris to Chicago (Reissue of 'Crossroads' and 'From Chicago to Paris') [1992] | Blues Explosion (Grammy winner, recorded live at Montreux) [1984] | Jazz Gala '80 (Recorded at the Palm Beach Casino, Cannes, France) [1980] | Stars of the Streets (Compilation Performances of several street musicians were recorded live outdoors in the streets and parks of NYC - track 1 : "Pontiac Blues" by Sugar Blue) [1979] ||